Storage software is used to securely store large amounts of data. One of the primary drivers for storage software globally is the ongoing concept of cloud computing. During the forecast period, the market is expected to grow significantly.
Several factors are driving the global demand for storage software. Manufacturing facilities are gradually shifting toward automated processes in order to reduce manual labour, which in turn reduces the likelihood of human labour. Furthermore, the incorporation of automation in manufacturing has resulted in the use of software enabled manufacturing, which includes the storage of manufacturing data. This return is expected to significantly increase demand for storage software. The ongoing technological developments in the internet of things (IoT) market are indirectly driving cloud computing demand.
The global Storage Software market size was estimated to reach over USD 17.2 Billion in 2020, and projected to grow significantly with a CAGR of 8.3% over the forecast period. The growing popularity of remote data access for health and fitness monitoring is driving up demand for public cloud-based services. Furthermore, the incorporation of sensors in smart consumer electronics aids in the collection of data such as temperature, location, and pressure, which is then stored in cloud servers for consumers to access. The Internet of Things ecosystem includes any device that can connect to the internet, such as automobiles, ATM machines, smartphones, and fitness wearables such as smart bands, among others. As the demand for these devices grows, so does the need for cloud storage, which is driving the cloud computing market. The growing demand for cloud computing is significantly driving up the demand for storage software. Furthermore, the new ventures are lowering their operating costs by acquiring cloud spaces, which are less expensive than investing in servers and physical storage spaces.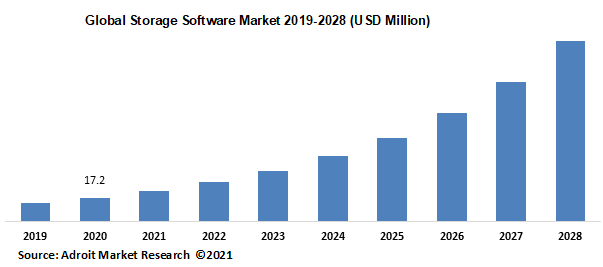 However, the software storage market is being hampered by data security concerns. Data is typically stored in cloud servers, which can be hacked online. Furthermore, in order to function properly, cloud servers require a constant supply of electricity as well as internet connectivity. As a result, developing regions such as Africa and South America continue to face constraints such as slow internet speeds and a lack of continuous power supply. This is limiting the storage software market in these regions. Nonetheless, ongoing research and development is expected to improve storage software security in the future.
Key Segments of the Global Storage Software Market
Software Overview, 2019-2028 (USD Million)
Data protection and recovery
Storage and device management
Storage replication
Archiving
Storage virtualization
Software defined storage
Storage infrastructure software
Deployment type Overview, 2019-2028 (USD Million)
End User Overview, 2019-2028 (USD Million)
Industry Vertical Overview, 2019-2028 (USD Million)
BFSI
Government
Retail and E-commerce
Manufacturing
Healthcare
Telecom and IT
Others
Regional Overview, 2019-2028 (USD Million)
North America
Europe
UK
Germany
France
Rest of Europe
Asia Pacific
China
Japan
India
Rest of Asia-Pacific
Middle East and Africa
UAE
South Africa
Rest of Middle East and Africa
South America
Brazil
Rest of South America
Reasons for the study
The purpose of the study is to give an exhaustive outlook of the global Storage Software market. Benchmark yourself against the rest of the market.
Ensure you remain competitive as innovations by existing key players to boost the market.
What does the report include?
The study on the global Storage Software market includes qualitative factors such as drivers, restraints, and opportunities
The study covers the competitive landscape of existing/prospective players in the Storage Software industry and their strategic initiatives for product development.
The study covers a qualitative and quantitative analysis of the market segmented based on Software, Deployment type, End User and industry vertical. Moreover, the study provides similar information for the key geographies.
Actual market sizes and forecasts have been provided for all the above-mentioned segments.
Who should buy this report?
This study is suitable for industry participants and stakeholders in the global Storage Software market. The report will benefit every stakeholder involved in the Storage Software market.
Managers within the Storage Software industry looking to publish recent and forecasted statistics about the global Storage Software market.
Government organizations, regulatory authorities, policymakers, and organizations looking for investments in trends of the global Storage Software market.
Analysts, researchers, educators, strategy managers, and government institutions looking for insights into the market to determine future strategies.
Storage software is a software-based storage architecture that manages storage in a data centre, private cloud, or virtualization platform. It enables a user to monitor and manage existing data storage requirements, as well as forecast future requirements. Data protection and recovery, device management, storage replication and virtualization, and archiving are the most common applications for the software. It can make necessary adjustments based on the user's capacity needs and perform tasks, create new connections, and operate hardware without the need for administrator intervention.
In comparison to traditional tools such as network-attached storage (NAS) and storage area network (SAN), SDS reduces the software's reliance on proprietary hardware. As a result, it is widely used in a variety of industries, including telecommunications, information technology (IT), banking, financial services and insurance (BFSI), manufacturing, and retail.
Various technological advancements, such as the development of the Internet of Things (IoT), have enabled organizations to store their data on the cloud and remotely access it, which is also contributing to market growth. Furthermore, the introduction of hyper-converged infrastructure technology is a major growth driver. This technology runs storage, computational activities, and networking systems in a virtualized environment to optimize space and resource utilization.
Software Segment
Based on the Software segment, the market is classified into Data protection and recovery, Storage and device management, Storage replication, Archiving, Storage virtualization, Software defined storage, and Storage infrastructure software.
Deployment type Segment
Based on the Deployment type, the market is segmented into Cloud, On-premises. The primary advantage of using self-storage software is the incredible convenience it offers. This is especially true if you use a cloud-based self-storage system. When one has Internet access, this allows the business to access the data from anywhere. Through the custom storage facility map, some software systems provide a visual representation of available and occupied storage units.
End User Segment
Based on the End User, the market is segmented into SMBs and Enterprises.
Industry Vertical Segment
The growing trend in the e-commerce sector of opening physical stores for pick-up and delivery contributes to the expansion of the self-storage market. Along with the global expansion of the e-commerce sector, niche service demands, such as climate-controlled environments and functional spaces for sports equipment, in many regions provide many growth opportunities for the self-storage market.
North America is expected to have the largest revenue share in 2021, owing to rising enterprise demand for data centre connectivity networks, as well as the presence of leading companies in the region. Along with this, North America leads in terms of early adoption of advanced technologies, which is expected to contribute to the region's market growth.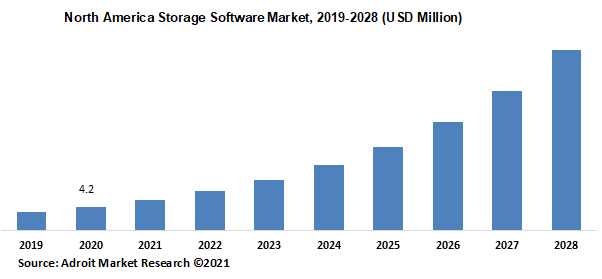 The major players of the global Storage Software market 6Storage, AndraTech Systems Corporation, Centreforce Technology Group, Domico Software, EasySpace, RADical Systems (UK) Ltd., SiteLink Software, LLC., storEDGE, U-Haul, Unit Trac and among other. These players have adopted various strategies, such as new product launches, partnerships, agreements, collaborations, mergers & acquisitions, and business expansions to cater to the needs of the Storage Software market. Renowned companies are offering new and modern Storage Software Data protection and recovery Softwares. Besides, the previously recognized as well as new market players are approaching the market with advanced and new strategic services and Softwares and to remain competitive in the global market.