The global smoke evacuation systems market was valued at USD 158.2 million in 2019 and is expected to grow at a CAGR of 6.3% over the forecast period. The rising number of laparoscopic and aesthetic procedures, serious health risk issues for healthcare practitioners and promoting government policies are the main driving forces for the industry. Surgical haze is a toxic by-product of the use of electrosurgical pencils, lasers, ultrasonic equipment and other surgical instruments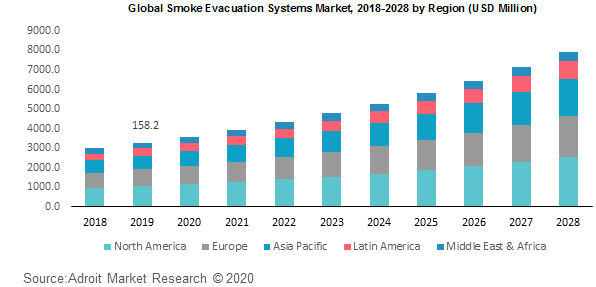 Linked benefits such as smoke-related risk reduction, improved visibility, particularly during laser and minimally invasive procedures, and decreased build-up on camera lenses are expected to increase the use of smoke evacuation systems in the near future. operation procedures, particularly cosmetic surgeries, drive demand for smoke evacuation systems. More than 17.7 million cosmetic operations were conducted in the USA, according to a survey released by the American Society of Plastic Surgeons 2018. In 2018, cosmetic surgical procedures in the U.S. increased by 4-5 % compared to 2017, and the trend is expected to continue in the near future. This, in turn, is expected to give the smoke evacuation systems market lucrative growth opportunities over the forecast period.
Key players serving the global market include Medtronic Plc., Conmed Corporation, Ethicon, Stryker, Pall Corporation, Olympus among other prominent players.
Key segments of the global Smoke Evacuation Systems market
Product Overview, 2018-2028 (USD Million)
Smoke Evacuating Systems
Smoke Evacuation Filters
Smoke Evacuation Pencils & Wands
Smoke-Evac Fusion Products
Smoke Evacuation Tubings
Accessories
Application Overview, 2018-2028 (USD Million)
Laparoscopic Surgeries
Medical Aesthetic Surgeries
Orthopedic Surgeries
Others
End-user Overview, 2018-2028 (USD Million)
Hospitals
Ambulatory Surgical Centers
Cosmetic Surgery Centers
Dental Clinics
Veterinary hospital & clinics
Regional Overview, 2018-2028 (USD Million)
North America
Europe

Germany
United Kingdom
France
Spain
Rest of Europe

Asia Pacific

China
Japan
India
Rest of Asia Pacific

Latin America
Middle East & Africa
Reasons for the study
The purpose of the study is to give an exhaustive outlook of the global Smoke Evacuation Systems industry
The overall segmentation of smoke evacuation systems market, especially key segments are thoroughly studied.
Presence of major players and their wide product portfolio across developed countries is anticipated to further boost the growth of smoke evacuation systems market
What does the report include?
The study on the global smoke evacuation systems market includes analysis of qualitative market indicators such as drivers, restraints, challenges and opportunities
Additionally, the market competition has been evaluated using the Porter's five forces analysis
The study covers qualitative and quantitative analysis of the market segmented on the basis of class and product. Moreover, the study provides similar information for the key geographies.
Actual market sizes and forecasts have been provided for all the considered segments
The study includes the profiles of key players in the market with a significant global and/or regional presence
Who should buy this report?
The report on the global smoke evacuation systems market is suitable for all the players across the value chain including raw material suppliers, smoke evacuation systems providers, medical device manufacturers, distributors, suppliers and retailers
Venture capitalists and investors looking for more information on the future outlook of the global smoke evacuation systems market
Consultants, analysts, researchers, and academicians looking for insights shaping the global smoke evacuation systems market
Improving medical tourism for laparoscopic and cosmetic surgeries in Asian countries such as Thailand, India, and Malaysia would be further expected to create lucrative opportunities for smoke evacuation systems in hospitals, clinics, and outpatient surgery centres. In 2017 around 4.95 lakh patients visited India for surgery, according to the Minister of State for Tourism. According to the Thailand Tourism Authority (TAT), in 2019 40.0 million tourists were expected, including health tourists and medical tourists.
As of now major companies focus on the production of new products and the selling of smoke escape devices. Zimmer Biomet Holdings, Inc., released the IntelliCart framework in March 2017 for example. It is a clog-free suction vacuum smoke extraction device, which is used to clear smoke feathers during surgical procedures.
Global companies are focused on introducing new tactics to boost their sales share, such as mergers, acquisitions, consumer growth, alliances and distribution deals. For example, CONMED acquired Buffalo Filter LLC in February 2019 which develops techniques for surgical smoke evacuation. The goal of this application technology is to give the business high growth opportunities.
The global smoke evacuation systems market has been bifurcated based on product, application End-user and region. In terms of Product the market is divided into smoke evacuating systems, smoke evacuation filters, smoke evacuation pencils & wands, smoke-evac fusion products, smoke evacuation tubings, accessories, as per application the market is divided into laparoscopic surgeries, medical aesthetic surgeries, orthopedic surgeries, others. On the basis of end-user, the study is divided into hospitals, ambulatory surgical centers, cosmetic surgery centers, dental clinics, veterinary hospital & clinics.
The highest share in 2019 came in the smoke evacuating systems segment. Increased adoption of this portable device, combined with the portable unit's applicability, is the main growth factor for those systems. It is further expected that related advantages such as hassle-free travel and high-flow vacuum evacuation would accelerate the acceptance of these items over the forecast period.
Laparoscopic segment accounted for dominant share in 2019. The use of smoke escape devices for surgical procedures to treat Crohn's disease, diverticulitis, ulcerative colitis and obesity is a key driver for this segment 's growth.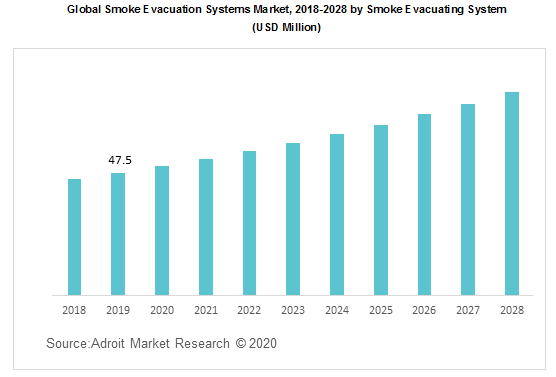 Based on regions, the global smoke evacuation systems market is segmented into North America, Europe, Asia Pacific, Central and South America and Middle East & Africa. Emerging markets such as APAC are giving companies major growth prospects in the demand for the products in coming years.
North America held the largest share of market revenue due to increased cases of laparoscopic along with cosmetic surgery such as Botox, where the use of laser treatment results in plumes of smoke during the procedure. During the forecast period the Asia Pacific market is projected to expand at a lucrative rate. Over the forecast period, the immediate need to reduce surgical plumes of smoke during surgery is anticipated to accelerate future growth. In addition, the increase in the number of medical tourism into Asia Pacific countries , such as China, Thailand and India, is anticipated to push the region's future growth