The safe and efficient transportation system, and reduced transportation time on highways is projected to magnify growth in the global Smart Highway Market
Covid-19 Impact & Market Status
The report offers an exhaustive overview of the business dynamics and new investment strategies that are being adopted by business leaders across countries and regions to overcome the acute challenges and financial instabilities that have emerged in the post pandemic times.
The report highlights some of the best industry strategies and practices that are adopted by the players across local and global markets. Ever since the Covid-19 broke out in 2019, it has spread aggressively, resulting in rapid declaration by the WHO affirming Covid-19 as a global pandemic and an emergency.
The impact of the pandemic is widespread and the aftermath is well pronounced, gravely affecting the global Smart Highway chip market. The sudden pandemic and its implications have posed significant challenges such as travel bans, quarantines, and lockdowns.
These developments are hampering operations resulting in supply chain breaches, stock market inefficiencies, and vendor chaos. These are constantly interfering with the normal functioning of industries.
Ever since the outbreak of the global crisis, impact on upstream, downstream, and midstream industries have been appalling. The report delivers a quick ready-to-deploy approach to counter such crisis and steer the global Smart Highway market towards steady growth and systematic progression.
Amidst the pandemic, aligning with new dynamics, global Smart Highway market has been witnessing new dynamics which are further necessitating new business models and approaches to recoup growth and revenue streams.
In this report, inquisitive business players would be provided with sufficient guidelines regarding business transformation, integral to sustain stiffening competition in the pandemic and beyond pandemic era global Smart Highway market.
Smart Highway for Smart Transport Management System segment to Sustain the Highest Revenues, Followed by Smart Traffic Management System
The market is growing due to an increase in the number of automobiles on the road and an increase in the number of road traffic injuries. Furthermore, the expansion of the smart highway market is fueled by an increase in international trade especially among emerging countries around the world.
Fuerhtermore, the smart traffic management system segment is expected to grow at the considerable CAGR over the forecast period. In addition, the growing need for better communication while travelling is boosting the application of smart monitoring, and smart communication system.
Digital Smart Highway Display Segment to be the Most Lucrative
Digital Smart Highway application is likely to witness maximum adoption in the forecast timeline as it offers improved billing functions. Potential drivers driving market expansion include, a surge in demand for high-speed data connectivity, and an increase in demand for smart transport system. These factors are estimated to boost the growth of digital signage segment in Smart Highway market.
Cloud Smart Highway Deployment Segment to be the Most Lucrative
The growing adoption of cloud based system in smart highway management is expected to contribute to market growth. On-premise segment is anticipated to expand at the significant CAGR over the forecast period.
Consultancy Smart Highway Service Segment to be the Most Lucrative
The growing trend of smart communication management system is expected to boost the growth of consultancy services. On the other hand, operation and maintnance segment is projected to grow at the significant CAGR over the forecast period.
North America to Sweep the Largest Revenue Streams Followed by Europe
North America is the largest contributor to this market, followed by Europe and then Asia Pacific. In North America, the presence of nations like U.S. and Canada, with the increased spending on construction sector, has raised demand for Smart Highway systems. By integrating sophisticated communication technologies with cars and infrastructure, the US Department of Transportation develops various intelligent transportation systems to increase transportation safety and mobility while also increasing American productivity.
Further, the growing need for smart traffic management solutions, which in turn is favoring rampant expansion of the global Smart Highway market across regions such as North America and Asia Pacific.
Increasing adoption of smart transport management system is expected to offer new opportunities in the global Smart Highway market
Roadways are continually changing, either as a result of repairs and construction or as a result of ongoing upgrades. Companies and research groups have been hard at work creating ways to make the roads safer and more driver-friendly, and to enable the adoption of advancements from the automotive sector, thanks to recent developments in smart technology. The term smart road refers to a new approach of incorporating technology into roads in order to improve the connection between two or more autonomous cars driving on the same track and to better monitor the road. Smart roads provide a number of advantages, including improving mass transportation systems, lowering driving time, minimising road accidents, and increasing traveller safety and desire. The major goal of smart roads is to save time for travellers and minimise pollution on highways.
The number of people on the road is predicted to quadruple in the next few years, yet the amount of land available for roadways is restricted. As a result, all countries are concerned about the lack of convenient, safe, pollution-free, and congestion-free transportation. To address these issues, industries are developing new technologies to address them in the current and future years. Many smart city initiatives are being developed in various regions, which is one of the major driving forces behind the highway sector. As a result, transportation businesses are offering intelligent highway solutions and services to support smart city initiatives. The federal government is also assisting roadway technology providers and suppliers. The operation, maintenance, and new enhancement of road infrastructure is the responsibility of highway authorities and state departments of transportation. It becomes extremely difficult to connect numerous sub-segments with a consistent communications network while managing highway systems. As a result, businesses are rushing to adopt breakthrough Intelligent Transportation Systems (ITS), which will help to reduce traffic congestion while also improving safety and security.
Despite a minor growth dip owing to Covid-19 implications, the global Smart Highway market is expected to recoup growth and register a CAGR over the forecast period.
Rapid urbanisation has resulted in an increase in greenhouse gas (GHG) emissions, resulting in a growing carbon footprint and necessitating the adoption of clean and sustainable intelligent transportation technology. This is beneficial to the market for smart highways. The growing trend toward the adoption of smart cities is projected to boost the growth of the smart highway market. The smart transportation management systems make use of digital sensors that can collect and store data in the event of a landslide, bad weather, or traffic jams, as well as display forecasts and alerts on LED screens along state and national highways.
The growing need to manage city assets such as traffic, roads, energy and water prompted the development of the smart city idea, which incorporates several information and communication technologies (ICT) as well as the Internet of things (IoT). Several governments in developed economies, including the United States, Germany, and the United Kingdom, have proactively focused on the deployment of various smart highway projects in an effort to overcome the various challenges faced by their populations and to upgrade their infrastructure in order to stay ahead of the adoption curve.
The adoption of service Smart Highway systems has aided service providers in improving the quality of their communication services by minimising the time it takes to advertise new services and by providing real-time charging to better tailor the telecom experience. However, legacy systems' incompatibility with converged networks may limit the Smart Highway market's growth potential to some extent. To address this issue, communication service providers are collaborating with over-the-top service providers and investing in new infrastructure. The cost of implementing all of the technology and components that make up the intelligent highway network, on the other hand, is relatively high, which may limit market expansion.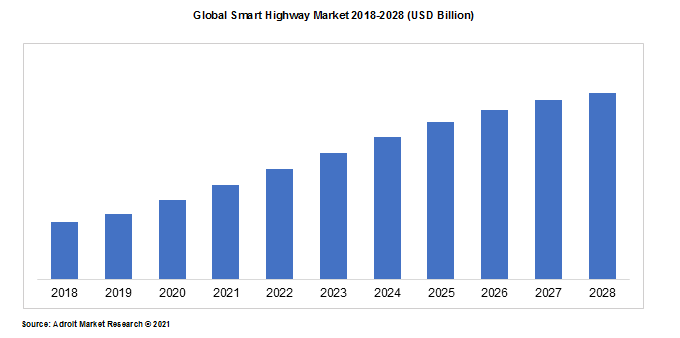 The major players of the global Smart Highway market are CISCO Inc, Kapsch TrafficCom AG, IBM Corporation, Siemens AG, Schneider Electric, Alcatel-Lucent Enterprise, Huawei Technologies Co. Ltd, Indra, and Xerox Corporation.
The Smart Highway market is a rapidly progressing industry and is characterized to have industrial frontliners as well as aspiring new players aiming to penetrate into the aggressive competitive landscape across global and local markets. Additionally, various new and aspiring players are improving their product lines and upgrading technological capabilities to improve revenue streams amidst Covid-19 impact.
Latest Innovations in the Global Smart Highway Market: a Snapshot
In Otcober 2021, Smart Road 4.0, an innovative technology capable of considerably enhancing mobility and road safety in a smart road, a region in which connected cars send and receive information over a network of intelligent sensors, was introduced by T.net, a startup in EIT Digital's portfolio.
In February 2021, India has launched its INR 427-crore Smart Road project, which will see 37 km of roads in the Thiruvananthapuram Corporation's Area-Based Development (ABD) area renovated to smart roads by burying all overhead utilities.
Smart Highway Market Scope
| | |
| --- | --- |
| Metrics | Details |
| Base Year | 2020 |
| Historic Data | 2018-2019 |
| Forecast Period | 2021-2028 |
| Study Period | 2018-2028 |
| Forecast Unit | Value (USD) |
| Segment Covered | Technology, Display, Deployment, Service, Regions |
| Regions Covered | North America, Europe, Asia Pacific, Middle East and Africa, South America |
| Key Players Profiled | CISCO Inc, Kapsch TrafficCom AG, IBM Corporation, Siemens AG, Schneider Electric, Alcatel-Lucent Enterprise, Huawei Technologies Co. Ltd, Indra, and Xerox Corporation. |
Key Segments of the Global Smart Highway Market
Technology Overview, 2018-2028 (USD Billion)
Smart Transport Management System
Smart Traffic Management System
Smart Communication System
Smart Monitoring System
Display Overview, 2018-2028 (USD Billion)
Digital Signage
Variable Signage
Deployment Overview, 2018-2028 (USD Billion)
Service Overview, 2018-2028 (USD Billion)
Consultancy Service
Operation and Maintenance Service
Managed Service
Regional Overview, 2018-2028 (USD Billion)
North America
Europe
Germany
France
UK
Rest of Europe
Asia Pacific
China
India
Japan
Rest of Asia Pacific
South America
Mexico
Brazil
Rest of South America
Middle East and South Africa
Frequently Asked Questions (FAQ) :
The key factors that are influencing the global market for smart highway are the increasing need for reliable and sustainable roads and the augmenting requirement for reducing traffic issues.
North America holds highest share.
The major players of the global Smart Highway market are CISCO Inc, Kapsch TrafficCom AG, IBM Corporation, Siemens AG, Schneider Electric, Alcatel-Lucent Enterprise