A smart building uses automated technology to control the building's various operations like air conditioning, lighting, security, heating, ventilation, and other systems. These solutions have the application of actuators, sensors, and microchips, to collect and manage data. Smart buildings facilitate owners in improving asset reliability and performance which gradually optimize space utilization, reduce energy use and reduces the environmental impact of buildings.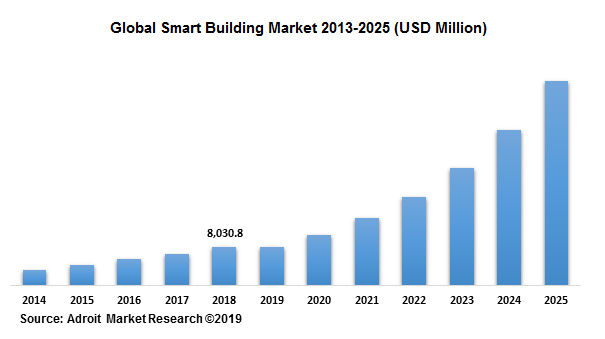 The global smart building market size is projected to reach USD 42.70 billion by 2025. The major factor driving smart building market growth is the growing global energy usage concerns. Energy utilization is increasing at a faster rate, so finding efficient ways to use it wisely is necessary. Since the number of commercial complexes that consume major amounts of power and other types of energy has doubled, the requirement for automation systems has boosted and is expected to grow in the coming years.
The support and investments by government and organizations are also the factors due to which the demand for smart building solutions in increasing. For instance, in January 2019, Smartworld a UAE based system integrator had entered into a partnership with Honeywell Building Solutions to offer its smart building technology. This partnership will enable UAE to enhance its smart building integrated and IoT-enabled solutions offering. Moreover, in the coming years, the technology spending for smart cities and smart buildings in the Middle East & Africa is going to double i.e. from USD 1.30 billion to USD 2.70 billion within a year.
Smart Building Market Scope
| | |
| --- | --- |
| Metrics | Details |
| Base Year | 2019 |
| Historic Data | 2017-2018 |
| Forecast Period | 2020-2025 |
| Study Period | 2015-2025 |
| Forecast Unit | Value (USD) |
| Revenue forecast in 2025 | USD 42.70 billion |
| Segment Covered | Type, End-User, Regions |
| Regions Covered | North America, Europe, Asia Pacific, South America, Middle East & Africa |
| Key Players Profiled | Honeywell, Johnson Controls, Siemens, United Technologies Corporation, Schneider Electric, Ingersoll Rand Inc., Azbil, ABB Ltd., Emerson Electric Company and Crestron Electronics, Inc. |
Key Segments of the Global Smart Building Market
Type Overview, 2015-2025 (USD Billion)
Intelligent security system
Network management system
Building energy management system
Infrastructure management system
End-User Overview, 2015-2025 (USD Billion)
Residential
Commercial
Industrial
Regional Overview, 2015-2025 (USD Billion)
North America
Europe

France
UK
Germany
Italy
Spain
Belgium
Netherlands
Austria
Poland
Russia
Rest of Europe

Asia Pacific

India
Japan
China
Australia
South Korea
Southeast Asia
Rest of APAC

South America

Brazil
Argentina
Chile
Peru
Rest of South America
Middle East and Africa

Egypt

Iran

Israel

South Africa

GCC

Turkey

Rest of Middle East & Africa
Reasons for the study
The purpose of the study is to give an exhaustive outlook of the global smart building market. Benchmark yourself against the rest of the market.

Be prepared for how smart building trends and the global smart building market will be impacted by socio-political and economic factors over the next few years

Ensure you remain competitive as new innovations and insurance models begin to enter the market.
What does the report include?
The study on the global smart building market includes qualitative factors such as drivers, restraints, and opportunities

Additionally, the market has been evaluated using the Porters 5 Forces and Value Chain Analysis.

The study covers a qualitative and quantitative analysis of the market segmented on the basis of type and end-user. Moreover, the study provides similar information for the key geographies.

Actual market sizes and forecasts have been provided for all the above-mentioned segments.

The study includes the profiles of key players in the market with a significant Global and/or regional presence.
Who should buy this report?
This study is suitable for industry participants and stakeholders in the global smart building market. The report will benefit:
Every stakeholder involved in manufacturing and distributing smart building solutions.

Managers within financial institutions looking to publish recent and forecasted statistics pertaining to the global smart building market.

Government organizations, regulatory authorities, policymakers and financial organizations looking for innovative global smart building solutions.

Analysts, researchers, educators, strategy managers, and academic institutions looking for insights into the market to determine future strategies.
Smart building technology should enable real estate investors to boost their ROI in two respects, one in savings from generating more traditional operating efficiencies through energy, water, and space conservation, and another in price gains per square meter by optimizing the tenant experience. Today's most sophisticated smart buildings have up to 30,000 sensors that track changes in foot traffic, temperature internal and external, HVAC system efficiency, build system outages, worker movement and preferences, and more. Data extracted from these sensors combined with data from blogs, web posts, and social media can help us understand the most valued stakeholders. For all this, a platform that collects and integrates the data to provide useful outputs is needed.
Smart buildings are extremely energy-efficient, using technology to monitor the usage of electricity and water closely and optimize it. Smart buildings will be essential for maintaining the functioning of electricity grids and achieving ambitious de-carbonization objectives set by national governments. Europe and North America are backed by an aging national electricity infrastructure that needs substantial investment in order to satisfy increasing demand, put pressure on utilities to achieve operational efficiencies or find better methods to supply energy. A smart electricity grid uses data on energy consumption to find out the efficiencies and improve the reliability of supply. Connected energy meters, appliances, and sensors are used in a smart grid to provide information on energy use habits to utility companies. The smart grid, however, relies on smart buildings. Buildings account for around 40% of total energy consumption and 36% of overall carbon emissions. New York, Boston, Philadelphia and other major American cities have established building energy benchmarks ordinances requiring thousands of commercial buildings to track and publically report their energy consumption. In the EU, Directive 2010/31 promotes the ultimate goal of ensuring that all new buildings are nearly zero-energy buildings by 2020, to produce almost as much energy onsite as they consume.
Type Segment
On the basis of types of smart building solutions, the market is categorized into an intelligent security system, network management system, building energy management system and infrastructure management system. Building energy management system dominated the overall smart building market which occupied a 36.5% share in 2018 and is expected to maintain its position over the forecast period 2019 -2025. Owing to rising concerns about wastage of electricity in residential and commercial spaces, owners and building contractors are installing smart solutions to reduce the wastage and optimize the use of resources in an efficient way.
End-User Segment
On the basis of end-user, this market covers categories like residential, commercial and industrial. In 2018, smart buildings market has high-end users for commercial buildings while residential end-users are predicted to adopt the smart building solution with the higher rate.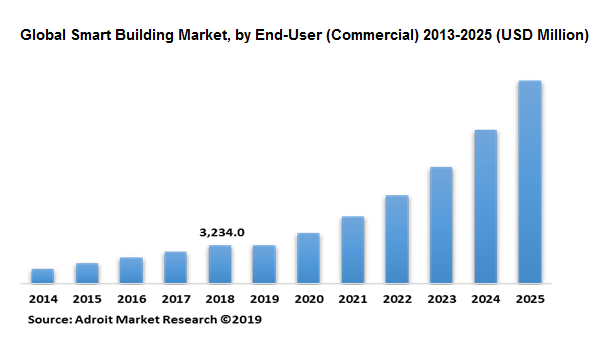 On the geographical front, Europe dominated the global smart building market in 2018 and is expected to do so over the forecast period 2019 – 2025. Europe's market growth owes to the stringent regulations to reduce carbon footprint and conserve energy resources most of the countries including Germany, France, Italy, Span, and others had installed smart solutions in their residential and commercial building. Moreover, there is a lot of potentials for smart building solutions market to grow in Nordic countries and Eastern Europe countries.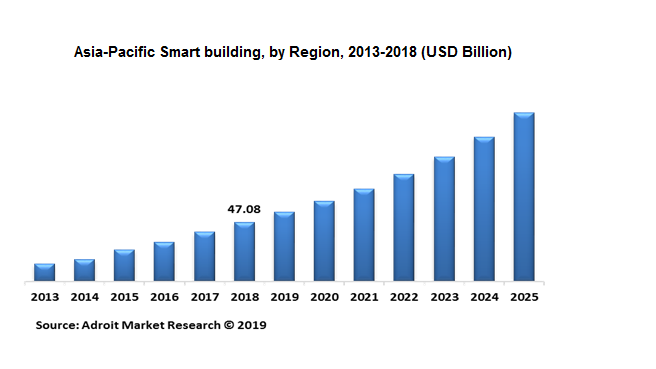 The Asia-pacific market is expected to have the fastest growth with 33.7% CAGR over the forecast period. The growth owes to the higher adoption by companies to heighten productivity and efficiency. By installing IoT devices into the workplace or making a building smart with other measures improve employee productivity. Another key driver is the older population living away led to the development of mobile health due to the concern of safety and security. Mobile health offers easy access to healthcare applications that are used to monitor the elderly's health. Mobile health, in turn, drive smart homes and buildings market.
The major players of global smart building market are Honeywell, Johnson Controls, Siemens, United Technologies Corporation, Schneider Electric, Ingersoll Rand Inc., Azbil, ABB Ltd., Emerson Electric Company and Crestron Electronics, Inc. As of 2018, the market for smart building solution providers is fragmented with the presence of established global and domestic players across the globe. Moreover, the established companies are coming up with new versions of smart applications to manage smart solutions by using smart devices. For instance, Honeywell expanded its smart building application in April 2018 to include mapping to help people find an easy way around large buildings. The Honeywell Vector Occupant App was designed to allow individuals to communicate with smart building features. The additional features use GPS-like technology to help people find their way around complex, non-directionally navigable buildings.