The global single-use bioreactors market was valued at USD 1,299.6 million in 2018. Factors driving the growth of the single-use bioreactors market include rising demand for biosimilars and bulk quantities of antibodies, reduced automation complexity and reduced impact on the environment. However, regulations surrounding SUB may restrain the market growth.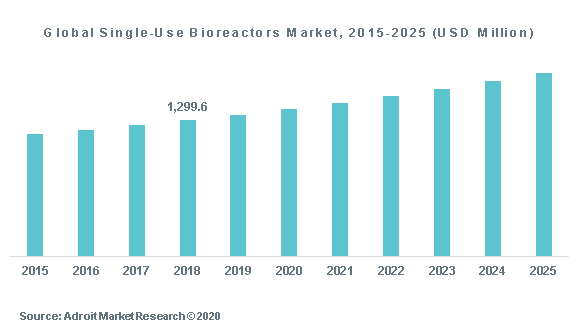 Single-use bioreactors provide an excellent option to adapt the production capacity to the market demand. This is especially attractive to the biosimilar industry as it allows managing the capital investment into production capacity and reducing the financial risk associated with this. Compared with stainless steel, the upfront investment is significantly lower and capacity can quickly and easily be increased as market demand grows due to considerably shortened lead times. When it comes to innovative antibody drugs, we mainly see a trend to control development costs and increase flexibility in the clinical phase. Single-use bioreactors eliminate the need for cleaning validation and avoid cross-contamination in a multiproduct facility.
The global Single-Use Bioreactors market worth USD 12781.41 Million by 2030, growing at a CAGR of 15.7 %
The global single-use bioreactors market is categorized based on type, cell, molecule and application. Based on type, the bubble column SUB is expected to grow at a highest CAGR. The simple structure of bubble-column reactors makes them easy to maintain, controlling the degree of shear, uniformly within the reactor, which is critical to the growth of plant and animal cells in particular.
Europe is anticipated to account for the largest market share of the SUB market which is followed by North America. Patent expiry of many biologic drugs, is a key factor fueling growth in this region. Leading players include Sartorius Stedim Biotech, Merck Millipore, GE Healthcare, Danaher, Thermo Fisher Scientific, Parker Hannifin, Applikon Biotechnology, Eppendorf, Cesco Bioengineering, Cellexus, Celltainer Biotech, PBS Biotech, Distek, Solida Biotech and Pierre Guerin.
Key Segment Of The Single-Use Bioreactors Market
By Application, 2022-2030 (USD Million)
• Process Development
• Research and Development (R&D)
• Bioproduction
By End-User, 2022-2030 (USD Million)
• Pharmaceutical & Biopharmaceutical Companies
• CROs & CMOs
• Academic & Research Institutes
By Product, 2022-2030 (USD Million)
• Single-use Bioreactor Systems
• Single-use Media Bags
• Single-use Filtration Assemblies
• Other Products
By Molecule Type, 2022-2030 (USD Million)
• Monoclonal Antibodies
• Vaccines
• Gene-modified cells
• Stem Cells
• Other Molecules
Regional Overview, 2022-2030 (USD Million)
North America
• US
• Canada
Europe
• Germany
• France
• UK
• Rest of Europe
Asia Pacific
• China
• India
• Japan
• Rest of Asia Pacific
South America
• Mexico
• Brazil
• Rest of South America
Middle East and South Africa
Frequently Asked Questions (FAQ) :
the single-use bioreactors market is growing at a CAGR of 19.3% during the forecast period
Europe dominated the market forsingle-use bioreactors market and accounted for the largest revenue share.
The base year for the report is 2018 in single-use bioreactors market
Single-use bioreactors, which are being used at clinical scale for of bioprocessing operations, will continue to be adopted by bio manufacturers and CMOs at larger commercial scale as pipeline products being produced in single-use systems are approved, and move into commercial production. Because most single-use disposable systems are already being used in scale up/clinical production, much of the future growth will come from the growth of larger commercial scales, increasing market growth of single-use systems since these are much costlier systems to implement. As the industry matures, vendors are creating improved disposable technologies to differentiate themselves from competitors. This bodes well for manufacturers and CMOs as it will drives down prices and increases competition. Disposable processing equipment is now being considered increasingly for more strategic reasons, such as reduction in overall costs, and improved productivity. 'Tactical' reasons such as reductions in cleaning and validation requirements and in cross-contamination events are still important decision factors, but are being seen as relatively less critical.
As better upstream productivity in recent years has required lower and/or less frequent dosing, and production requirements can be made at a tenth of the scale from a decade ago, more production lines can be specified at single-use scales. At this scale, e.g., 2000L or less, disposable bioreactors are viable and cost-effective. Further, some facilities, such as CMC Biologics in Bothell, WA, and Copenhagen Denmark are chaining multiple 2000L bioreactors to create up to 12000L batch sizes. Thus, further reducing the need for large stainless steel tankage.
Complete single-use upstream bioreactors can compete with larger commercial-scale manufacturing in cost. And now, suppliers and innovators are turning to downstream processing single-use bioreactors to find cost-effective and efficient solutions. Even facilities with conventional steel facilities are creating hybrids with single-use systems to optimally incorporate disposables for production.
As regulatory agencies become more comfortable with the performance of single-use systems, the industry will see a wider adoption at commercial scale. This will result in the market for SUS rapidly growing far past its current size. The availability of current single-use bioreactors has benefited new biopharmaceutical start-ups in particular, allowing them to spend much less capital and quickly advance the development of new products. Single-use systems may therefore increase the competition within the biopharmaceutical manufacturing industry as a whole, allowing smaller and medium-sized companies to gain a quick foothold, whereas in the past, they would have been prevented from doing so by huge up-front facilities costs.
Based on molecule, the global single-use bioreactor market is segmented into monoclonal antibodies, vaccines, gene-modified cells, stem cells, and other molecules (recombinant proteins, including, antisense, growth factors & interferons and RNA interference). Monoclonal antibodies segment is projected to grow at fastest CAGR during the forecast period.
Monoclonal antibodies are playing an increasing role in treatment, and more than a hundred MoAb were in clinical development in 2015. These biopharmaceuticals (recombinant proteins produced by cells in culture) have a molecular mass and mechanisms of action which are very different from "conventional" drugs, generally obtained by chemical synthesis. Monoclonal antibodies are so expensive in part because of the cost and complexity of manufacture, the need for relatively high doses, and the price point set by early innovative treatments. Although raw material costs are low USD 2 per gram of product produced, the process itself is extremely expensive. A typical production run takes 10-14 days and may produce only 5-25 kg of antibody. The process involves 10 distinct steps, from initial culture of the cells through three separations to isolate the antibody. Royalties, research and development, and marketing costs add to the overall price. However, as the scale of production has increased over the past decade, production costs have decreased by two thirds. Governments in the US and UK have taken different approaches to dealing with the high cost.
Europe dominated the SUB market in 2018. The uptake of single-use bioreactors in this region is mainly driven by the development of new disease treatments and biosimilars.
Biosimilars are an integral part of the European market. A large and diverse group of manufacturers in this region are investing in the development and commercialization of biosimilars, bringing with this investment the promise of high-quality biologic therapies at a lower cost. In Europe, more than 45 biosimilar products (for 15 biologic medicines) are now approved and registered treating a variety of diseases within oncology, autoimmune disorders, diabetes and fertility. Frameworks to facilitate, and mechanisms to encourage, the use of biosimilars have been established at the European and country level, and have consistently emphasized the role biosimilars can play in expanding biologics access for patients, while lowering treatment costs.
In Europe, biosimilars have also increased patient access to biologic medicines, raising utilization of the molecule across countries. The current regulatory environment and clinical guidelines are positive toward sustainability by creating a neutral or positive climate for biosimilars relative to originator biologics. Additionally, product-related sustainability elements have been maintained across countries: biosimilars have proven to be safe, quality products, and manufacturers have provided a reliable supply to markets.