The global single malt whisky market size was valued at USD 2.59 billion in 2018. The growth of single malt whisky market is largely attributed to the growing sales of Scotch whisky which is preferred among a large number of whisky consumers and accounts for more than half of the overall sales of the market. The premiumization of products which adds a level of sophistication coupled with the rising number of population with higher purchasing power has mainly driven the market. Furthermore, With the advent of internationalization, the relationship between the single malt market top player economies and the production process that yielded considerable onus for this market which is forecasted to grow significantly with the rising demand for premium single malt whiskey. The global market in recent years has witnessed the vodka industry overtake single malt whisky market in sales volumes. However, sales of single malt whisky are growing in many overseas markets, such as Asia-pacific.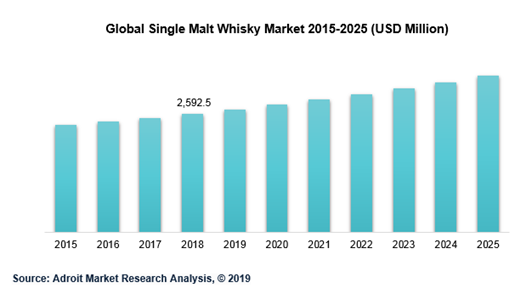 Single Malt Whisky Market Scope
| | |
| --- | --- |
| Metrics | Details |
| Base Year | 2019 |
| Historic Data | 2017-2018 |
| Forecast Period | 2020-2025 |
| Study Period | 2015-2025 |
| Forecast Unit | Value (USD) |
| Revenue forecast in 2025 | USD 3.43 billion |
| Growth Rate | CAGR of 4.1% during 2021-2028 |
| Segment Covered | Type, Distribution Channels, Regions |
| Regions Covered | North America, Europe, Asia Pacific, Middle East & Africa, Latin America |
Key segments of global single malt whisky market
Type Overview, 2015-2025 (USD Million)
Scotch Whisky

American Whisky

Irish Whisky

Others
Distribution Channels Overview, 2015-2025 (USD Million)
Supermarkets

On-Trade

Specialist Retailers

Online

Convenience Stores
Regional Overview, 2015-2025 (USD Million)
North America

Europe

Spain

UK

Italy

Germany

Rest of Europe

Asia-Pacific

China

India

Japan

Southeast Asia

Rest of Asia-Pacific

Latin America

Brazil

Rest of Latin America

Middle East & Africa

GCC

South Africa

Rest of Middle East & Africa
Reasons for the study
The purpose of the study is to give an exhaustive outlook of the global single malt whisky industry.

The demand for single malt whisky is making a major shift from the North American and European countries to Asia Pacific. This shift in market dynamics is due to the rising middle class population with increased purchasing power.

Brands are beginning to cater to the millennial crowd with higher purchasing power and willingness to spend by launching quirk and edgy products in to the market.
What does the report include?
The study on the global single malt whisky market includes qualitative factors such as drivers, restraints, and opportunities

The study covers qualitative and quantitative analysis of the market segmented on the basis of type, distribution channels, and region. Moreover, the study provides similar information for the key geographies.

Actual market sizes and forecasts have been provided for all the above-mentioned segments

The study includes the profiles of key players in the market with a significant global and/or regional presence
Who should buy this report?
This study is suitable for industry participants and stakeholders in the alcohol markets. The report will benefit:
Executives of single malt whisky producing companies.

Managers within financial institutions looking to publish recent and forecasted statistics pertaining to single malt whisky market.

Venture capitalist looking into investing capital.

Technology analysts, researchers, strategy managers, and marketing institutions looking for insights into the market to determine future strategies.
The rise of an aspiring and increasingly discerning middle class population in countries globally is among the most prominent demographic and social trends of the 21st century which is driving most of the consumer markets. The world is getting wealthier and is witness a rise in the number of middle-class consumers with higher disposable income and a higher propensity to consume. This number is projected to rise dramatically over the course of 15 years, especially in Asia- Pacific.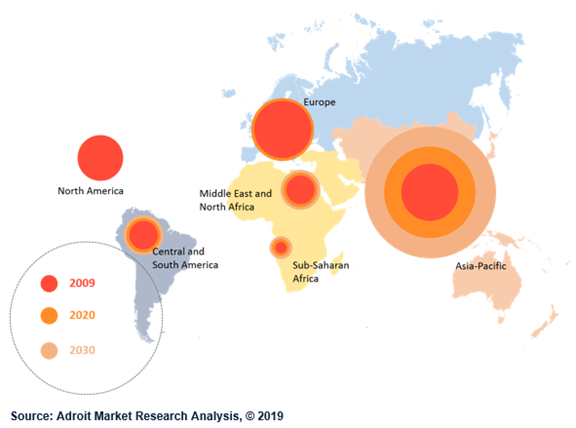 Across the world, this expanding demographic are not only exhibiting rising disposable income but also a readiness to pay for rare and expensive single malt whisky. With rising aspirations and increasing disposable incomes, consumers are upgrading towards premium segments. Furthermore, the rising popularity among millennials have led to the whiskey manufacturers to expand their customer reach via the introduction of novel and edgy drinks. Companies claim that a large volume of their sales is being driven by young consumers, thereby compelling distillers to position some of their brands as more edgy and vibrant. For instance, Monkey Shoulder, a quirky blend of three single malts that launched in India in 2015, sells nearly 100 bottles a day in just two markets — Delhi-NCR and Mumbai. Premium single malt whiskies historically have been bought usually at duty free shops at lower prices. However, distillers have begun to push their premium brands via pubs, restaurants and bars which attract younger patrons and thereby increase their revenues. Therefore, the global single malt whisky market is primarily been driven by trends which include rising number of middle class income with increased demand for premium produced, and targeting of millennial population with quirky and attractive offerings.
The single malt whisky refer to whisky distilled at a single distillery from malted barley and water without adding any other cereals, and via batch distillation inside pot stills. However, the single malt whisky produced in Scotland are the most preferred and are produced only form malted barley. The single malty whisky matures in minimum of three years, but Scotch malt Whisky takes at least ten years for its maturity, and more frequent that it exceeds this period. Generally, Scotch whisky is produced in similar manner, though they don't taste the same. Along with variance in production methods which defers from distillery to distillery, the single malt whisky belonging to different regions of Scotland possess a unique flavor profile. For instance, the Highland whiskies are lighter, whereas Seaside whiskies have a more elegant flavor, and those produced on the "Islands" have the tendency to be rendered slightly salty from the ocean air.
Similarly, single malts manufactured in other locations possess their own methods and characteristics. Few may make use of grains instead of barley. Japanese single malts are believed to rival the flavor from its Scottish rivals. Numerous American distilleries have made impressive experiments in their single malt whiskies. However, Scotch whisky is the most demanded single malt whisky all over the world. Distillers set levels of production by estimating the level of demand for their product over the next decade. The Scotch whisky demand can be effectively gauged from its import level in the global market. The global single malt whisky market segmented on the basis of type was dominated by Scotch whisky accounting for nearly 60% of the overall sales.
Scotch whisky exports in 2018 were record setting, according to data published by HM Revenue & Customs. The value of export of all Scotch whisky during 2018 was pegged at USD 6.05 billion which was a 7.8% gain from the previous year. Additionally the volume of exports grew to 1.28 billion 70cl bottles, an increase of 3.6% from 2017 and surpassing the previous high of 1.26 bottles set in 2011. Geographically, the U.S. dominated the market, becoming the first-ever export market termed as the "billion pound" market in 2018. The U.S. export of Scotch whisky increased by 12.8% increase to reach a value of USD 1.8 billion in 2018. The global single malt whisky market sales which is dominated by the Scotch whisky sales is therefore witnessing tremendous demand in the global market, which is evident through the record setting export volume.
The global single malt whisky market is dominated by Asia Pacific which accounted for nearly 30% of the overall market revenue in 2018. China is estimated to be the single largest consumer of alcohol in the world with an increasing luxury consumer base enabling higher penetration opportunity for international spirits, particularly for single malt whisky. By 2025, 75% of China's urban population is expected to be classified as middle class; a trend which is assisting demand growth of premium products like Johnnie Walker.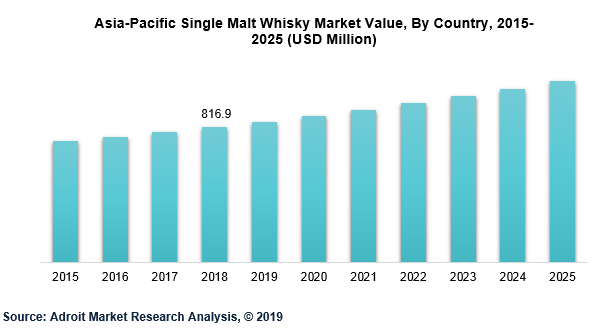 The region's revenue stood at USD 816 million in 2018. The revenue of the market in this region is driven by the demand in China, Japan, India and Southeast Asian countries. Singapore was the largest importer of Scotch whisky followed by Taiwan and India. Additionally, there has been a spurt of regional/local whisky brands in markets which include India, and Japan which presents opportunities for single malt whisky market to capitalize on premiumization trends as disposable incomes increase in these countries