The global silicone rubber sheet market size was valued at nearly USD 3.6 Billion in 2018 and expected to witness a substantial growth from 2019 to 2026. With the innovation pertaining to the advancements in the medical, automotive, and food & beverages sectors, the demand for silicon rubber has been increasing. Such a positive development is expected to further boost the requirement for silicone rubber sheets in various end-user industries over the years ahead.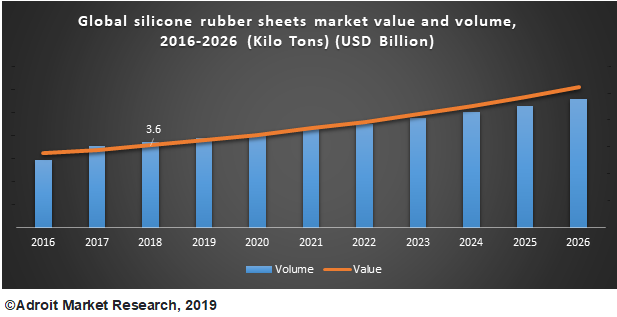 Silicone rubber sheet is mainly an inorganic synthetic elastomer made out of a silicon-based cross-linked polymer. Silicone has a feature to remain rubbery and elastic, which makes the product highly valued in numerous markets. These products are available in a variety of design specifications that are based on physical parameters, chemical contact, and industrial usage based on the application.
Silicone rubber sheets are ideal for use in a wide range of applications due to its several versatile properties. It is resistant to moisture, chemical, compression, and extreme high and low temperatures, which helps to make this product a cost-effective and practical rubber choice for most industrial applications. A silicone rubber sheet is used to cover a wide range of purposes across many industrial application requirements, such as necessity for aeration in the medical industry or as an external gasket in the automotive sector.
Recent strategic developments of key players have positively influenced the silicone rubber sheets market dynamics. For instance, in October 2019, Wacker Chemie AG invested around USD 150 million for a new facility in the US and launched production of pyrogenic silica, which is an important formulation component for manufacturing silicone rubber. The facility has a production capacity of 13,000 metric tons annually.
Key Segments of the Global Silicone Rubber Sheet Market Report
By Product Overview, 2016-2026 (Kilo Tons) (USD Million)
Insulation sheet

Conductive sheet

Flame retardant sheet

Others

By Formulation Overview, 2016-2026 (Kilo Tons) (USD Million)

Transparent & translucent sheet

Solid

By End-user Overview, 2016-2026 (Kilo Tons) (USD Million)

Food & beverage

Pharmaceutical and medical

Automotive & transportation

Electrical & electronics

Others

Regional Overview, 2016-2026 (Kilo Tons) (USD Million)

North America

U.S.

Rest of North America

Europe

Western Europe

Russia

Rest of Europe

Asia Pacific

China

India

Japan

Southeast Asia

Rest of Asia Pacific

Central & South America

Brazil

Rest of Central & South America

Middle East & Africa
Reasons for the study

The purpose of the study is to give an elaborate view of the global silicone rubber sheet industry

We have been analyzing the recent growth trends of the synthetic rubber industry. The non-tire applications of synthetic rubbers have been portraying an elevated trend in utilization of neoprene, EPDM, and silicone rubbers.

The historic and recent trends revolving around the usage of silicone rubber products have shown a positive growth worldwide

Competence of silicone rubber sheets with other substitutes and rising demand for synthetic rubbers exhibiting high performance features helped us in understanding the market dynamics of the product across each geography
What does the report include?
The study on the global silicone rubber sheet market includes qualitative factors such as drivers, restraints, and opportunities

Additionally, the market has been evaluated using the value chain, PESTEL analysis and Porter's Five Forces analysis

The study includes qualitative and quantitative analysis of the market categorized on the basis of product type, formulation, end-user and region

Actual market sizes and forecast figures have been provided for all the afore-mentioned market segments

The report also includes in-detail profiling of key industry players that have a significant global and/or regional presence
Who should buy this report?
This study is suitable for industry participants, government organizations and stakeholders in the silicone rubber industry, who want an in-depth insight into the development of the silicone rubber sheet market. The report will benefit:

Executives of companies that are a part of the silicone rubber sheet business and service providers

Financial managers that are looking to study and publish recent and forecasted numbers pertaining to silicone rubber sheets

Government organizations, regulatory authorities, policymakers players looking for foreign investors for collaborations

Analysts, researchers, educators, strategy managers, and academic institutions looking for insights into the market to analyze future developments
Competitive landscape of the global silicone rubber sheet market depicts significant fragmentation. The market comprises large multinational players offering innovative products that matches the demand of their customers. These manufacturers have been increasingly emphasizing on the research and development of silicone rubber sheet by abiding to the industry regulations. Due to the growing competition, companies are also seeking alternatives to enhance business profits and reduce additional costs.
Silicone rubber sheet is characterized by its numerous properties such as:
Good radiation resistance
Superb low-temperature flexibility and resistance to high-temperature
Descent flame resistance
High resistance to chemicals and environmental effects
Electrical insulating to semiconducting adjustments
Outstanding compression set
Growing consumer demand for improving vehicle performance, engine efficiency, and solution for heat generated automobiles has increased the adoption of silicone rubber in the recent years. Rising problems associated with performance and quality of rubber materials and heat generation in new vehicles has increased penetration of silicone rubber in automotive industry. Silicone rubber are used in HT cables, headlamps, ventilation flaps, radiator seals, EV battery seals, etc. Additionally, high strength silicon rubber is widely used as a sealant and coating for automotive airbags. Moreover, technological advancement offers convenient use of silicone with thermoplastics to provide lower coefficient and friction.
Silicone rubber sheets are used in various applications in the pharmaceutical & medical industry. These sheets are used to produce medical device components and molded gaskets. Silicon rubber sheet bestows higher biocompatibility, chemical resistance, temperature resistance, and greater processing flexibility that helps in making a finished medical products. Ease of sterilization and resistance to bacteria has increased are other key aspects that are likely to boost the product consumption and the overall market size in the future. The pharmaceutical and medical segment is the third-largest end-user accounting for more than 20% of the total silicone rubber sheet market share in 2018.
Key market players offer various types of silicone rubber sheets under commercial brands. For instance, Wacker Chemie AG offers two types of solid silicone rubbers under ELASTOSIL R and ELASTOSIL R plus and liquid silicone rubber products under ELASTOSIL LR brands. West American Rubber Company, LLC offers silicone sheet rubber products which can withstand a wider range of temperature from -80°F to +450°F. Silicone Engineering manufactures fabric reinforced sheeting, sponge sheeting, and solid sheeting under its kSil brand which are used in automotive, rail, and aerospace industries.