The size of the global market for Search Monetization Software is expected to reach USD 1703.61 Billion by 2028, expanding at a compound annual growth rate (CAGR) of 17.53%.
All efforts to convert visits, clicks or downloads begin with the goal of profiting from traffic. Internet traffic is made up of people's online activity. They become prospective consumers when they search online for a product or service to address an issue. Search monetization delivers the correct response to people looking for a term and earning money from it. The interruptive nature of search monetization software is emerging as a significant challenge as users are becoming more conscious and aware about user privacy. Additionally, if users have installed ad blockers, visibility of advertisements get compromised. These factors have restrained full-fledged growth in search monetization software market in recent years. However, advances in e-commerce industry are anticipated to serve as effective growth launchpad in the forecast years.
Software is a key component of a software company's or device vendor's intellectual property (IP), and as such, it needs strict security and protection. Software piracy costs the global software business over $50 billion per year, and it is in the best interests of software firms and device suppliers to take the required precautions to secure their code. However, software security alone is insufficient to pay employees, keep the lights on, and develop and mature into a worldwide software company. To earn income, ISVs (Independent Software Vendors) must assure payment for their goods.
Effective software monetization allows software businesses to secure their programs from unlawful copying, distribution, and use while also generating new income, allowing the business to expand and adapt. Modern software monetization solutions integrate enablement, licensing enforcement, and visibility into how and when applications are deployed and used. These data insights can aid in the direction of product development decisions and company strategy. Depending on specific use case, deployment of hardware, software, or cloud-based licensing solution are considered to assist in the monetization of program. Cloud-based licensing eliminates the need to ship actual hardware, such as dongles to clients and offers automated and instantaneous license enablement, allowing users to use software quickly and easily from any device, including virtual computers and mobile devices.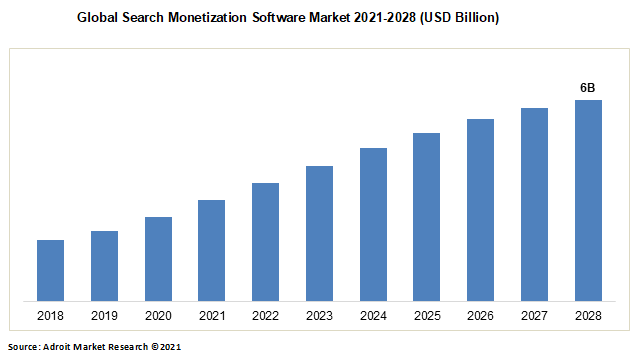 To optimize income, software monetization must be done using technologies that decrease friction in the licensing and payment process, regardless of the type of software application produced or how that program is provided to the end-user. ISVs and device makers must package their software to meet the changing environment of their end-users in today's marketplace of limited budgets and poor revenue growth. The needs of enterprises and end-users are always changing, making packaging and pricing of software products difficult. When company choices are made without adequate due diligence, a significant amount of money might be wasted.
Search Monetization Software Market Scope
| | |
| --- | --- |
| Metrics | Details |
| Base Year | 2020 |
| Historic Data | 2018-2019 |
| Forecast Period | 2021-2028 |
| Study Period | 2018-2028 |
| Forecast Unit | Value (USD) |
| Revenue forecast in 2028 | USD 1703.61 Billion |
| Growth Rate | CAGR of 17.53% during 2021-2028 |
| Segment Covered | By business function, Regions |
| Regions Covered | North America, Europe, Asia Pacific, Middle East and Africa, South America |
| Key Players Profiled | 1010data, Inc.,Accenture Plc.,SAP SE,Adastra Corporation,Monetize Solutions Inc.,Google,Cisco Systems, Inc.,Dawex,Optiva Inc.,Dawex,Elevondata,Emu Analytics,Gemalto |
Key Segments of the Global Search Monetization Software Market
Type Overview, 2021-2028 (USD Billion)
Application Overview, 2021-2028 (USD Billion)
Government
Retail and eCommerce
BFSI
Transportation and Logistics
Healthcare and Life Sciences
Manufacturing
Telecom and IT
Others
Regional Overview, 2021-2028 (USD Billion)
North America
Europe

France
UK
Germany
Rest of Europe

APAC

China
Australia and New Zealand
Japan
Rest of APAC

MEA

UAE
Saudi Arabia
South Africa
Rest of MEA

Latin America

Mexico
Brazil
Rest of Latin America
Reasons for the study
To learn about possibilities and develop strategies by having a solid grasp of the Search Monetization Software Market's investment potential.
To position you to take full advantage of the industry's potential for growth.
To determine important partners and company development opportunities.
To create plans based on the most recent reports.
What does the report include?
Extensive insights into the key trends affecting the market, as well as opportunities, threats, and disruptive technologies and market supply and demand.
The investigation focuses on the key industry players who will shape and impact the market the most.
The study helps you grasp the actual impact of major market drivers and restraints on your organization.
This study's data analysis is based on a combination of primary and secondary sources.
Who should buy this report?
Market participants and stakeholders across the world would benefit from this study. The research will be beneficial to every player in the business.
Managers in the search monetization software industry who want to know what the worldwide market is like now and in the future.
Global Search Monetization Software Market developments are of interest to policymakers, regulatory agencies, government organizations, and companies interested in investing in the global market
Market experts, forecasters, trainers, government agencies, and strategy managers seeking market insights to inform upcoming plans.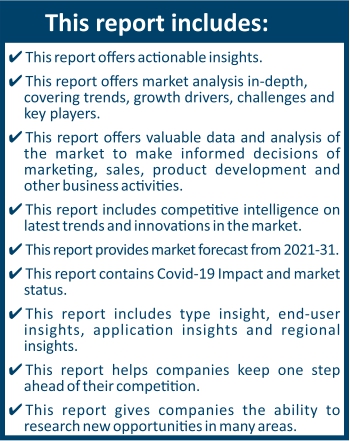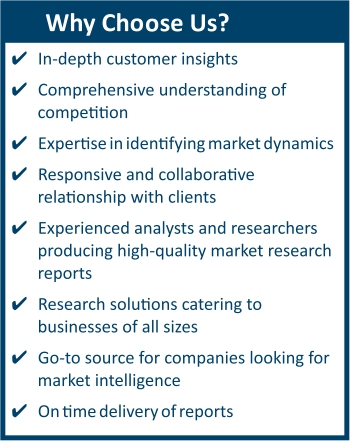 Frequently Asked Questions (FAQ) :
The market value of search monetization software market in 2028 was USD 6 billion
The base year for the report is 2020 in search monetization software market.
North American dominated the market for search monetization software market and accounted for the largest revenue share
Whatever industry a software firm is in, a thorough search monetization software is required to future-proof its business and achieve a competitive edge. The search monetization software is rapidly evolving, and conventional license and price structures have been declining for years, with subscriptions and consumption-based revenue models becoming increasingly important. To be successful, software providers must be able to alter their tactics as needed and cope with the complexity of this new era, all while optimizing the amount of money they generate. Modern software monetization software can detect product usage at the granular level and provide flexible licensing models that respond to changing market needs, all while safely safeguarding the program creator from copyright infringement. In addition safeguarding IP and income streams, identity-based licensing allows businesses to quickly discover who is using what, when, when, why, and how, as well as which features consumers prefer. Suppliers need the flexibility to adapt to new business models as SaaS and IoT installations continue to grow quickly. Unlike a simple licensing solution, search monetization software enables numerous licensing models in a single software licensing system, allowing providers to swiftly adapt as their markets evolve.
There is more to income in search monetization software than the first transaction. New licensing methods, such as usage-based licensing or subscription can be introduced for generating continuous revenue. Customers will also have more licensing options as a result of this. Search monetization software enables these new business models while regulating software access, guaranteeing that only qualified clients have access. One of the primary advantages of search monetization software is the insights acquired from consumers through software usage tracking, understanding which features consumers use is useful information for future development planning. It also aids in the simplification of software product packaging by matching price with customer value and enabling the development of new products to meet changing market demands.
Type Segment
In terms of type segment, the global search monetization software market is segmented into on-premises and cloud-based.
Application Segment
In terms of application segment, the market is bifurcated into healthcare and life sciences, government, retail and eCommerce, telecom and IT, BFSI, transportation and logistics, manufacturing, and others.
Regional analysis is an in-depth evolution of the Search Monetization Software market research and analysis study. This section includes sales growth data for numerous country-level and regional Search Monetization Software marketplaces. It includes complete and precise country-by-country volume information and region-by-region market size analysis of the worldwide Search Monetization Software market for the historical and projected periods.
The Search Monetization Software Market is further distinguished by a very complicated value chain that includes material suppliers, product manufacturers, manufacturers of production equipment, and technology developers. Collaborations between research groups and industry actors assist to shorten the journey from the lab to commercialization. Companies must collaborate to produce goods and technologies that are distinctive, inventive, and cost-efficient to capitalize on the first-mover advantage.
The Search Monetization Software Market is dominated by companies such as Adcash, Perion Network, Cro-Bit, Coinis, Search-Monetizer, Kodio, MonadPlug, StartMedia.io, and others.