The global rice bran oil market size in 2018 was valued at more than USD 1 billion. Rice bran oil (RBO) is widely used in most Asian nations (Japan, Korea, China, Taiwan and Thailand) as premium edible oil. It is the Japanese standard & favorite cooking medium and is widely known in Japan as the "Heart Oil." It has obtained status as a "Functional Food" or a "Health Food" in the Western Countries. According to India's Cardiologists' Society, 30% of India's population is highly susceptible to cardiovascular conditions. Since every 1% reduction in cholesterol, reduces the risk of heart attack by 2%, rice bran oil has become a boon for consumers.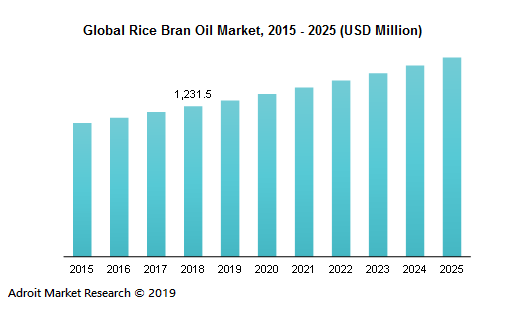 Rice bran oil is an outstanding option for those intolerant to other cooking oils due to its hypoallergenic impact and perfect fat structure. Also, due to sedentary work lifestyles of the major population sections, cholesterol problems are becoming more prevalent, often leading to increased danger of cardiovascular diseases and stroke. Increasing consumer health consciousness and more focus on healthier products has led restaurants to look for heart-friendly, naturally GMO-free alternatives that have lengthy shelf-life, which is inevitably one of the main drivers of the rice bran oil market.
The size of the global market for Rice Bran Oil is expected to reach 12.27 by 2028, expanding at a compound annual growth rate (CAGR) of 9.09%.
Compared to other alternatives such as olive oil, the cost of rice bran oil is less, making it a better option for customers looking for nutritional oils at a moderate cost. Therefore, manufacturers of rice bran oil market their products between the costly olive oil and standard oils. Additionally, if the rice bran oil plant contains a common facility center that extracts and refines bran oil from the rice mill cluster bran, a nominal sum is invested to meet operational costs and make a corpus fund for future upgrading, grading and support of the common facility center, this enables cost efficiencies in production processes.
Rice Bran Oil Market Scope
| | |
| --- | --- |
| Metrics | Details |
| Base Year | 2019 |
| Historic Data | 2017-2018 |
| Forecast Period | 2020-2025 |
| Study Period | 2015-2025 |
| Forecast Unit | Value (USD) |
| Revenue forecast in 2025 | USD 1 billion |
| Growth Rate | CAGR of 4.1% during 2021-2028 |
| Segment Covered | Product, End Use, Regions |
| Regions Covered | North America, Europe, Asia Pacific, South America, Middle East & Africa |
| Key Players Profiled | A.P. Refinery Pvt. Ltd., Sethia Oils Limited, 3F Industries Limited, ORYZA OIL & FAT CHEMICAL CO., LTD, Vaighai Agro Products Limited, Ricela Health Foods Ltd., BCL Industries Limited, Modi Naturals Limited |
Key segments of the global rice bran oil market
Product Overview, 2015 - 2025 (Kilo Tons) (USD Million)
Edible grade
Industrial grade
End Use Overview, 2015 - 2025 (Kilo Tons) (USD Million)
Food
Pharmaceutical
Cosmetics
Others
Regional Overview, 2015 - 2025 (Kilo Tons) (USD Million)
North America
Europe
Asia Pacific

China
Japan
India
Rest of Asia Pacific

Rest of the World
Frequently Asked Questions (FAQ) :
The rice bran oil market is growing at a CAGR of 4.1% over the forecast period.
The top companies that hold the market share in rice bran oil market are A.P. Refinery Pvt. Ltd., Sethia Oils Limited, 3F Industries Limited, ORYZA OIL & FAT CHEMICAL CO., LTD, Vaighai Agro Products Limited, Ricela Health Foods Ltd., BCL Industries Limited & among others.
To get latest version of rice bran oil market report can be obtained on demand from the website.
Competitive environment, 2018
Top player positioning mentioned in below figure showcases the position of rice bran oil producers. Ricela Health Foods, Wilmar International Limited, and BCL Industries & Infrastructure account for a majority of the market share hence, they are positioned at the top. Top player positioning has been derived by considering various factor such as product revenue, company's presence across geographies, and product portfolio of rice bran oil. Edible oil has significantly evolved over the years and are currently being used as an alternative to other vegetable oil. However, various health benefits coupled with no-overpowering taste of this oil is driving its demand across economis like India, China, Japan, USA, etc.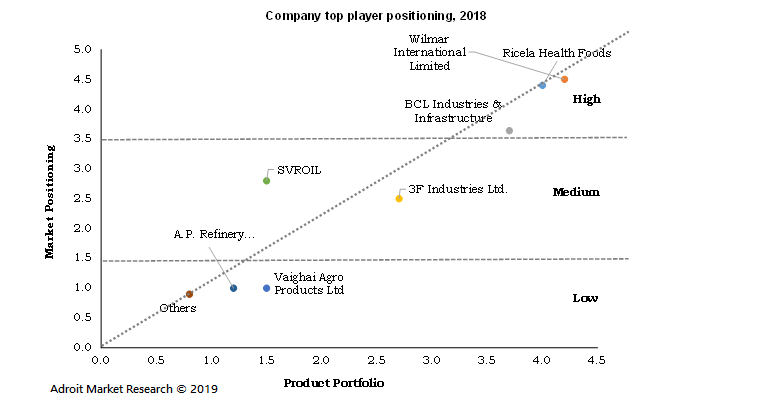 The main approaches for increasing market share for businesses are partnership between players on the rice bran crude oil market and its distributors coupled with large investments in the food and food sector, retrograde integration and the supply of organic and gluten-free goods on the market. For instance, leading rice bran oil under the brand name Arawana has recently made its move in ultra-competitive Japanese market with the first supermarket launch.
Wilmar International is transforming rice bran powder from the rice milling method into healthier and creative foodstuffs. Similarly, the company is making innovative products using wheat germ from wheat-flour milling process. Moreover, the company has partnered with International Association of Rice Bran Oil, Jiangnan University and Wuhan Polytechnic University in order to promote consumption, quality and to seek different application of rice bran oil.
Rice bran oil is more inclined towards edible grade segments, with a great market share, with both edible grade and industrial grade applications. Edible grades in salad oil, cooking oil are more likely to be used and are easier to refine and hydrogenate, inevitably have clear benefits compared to other vegetable oil. Rice bran oil in industrial applications is mostly free from fatty acid manufacturing hence in the production of soaps, resin based paints, and enamels, and varnishes, rice bran oil is preferably used.
Rice bran oil in both forms is mainly used in humanitarian, and animal nutrition, certain finished products such as nutraceuticals and supplements, and humanitarian aid products such as in bulk ingredients and finished items. At present, food products hold the command on the consumption of rice bran oil either as a single medium or blended with other oil types.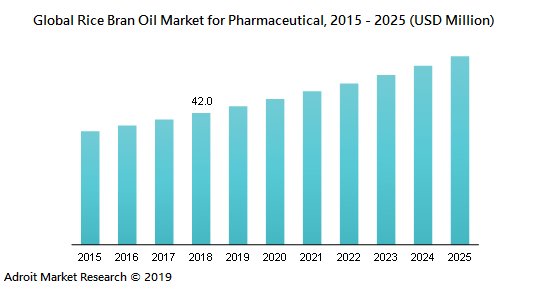 The contribution of rice bran oil in other food products as an ingredient is minute. Yet it is suggested by the key opinion leaders that with more clinical evidence and awareness the demand for rice bran oil in such applications will consistently grow. Furthermore, cosmetics and pharmaceutical application of rice bran oil is currently very minute.
In the cosmetics industry, the use of rice bran oil is mainly concentrated in Asian countries. Growing popularity of Asian, especially Korean and Japanese skincare items will supplement the growth of this segment. Further analysis of the segments shall be elucidated in the rest of this section.
Europe rice bran oil market is estimated to get affected by the European program to encourage adoption of olive oils. For instance, olive oil from Spain has been establishing history by the same strategic approach in three continents, Asia, Europe and America, and nine specific countries (Germany, Spain, Belgium, the United Kingdom, China, Taiwan, Japan and the United States), in parallel with the launching of three ambitious EU support programs.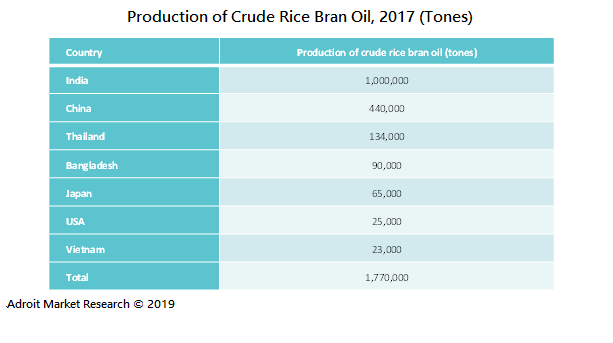 This initiative is known by the name of "Olive Oil World Tour" and is projected to reach nearly 3,800 million people. Furthermore, in 2017, nearly 70% of the world's olive oil came from European olive groves. The price of olive oil fell 18.4% over the last year, and the European Commission has allocated almost EUR 4.35 million for promoting Spanish olive oil in India. However, increasing awareness of the health of customers and the economies across areas is anticipated to sustain the rice bran oil industry.
India is leading the global rice bran oil market in terms of production and is expected to show similar trend over the forecast period. Rice being the staple food of the country, there lies huge scope in the production of rice brain oil in India. However, despite India's huge rice bran oil production, only 19% of rice bran oil (RBO's) potential is recognized. In India, there is no exploitation of the complete potential of rice bran oil. Another factor boosting the demand is high-grade, inexpensive, and non-conventional nature of rice bran oil.