The global release liners market is expected to grow with a CAGR of 4.9% and was valued at 77.2 billion in 2019. Release liner is a film sheet on paper or plastic which stops the early adhesion of the adhesive surface (label). The release liner layer can be coated with materials such as polyvinyl, polyethylene, polystyrene and terephthalate polyethylene. These liners are used in the food & drink industry, pharmacy, cosmetics & personal treatments, automobile, electronics and construction.
The global market for release liners is driven by several factors, including growing demand from food & drinks and the building industry, growing use of digital printing and increasing use of smart RFID labels. In addition, as a result of the rising end-users' industries in the region, the high demand in Asia-Pacific emerging economies would in the near future cause global market growth for freight lines.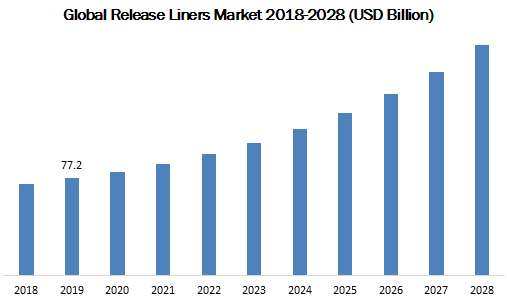 The prevailing trend globally is the enhanced use of the differential release liner. In addition, recycling and adoption of PDMS based release liners will provide players on the world release liner market with opportunities in the coming years.
The global Release Liners market size is expected to reach close to USD 116.52 billion by 2029 with an annualized growth rate of 9.13% through the projected period.
Key Segment Of The Release Liners Market
By Substrate,2022-2030(USD Million)
• Paper Based [Supercalendered Kraft
• Glassine &Calendered Kraft
• Clay Coated Kraft&Amp
• Polycoated Kraft
• Polyethylene Coated Kraft And Others]
• Film Based [Polyvinyl Chloride
• Polypropylene
• Polyethylene
• Polyethylene Terephthalate
• Polystyrene])
By Labelling Technology,2022-2030(USD Million)
• Pressure Sensitive
• Glue Applied
• Shrink Sleeve
• Stretch Sleeve
• In Mold
By Printing Process,2022-2030(USD Million)
• Flexography
• Offset
• Gravure
• Screen
• Digital Printing
Regional Overview, 2022-2030 (USD Million)
North America
• US
• Canada
Europe
• Germany
• France
• UK
• Rest of Europe
Asia Pacific
• China
• India
• Japan
• Rest of Asia Pacific
South America
• Mexico
• Brazil
• Rest of South America
Middle East and South Africa
Frequently Asked Questions (FAQ) :
The release liners market is growing at a CAGR of 7.2% over the forecast period.
The Global release liners market is Segmented on the Type, Application, Labelling Technology
To get latest version of release liners market report can be obtained on demand from the website.
The global release liners market is expected to grow at with a CAGR greater than 7.2 % during the forecast period. Digital printing has emerged over the past decade as a widely used printing process. The various benefits of digital printing, including low starting cost, high printing efficiency, low setup time and accuracy, are attributable to this. The value of digital printing has increased because no pre-pression processes are needed, i.e. no plate is needed, which eliminates the use of chemical products and additional materials.
Digital printing can minimize print waste by creating exact amounts instead of a percentage of overheads. This improves environment-friendly digital printing. Excessive use of chemicals, water and plating materials is part of all other methods excluding digital printing. Conventional printing is decreasing because the digital manufacturing process is being changed positively. Digital printing can also be combined with web channels and responses can be controlled but static offset printing cannot be reliably tracked..
Type Segment
The release liners markets on the basis of types has been divided as glassine/calendared kraft paper, polyolefin coated paper, clay coated paper). The manufacturer must create film-based release liners by the criteria for simple, unambiguous labels in the no-label look segment such as alcohol, liquor, human health and food.
Glassine / Calendared Kraft Paper has a range of advantages over paper release liners, including high visibility, longevity, and control of thickness. In the forecasted period, the propensity is expected to increase the market share of film-based releases.
Application Segment
Hygiene currently accounts for the largest proportion of the global liner market among the application segment. The hygiene sector, representing around 79% of the use of release lines, is one of the major segments in the general health and medical markets, mainly paper. Due to various demographic factors, healthy growth in the sector is expected to continue, reflecting potential growth for the release lines market during the forecast period. The medicinal substance is also used for wound-care dressings, surgical sheets and medical equipment in a self-adhesive laminate with a special Silicon coated release liner
In addition, release liner producers will make their revenues maximized by exploiting personal care items such as cosmetic stickers, acne, nasal pore strips and anti-rubbing pads, which have strong global market figures..
The global release liners market, based on region is bifurcated, into Asia-Pacific, Europe, North America, Latin America, and the Middle East & Africa.
Asia-Pacific is the world's largest and most rapidly growing release liner market. Due to the most aggressive growth in the applications industry, the region accounted for around 39 percent of the world market share in 2018. The growing economy, low production costs and cheap labour in the region is driving food & drinks, medical and pharmaceutical products, cosmetics & personal care, automotive, construction and electronics.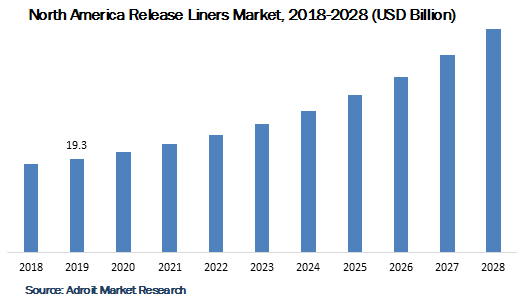 The second-largest market share was retained in North America in 2018, and the forecasting duration is projected to rise by about 3.7% at CAGR. The United States controls the regional market and is potentially rising in the coming years at a higher CAGR
Mondi Plc, Avery Denison Group, 3 M Business, Gascogne Laminates, UPM Raflatac, Rayven Inc., and Loparex Holding B.V. are major players profiled on the liner release sector. These firms make up about 15-25% of the world market. However, many players in Asia are emerging as prominent regional players, which can form the regional market dynamics by providing release lines at competitive prices.