The global product analytics market size is anticipated to reach USD 27.39 billion By 2028. Developments in computational technology, rapid smartphone penetration, moving from web-based internet browsing to mobile-first approach, and growing emphasis of marketing teams to deliver their customers' customized products and services are some of the key factors anticipated to boost the industry growth in the coming years. Factors such as the growing number of users of mobile phones, rising digital disruption, and the growing usage of social media across the globe are related to market growth. A specialized end-user of business intelligence and analytics software enabling end-users to use inventory returns, service reports, and customer reviews data from embedded sensors is called product analysis.
Product analytics is described as the combination of market intelligence and analytical tools that can help the customer gather useful information about the desires, needs, and expectations of their customers. This information is created By analyzing among various other sources the service reports, feedbacks, product data obtained, and warranty documents. Such analytics produce knowledge that can aid in product enhancement, quality, and personalized nature as per consumer needs. The market demand for product analytics is experiencing growth due to the growing demand for quick, on-demand, and reliable services from consumers during digital interactions. The digital interaction has grown enormously across the globe, where customers turn for almost everything from gaming and shopping to banking and e-commerce, to the digital world. Consumer analytics is experiencing high demand with the rising need to monitor the actions of consumers and provide them with better services in the future.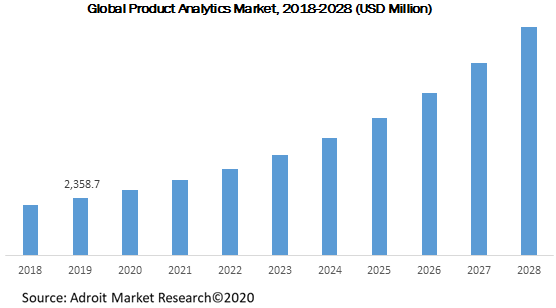 Deep learning techniques, such as convolutionary neural networks currently used in the processing of image, voice, and unstructured text, are expected to be implemented in many End User areas. Cognitive technologies that are based on the ability of the human brain to learn By decomposition and inference would become standard approaches for processing the complex data streams created By active insurance products associated with the behavior and activities of a person.
Besides, with the increased promotion of this form of product, end-users will have exposure to models that are continually evolving and adapting to the real environment. This will allow for new product categories and interaction strategies while adapting in real-time to changes in risk and behavior. This will encourage market players in product analytics to invest robustly in the growth of product analytics in the years to come.
Key Segments of the Global Product Analytics Market
Component Overview, 2018-2028 (USD Million)
Deployment Overview, 2018-2028 (USD Million)
End-User Overview, 2018-2028 (USD Million)
Manufacturers
Sales & Marketing Professionals
Consumer Engagement
Designers
Others
Industry Vertical Overview, 2018-2028 (USD Million)
Automotive
Retail & Consumer Goods
Healthcare & Pharmaceuticals
Machinery & Industrial Equipment Manufacturing
F&B Manufacturing
Energy & Utilities
Others
Regional Overview, 2018-2028 (USD Million)
North America
Europe

UK
Germany
France
Rest of Europe

Asia Pacific

China
Japan
India
Rest of Asia-Pacific

Middle East and Africa

UAE
South Africa
Rest of Middle East and Africa
South America

Brazil
Rest of South America
Reasons for the study
The purpose of the study is to give an exhaustive outlook of the global Product Analytics Market. Benchmark yourself against the rest of the market.
Ensure you remain competitive as innovations By existing key players to boost the market.
What does the report include?
The study on the global Product Analytics Market includes qualitative factors such as drivers, restraints, and opportunities
The study covers the competitive landscape of existing/prospective players in the Product analytics industry and their strategic initiatives for the product development
The study covers a qualitative and quantitative analysis of the market segmented based on Component, organization size, deployment, and End User. Moreover, the study provides similar information for the key geographies.
Actual market sizes and forecasts have been provided for all the above-mentioned segments.
Who should buy this report?
This study is suitable for industry participants and stakeholders in the global Product Analytics Market. The report will benefit:
Every stakeholder involved in the Product Analytics Market.
Managers within the Tech companies looking to publish recent and forecasted statistics about the global Product Analytics Market.
Government organizations, regulatory authorities, policymakers, and organizations looking for investments in trends of global Product Analytics Market.
Analysts, researchers, educators, strategy managers, and academic institutions looking for insights into the market to determine future strategies.
Factors driving the growth of product analytics in the healthcare industry include a substantial increase in demand for financial analytics in the healthcare sector, increased demand for exploring structured and unstructured data present in the healthcare sector, decreased costs and availability of Big Data tools and services, and increased adoption of emerging data analytics technologies in healthcare services.
The market for product analytics can benefit from the inclusion of artificial intelligence and deep learning technologies, such as the convolutionary neural networks. Currently, these technologies are used for unstructured text, image, and voice processing and may be used in several other domains. Cognitive technologies based on the human mind would be used to process complex data streams that would be created to effectively market insurance products taking into account past activities and behaviors of a potential customer.
Industry Vertical Segment
Retail & consumer goods vertical to hold a larger market size during the forecast period. Product analytics in this vertical assist vendor to get a more detailed understanding of consumer needs & attitudes, which helps make faster decisions in day-to-day business, and deliver improved performance. In the vertical, the focus of product analytics is sales in which analytics has a significant impact followed By marketing, finance, and supply chain. Several companies in the vertical are making vast improvements to their internal data and BI system, along with substantial investments in a mix of on-premises and cloud-based analytics that provides flexibility to scale while leveraging the existing IT investment.
End-User Segment
By the end-user product, the analytics market is dominated By manufacturers in 2019. Product analytics plays an important part in the production, planning, warranty research, insight into the supply chain, and so on. Customers expect premium goods with quicker delivery, at lower prices. It has thus become important for manufacturers to have a differentiated experience over the entire lifecycle of the customers.
Geographically the global product analytics Market is divided into North America, Europe, APAC, South America, and the Middle East & Africa. North America has several leading players in the industry supplying analytics technologies and services to all end consumers in the region. For any technology, North America has always been an innovative and competitive field.
Product analytics is used By different industries such as retail, manufacturing, automotive, and healthcare to evaluate the customer, improve user experience, and provide better service in this area Artificial Intelligence is being embraced By businesses in almost all sectors in the region and is already being applied By the marketing industry to identify new potential customers and markets. The regional reach, major R&D operations, alliances, acquisitions, and mergers are the key factors that lead to the introduction of analytics technology. Besides, APAC countries are the preferred IT outsourcing destination. As a result, IT firms earn significant orders for the production of software, which further boosts the industry advance.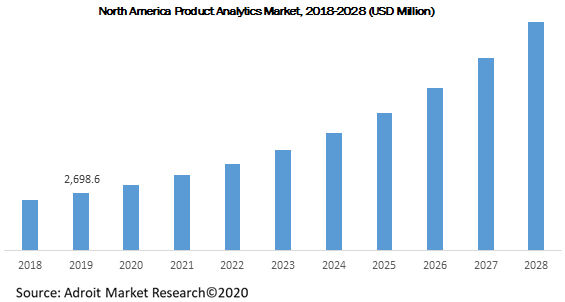 The major players of the global Product Analytics Market are IBM Corporation, salesforce.com, inc., Oracle; Adobe, Google, Mixpanel, Heap Inc., Plytix.com ApS, Latentview, Amplitude Analytics, Inc., Piwik.pro and others.