The global powder coating equipment market size was valued at USD 6.12 billion in 2018. Increasing demand for coating equipment from various application industries such as consumer goods, furniture, fabrication, automotive and aerospace is anticipated to drive the market over the forecast period. Moreover, accelerating construction industries due to rising urbanization and increasing population is projected to drive the powder coating equipment market.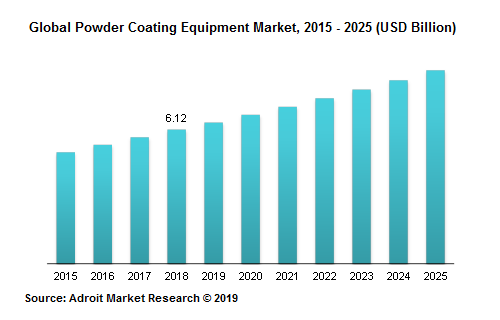 Numerous benefits of powder coating such as protection of both the toughest machinery and household items from rust and damages has increased its adoption in consumer goods and automotive industry. Additionally, more durability than paint & coatings and added resilience to ultraviolet light, chemicals and moisture has increased its market penetration in consumer goods application.
Rising demand for powder coatings as an alternative to liquid paints has surged the development of an extensive range of resin systems and coating instruments, which are designed to meet the requirements of the diverse end-user industries. Resins such as epoxy, acrylics, polyvinylidene fluoride and polyesters are used across all the end-use industries such as automotive, consumer goods and construction. Moreover, powder coatings are available in many gloss level, texture and color. This has led to the advancement of various powder coating equipment such as spray guns, manual powder gun systems, powder sieve equipment and automatic robot guns.
The powder coating equipment market will further grow over the forecast period due to the environmental benefits of powder coats. They do not contain any solvents and therefore, release a negligible amount of volatile organic compounds as against liquid finishers. Thereby reduction of waste and extinction of VOC's saves huge operating cost and also helps various companies and governments to comply more easily and economically with the regulations of any Environmental Protection Agency.
Key segments of the global powder coating equipment market
Product Overview, 2015-2025 (USD million)
Ovens & Booths

Powder Coat Guns

Others
Application Overview, 2015-2025 (USD million)
Consumer Goods

Architectural

Automotive

General Industries

Furniture

Others
Regional Overview, 2015-2025 (USD million)
North America

Europe

Asia Pacific

Central & South America

Middle East & Africa
Reasons for the study
The global powder coating equipment market study covers the dynamics and industry movements across various regions and segments
The global powder coating equipment market is highly fragmented and has a large number of unorganized players operating in developing economies
What does the report include?
Global powder coating equipment market is segmented on the basis of products, applications, and regions
The market assessment on the global powder coating equipment industry is based on qualitative factors such as market drivers, restraints, value chain analysis, and key industry trends
Market estimation and forecast have been provided for products, applications, and regions
The study includes profiles of leading manufacturers operating on global and regional level
Who should buy this report?
The market study on the global powder coating equipment industry is suitable for all the participants across the value chain including raw material suppliers, manufacturers, and end users.

Investors and entrepreneurs seeking industry insights and future prospective of the global powder coating equipment market

Researchers, analysts, consultants, and experts looking for insights shaping the global powder coating equipment market
The competitive landscape of the global powder coating equipment industry is highly fragmented in nature on account of the presence of various manufacturers on a global as well as regional level. The market includes companies such as Nordson Corporation, Carlisle, WAGNER, Hangzhou Color Powder Coating Equipment Co., SATA GmbH & Co. KG, IHI Ionbond Ag, GEMA AG, Anest Iwata, Valco Melton and Plasma Powders & Systems Inc.
In April 2017, Wagner Systems launched a new application facility center in South Carolina, with an investment of USD 2.3 million. The new facility featured full powder spray and liquid booth along with robotic automation as well as a sealant and adhesive equipment. Furthermore, the facility is designed to replicate a manufacturing environment for coating application and has enabled Wagner to develop new applications and equipment in powder, liquid and sealants & adhesives to penetrate into the untapped equipment market.
Manufacturers operating in this industry are continuously investing in R&D to develop new products and increase market concentration in highly fragmented industry. For instance, in 2018, Axalta Coating Systems, a United States based company specialized in manufacturing and developing coatings for industrial applications, light and heavy commercial vehicles, and refinish applications invested more than 4% in R&D and launched more than 250 new products. Moreover, in 2018, the company opened Global Innovation Center (GIC), a R&D center for coating in Philadelphia to develop new products and technology to cater growing demand.
Powder coating has emerged as a popular finishing technique in the automotive component industry. Chip resistance and toughness has increased its adoption in automotive component manufacturing. Rising automotive sales and continuous development for new automotive components is expected to augment the demand for powder coating equipment in the automotive industry.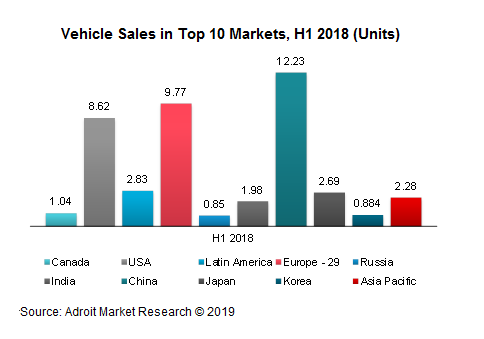 Automotive application dominated the global powder coating equipment market in 2018 by accounting more than 20% of the overall market share. Coating equipment is extensively used for difficult coat parts of automotive such as wheels, door handles, truck beds, radiators, decorative trim & accent parts, bumpers, hubcaps, and filter. Moreover, the automotive sector has increased the demand for powder coating guns as they need to perform topcoat for auto bodies. For instance, car manufacturing companies such as Volvo and BMW apply powder coats from spray gun on their all-new cars, and few companies like Chrysler, Ford and GM have invested to build a consortium to test powder coats technique on their production lines.
Ovens & booths dominated the global powder coating equipment market in 2017 due to its numerous beneficial features such as uniform air distribution, and low installation, maintenance & startup costs, proportional heat control, temperature uniformity, high volume and low impingement, quick heating and ease of operation. In addition, the booth provides a clean environment where you can spray powder – and only powder – on your parts. Booths with good filtration and airflow make it much easy to get a smooth clean finish.
For instance, in November 2018, DeBulCo installed new automatic powder coating booth. The equipment is installed by GEMA AG a Swiss manufacturer. Apart from coating booth, they also have fitted cabins, filters, powder center and reciprocators. In addition, DeBulco also set up the most advanced GEMA CM-30 Magic Control in there manufacturing plant. Further, these equipment have impacted the company's business positively by providing more than twice higher productivity, improved working environment and reduced powder loss.
In 2018, Asia Pacific dominated global powder coating equipment market by accounting more than 35% of overall market share. The market is expected to see positive trends in the coming years on account of the growth of the automotive and home appliance industry. Countries such as China, India and Japan are predicted to be the major contributor in this market. Growing construction activities in India, China, Japan, and Singapore is expected to increase market expansion for construction industry over the coming years. In 2018, Asia Pacific construction industry was valued at over USD 3 trillion and it is expected to account nearly 40% of overall construction industry by 2025.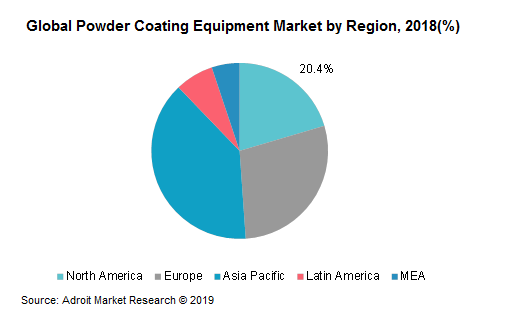 North America is one of the largest automotive industries in the world and is characterized by the presence of well-established auto and vehicle parts manufacturers. From 2015 – 2017, U.S. sales of light commercial vehicle continuously surpassed 17 million units. U.S. is by far the second largest market for automotive production and sales. Growing demand for automotive industry is expected to increase powder coating equipment reach in North America. U.S. construction expenditure in 2018 was more than USD 1 trillion. Private construction spending in U.S. was more than USD 900 billion in 2018. Rising construction activities in this region is expected to offer lucrative opportunity for powder coating equipment industry.
Latin America powder coating equipment industry is largely driven by proliferating automotive industry and rising demand for furniture industry. According to the Brazilian Institute of Geography and Statistics, retail sales in Brazil increased by 2% in 2017. In addition, sales of furniture and appliances increased by more than 8% in 2017 as compared to previous year. Furthermore, Brazil is one of the leading automotive industry in the world. Growing automotive vehicles production followed by increasing demand is expected to fuel the market growth.