Global polymer modified bitumen market was valued at USD 6,862.7 million in 2018 and is expected to reach USD 9,805.3 million by 2025 at a CAGR of 5.3% over the forecast period. Increasing economic development in emerging economies such as India, China, Southeast Asia, and Brazil followed by supportive government investment for road development projects is expected to increase polymer modified bitumen market concentration over the forecast period.
Construction of residential properties coupled with renovation of existing ones is likely to be the key market driver for polymer modified adoption in roofing application. For instance, U.S. construction spending in January 2019 surged more than 1% as compared to December 2018. In addition, GCC construction contracts in infrastructure, energy sector, and buildings accounted for more than USD 150 million in 2016 which further rose to over USD 170 million in 2017. Growing population followed by increasing tourism has attracted GCC countries mainly UAE and Qatar to boost investment in construction projects.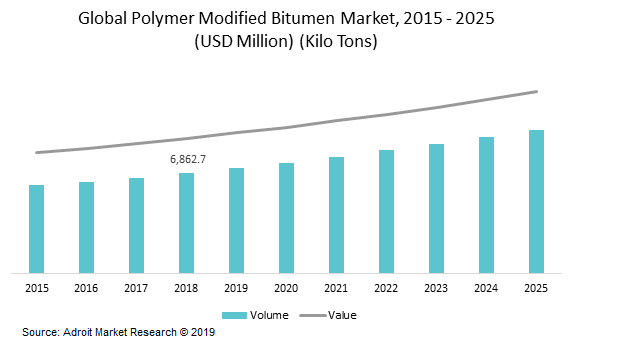 Key segments of the global polymer modified bitumen market
Type Overview, 2015-2025 (USD million)
Thermoplastic Elastomers
Plastomers
Application Overview, 2015-2025 (USD million)
Road Construction
Roofing
Others
Regional Overview, 2015-2025 (USD million)
North America
Europe

Germany
UK
Italy
France
Rest of Europe

Asia Pacific
Central & South America

Brazil
Mexico
Rest of Latin America

Middle East & Africa

GCC
South Africa
Rest of Middle East & Africa
Reasons for the study
The study offers an comprehensive outlook of the global polymer modified bitumen industry
The market players are primarily focused on developing new technologies to meet the requirement of users.
Various companies are also involved in numerous mergers & acquisitions, as their essential strategy is to maintain sufficient market share
What does the report include?
The report focuses on polymer modified bitumen market type, and application
The study on the global polymer modified bitumen market includes qualitative factors such as value chain and sales channels analysis, drivers, and restraints along with

list of suppliers for raw material of

polymer modified bitumen

market

The study covers qualitative and quantitative analysis of the market segmented on the basis of types, application. Moreover, the study provides similar information for the key geographies.
Actual market sizes and forecasts have been provided for all the above-mentioned segments
The study includes the profiles of key players in the market with a significant global and/or regional presence
Who should buy this report?
The report on the global polymer modified bitumen market is suitable for all the players across the value chain including reagent manufacturers & raw material suppliers
Venture capitalists and investors looking for more information on the future outlook of the global polymer modified bitumen market
Consultants, analysts, researcher, and academicians looking for insights shaping the global polymer modified bitumen market
Increased government and private road-building investment, along with increased urbanization, are key variables that drive market growth in the region over the forecast period. In 2018, for example, the US public sector spent over USD 90.0 billion on road and road construction. In the next three years, the value of expenditure will probably exceed USD 100 billion, with powerful development in almost 20 countries in the U.S. The implementation of roofing is anticipated to provide the polymer-modified bitumen market with favorable growth opportunities in future years. Renewal and repair of the building and new building operations are anticipated to increase the demands for building equipment, including asphalt or bitumen.
Polymer-modified bitumen (PMB) has been used in the field of road systems for reducing road decay such as routing, cracking and sweating. These polymer-modified bitumen decrease fatigue crack strength and enhance it. Modified petroleum products can provide real benefits for road and construction, better and longer roads and the full price of road life.
Increasing global infrastructure initiatives and diversification from manufactory to tourism are the primary factors expected to driving market growth. Moreover, the creation of the application chapter on polymer emulsions will boost a powerful demand for plastics in households and other construction facilities. As government and government-sector partnership programs for buildings and infrastructure are increasingly emphasized, Europe is expected to represent a significant rise in the altered polymer sector.
Modified plastomer blend can also be processed at a reduced temperature than the modified elastomer blends. In the mechanical properties of asphalt mixtures, both plastomers and elastomers, are also improved, which are anticipated to provide improving pavement efficiency.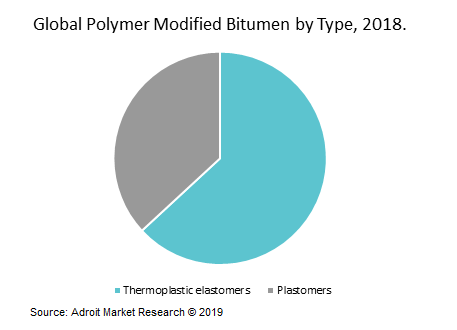 Thermoplastics occupy a special position in oil resins derived out of fossil fuel by-products. They can be used to enhance the characteristics of bitumen by increasing viscosity, strength, durability and mineral components adhesion. The additives contain polar groups which contribute towards improving the watering of bitumen mineral products, producing molecular layers of adsorption and hemosorption that adhere closely to bitumen and mineral composite.
Thermoplastic elastomers are most commonly used as bitumen modifiers owing to their complicated action, especially Styrene-Butadiene Styrene. They offer a high resistance to bitumen like thermoplastics and plastic coating, elasticity (as elastomers), heat resistance, adhesion and better features of low-temperature. However, their elevated costs are the primary reason for limiting the incidence of thermoplastic elastomers. Their partial or total substitution with cheaper polymers is an effective solution to this issue. Manufacturing of modifiers from by-products of thermal destruction of fossil fuel, which contain enough unsaturated compounds, is a promising direction. Special attention is paid to oil resins with functional groups. These compounds are made of thermoplastics and plastics used for thermosetting. In petroleum resin composition, the existence of functional groups considerably increases the characteristics of bituminous materials and results in an enhanced durability. The use of oil resins is restricted because of their significant price for bitumen alteration.
The global polymer modified bitumen market is likely to be driven by significant product consumption in Asia Pacific, Europe, and North America, during the forecast period. Asia Pacific constituted the largest revenue share of 33.5% in 2018 followed by North America respectively. The rise in construction activities in key Asia Pacific countries such as China, India, and ASEAN is expected to boost the consumption of construction materials such as concrete and bitumen over the forecast period.
In the years ahead, the intake of polymer-modified bitumen is anticipated to increase significant highway building operations combined with constant building begins. As a result of increased public transit via roads, federal and state government support for the building of roads and roads has significantly contributed to the development of the building industry in North America. The most popular towns in North America with high freight traffic in particular are Los Angeles, Vancouver, New York, San Francisco, San Jose, Toronto, Seattle, Miami, Chicago, Washington, Montreal, Ottawa and Atlanta.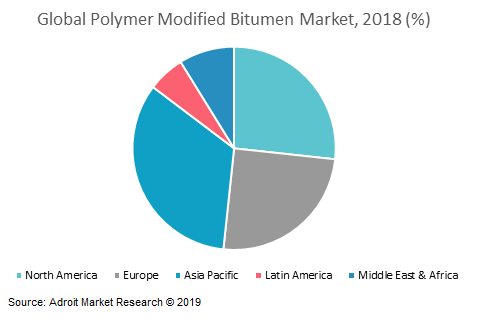 In the U.S., there has been a marked rise in government and private partnerships for the growth of road infrastructure in latest years. In 2018, the country's public sector spent over USD 90.0 billion on road and highway construction. In the next three years, the value of expenditure is expected to exceed USD 100 billion, with powerful development in almost 20 countries. To maintain heavy transits, highway development involves using building materials efficiently to not only improve the efficiency of highways but also improve the durability of climate differences to maintain them. These demands should provide an adequate scope for the consumption of polymers that improve asphalt or bitumen rheology over the years to come. Since the past few years, the non-building industry in Canada has been constantly expanding. The total investment in infrastructure in Canada has exceeded USD 187,800 million over the past five years, according to Oxford Economics.