Market Analysis and Insights
Over the mentioned forecast period, the global market for pipeline monitoring systems is anticipated to expand at a CAGR of around 7.10%. By 2030, the market, which was valued at US$13,867.5 million and would reach US$ 29.12 billion.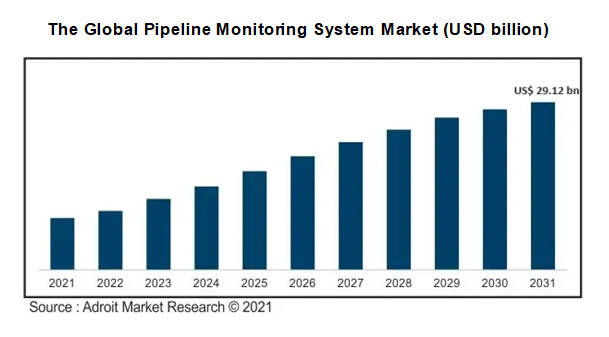 More advanced and efficient pipeline monitoring systems are being created as a result of the quick developments in sensor technologies, data analytics, AI, and IoT. These innovations increase system performance by enabling real-time monitoring, improved data processing, and predictive insights.
Pipeline Monitoring System Market Scope :
| | |
| --- | --- |
| Metrics | Details |
| Base Year | 2021 |
| Historic Data | 2020-2021 |
| Forecast Period | 2022-2031 |
| Study Period | 2021-2031 |
| Forecast Unit | Value (USD) |
| Revenue forecast in 2030 | US$ 29.12 billion |
| Growth Rate | CAGR of 7.1% during 2021-2031 |
| Segment Covered | By Keys, By Components, By Application, Regions |
| Regions Covered | North America, Europe, Asia Pacific, South America, Middle East and Africa |
| Key Players Profiled | PSI AG, Pure Technologies, Orbcomm Inc., TransCanada Company, Honeywell International Inc., Huawei Technologies Co. Ltd., Perma Pipe Inc., Siemens AG, BAE Systems, Inc., and Pentair PLC. |
Market Definition
An extensive network of sensors, tools, and technologies known as a pipeline monitoring system is used to monitor and control the performance, structural integrity, and safety of pipelines.
It offers real-time data and analytics to spot and address any problems, guarantee legal compliance, and improve the pipeline infrastructure's overall performance.
Different methods are used by pipeline monitoring systems to find leaks or spills along the pipeline. In order to analyze the gathered data, these approaches can make use of pressure sensors, sound sensors, flow measurement tools, and cutting-edge algorithms. Early leak detection allows for quick action and reduces dangers to the environment and public safety.
By continually monitoring the state of the pipeline infrastructure, pipeline monitoring systems play a significant part in asset integrity management. This involves keeping an eye on elements like wall thickness, coating integrity, tension, and strain to spot any possible flaws or problems.
Large volumes of data are gathered by pipeline monitoring systems from a variety of sensors and equipment. This data is processed and analyzed using sophisticated data analytics tools and algorithms, producing insights and reports for regulatory compliance, maintenance planning, and decision-making.
Key Market Segmentation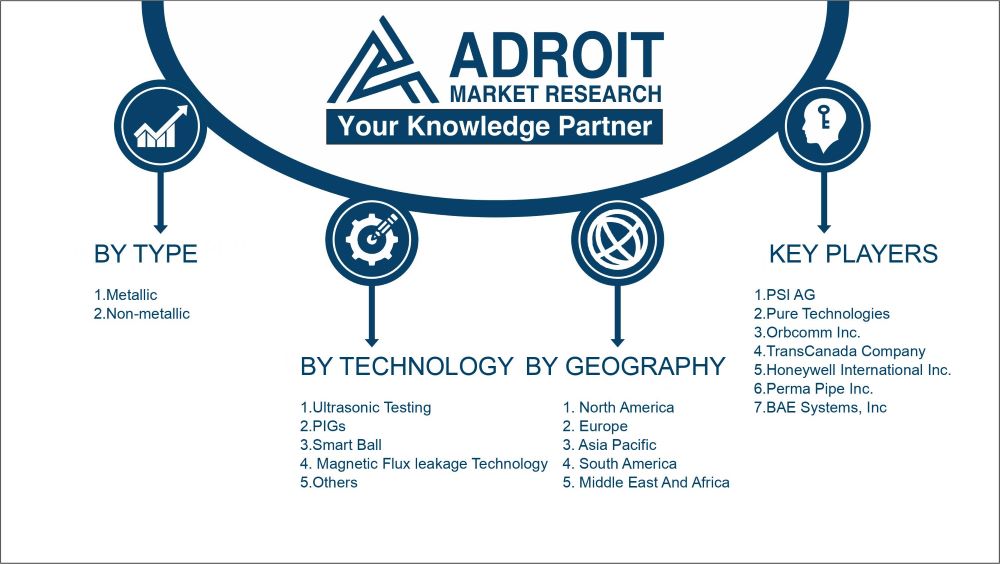 Insights on Material Type
The Metallic Segment Valued for the Highest Share
With a revenue share of 74.8%, the metallic pipe type dominates the pipeline type sector of the pipeline monitoring system market. The widespread usage of these pipes for transportation and distribution in the oil and gas, power generation, and other sectors is boosting the market for pipeline monitoring systems' pipe type segment. Carbon steel, alloy, stainless, and duplex steel pipes are just a few examples of metallic pipes that may be used because of their high strength, excellent corrosion resistance, and weldability. Due to its capacity to withstand tremendous pressure, metallic pipes may be utilized both underground and underwater.
Insights on Technology
The Ultrasonic Testing Segment Valued for the Highest Share
In 2021, the ultrasonic segment had the biggest revenue share. With the use of high-frequency sound waves and noise patterns, acoustic/ultrasonic monitoring equipment may locate leaks and defects within a wide spectrum of pipes.
Insights on Region
The North American Region Accounted for the Highest Share
North America was the largest market in 2021 with a 28.11% sales share. Due to its strong research and development infrastructure and pipeline infrastructure, the region is expected to lead the global pipeline monitoring systems market in terms of revenue over the forecasted period. The large presence of small and medium-sized businesses in North America that supply parts and services to industry heavyweights like Rockwell Automation Inc., Honeywell International Inc., and Emerson Electric Co. has further fueled the market's expansion. The expansion of pipeline monitoring systems is fueled by rising technology investments and gas and oil exploration activity in the area.
Key Company Profiles
Key companies profiled in the pipeline monitoring systems market report include PSI AG, Pure Technologies, Orbcomm Inc., TransCanada Company, Honeywell International Inc., Huawei Technologies Co. Ltd., Perma Pipe Inc., Siemens AG, BAE Systems, Inc., and Pentair PLC.
COVID-19 Impact and Market Status
Due to limitations in production, transportation, and logistics, the pandemic produced disruptions in worldwide supply chains. The fabrication and delivery of the equipment and components for pipeline monitoring systems were delayed as a result.
During the pandemic, demand and investment fell across a wide range of industries, including oil and gas. As a result, projects like pipeline renovations or expansions were delayed or abandoned, which had an impact on the need for pipeline monitoring systems.
Operations were complicated by the pandemic's travel limitations, social distance limits, and labor shortages. Pipeline monitoring system setup, upkeep, and service were impacted by these variables, which caused delays and interruptions.
A greater emphasis was placed on remote monitoring solutions as organizations devised strategies to minimize face-to-face encounters and guarantee business continuity. This change sped up the adoption of cloud-based platforms and IoT (Internet of Things) gadgets, which enable remote monitoring and administration of pipelines.
Latest Trends
1. As a result of incorporating IoT technologies, pipeline monitoring systems are evolving. Continuous monitoring and preventive maintenance are made possible by IoT devices and sensors' ability to gather real-time data on a variety of criteria. Enhanced data analysis, remote monitoring capabilities, and better decision-making are all made possible by this connectivity.
2. A more complex examination of pipeline data is made possible by the implementation of advanced analytics and AI approaches. From enormous volumes of sensor data, machine learning algorithms may find patterns, anomalies, and forecast insights. This aids in spotting possible problems, enhancing maintenance plans, and raising system performance as a whole.
3. For pipeline inspection and monitoring, unmanned aerial vehicles (drones) with cameras and sensors are being used. In remote or inaccessible locations, drones can swiftly and affordably monitor pipeline conditions, find leaks, and spot abnormalities. By replacing manual inspections with this technology, monitoring effectiveness is increased.
4. In order to monitor pipeline systems from one central place, remote monitoring solutions make use of cloud-based platforms and connectivity. This enables operators to remotely regulate pipeline operations, monitor crucial parameters, and get real-time notifications. Systems for remote monitoring increase productivity, cut expenses, and enable quicker issue response.
Significant Growth Factors
It is anticipated that the demand for energy, including gas and oil, would increase going forward. To enable the secure and effective conveyance of these resources, pipeline infrastructure and, consequently, pipeline monitoring systems are required.
Regulations and standards for pipeline safety, environmental protection, and leak detection are being tightened by governments and regulatory agencies. Pipeline monitoring systems are essential to achieving these compliance standards, which promotes more use.
Asset integrity management is becoming a higher priority for pipeline operators in order to guarantee the durability and dependability of their infrastructure. Continuous monitoring, early anomaly identification, and predictive maintenance capabilities offered by pipeline monitoring systems lower the risk of failure and enhance asset performance.
Pipeline monitoring systems enable preventive maintenance, save downtime, and lower incident risk, which optimizes operational efficiency and lower costs. In order to improve operational performance and generate savings, this encourages businesses to spend money on monitoring systems.
Restraining Factors
The installation of sensors, data infrastructure, and software platforms is only one of the major up-front expenditures associated with implementing an extensive pipeline monitoring system. The high capital expense may serve as a barrier to adoption for some organizations.
Long-distance pipelines can cross difficult terrain and include a number of linked parts. A strong system and qualified employees are needed to monitor such sophisticated infrastructure, which might complicate operations and provide implementation problems.
Regular maintenance, sensor calibration, and connection with existing infrastructure and control systems are all necessary for pipeline monitoring systems. This may take a lot of time and resources, particularly for older pipelines or systems that use many technologies.
Massive volumes of data are produced by pipeline monitoring systems, and this data need to be efficiently managed, stored and analyzed. The system becomes more complicated when data security, privacy, and regulatory compliance are ensured; this may need more expenditures in cybersecurity measures.
Recent Developments in the Global Pipeline Monitoring System Market: A Snapshot
• ABB Ltd. announced the release of HoverGuard, a mobile gas leak detection system based on unmanned aerial vehicles (UAVs) that connects to the cloud, in April 2021. The UAV-based gas leak detection system delivers precise information on intricate environmental processes that lead to pollution while measuring greenhouse gases including carbon dioxide, methane, and water vapors.
• ProFlex Technologies joined forces with Siemens AG in November 2021. ProFlex Technologies is supplying Siemens AG with its digital Pipe-Safe leading leak detection system as part of this cooperation, which will assist the staff in monitoring the gas, oil, and petrochemical supplies and stopping leaks.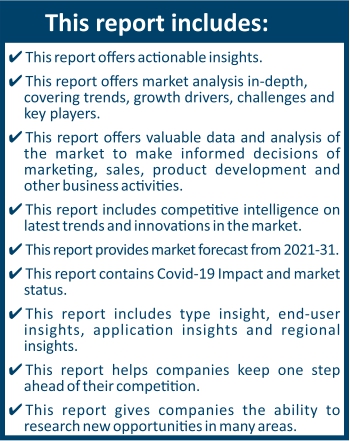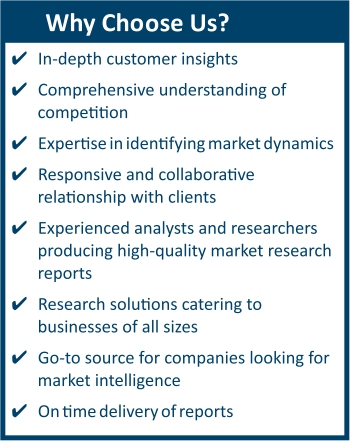 Frequently Asked Questions (FAQ) :
The market value of pipeline monitoring systemt market in 2025 was USD 7 billion
the pipeline monitoring systemt market is growing at a CAGR of 7% during the forecast period.
Asia Pacific dominated the market for pipeline monitoring systemt market and accounted for the largest revenue share.