The global penile implant market was valued at USD 598.3 million in 2020 and is projected to grow at a CAGR of 5.3% during the forecast period. Factors driving the growth of the penile implant market include growing prevalence of erectile dysfunction, work-related stress and increasing responsiveness about penile diseases.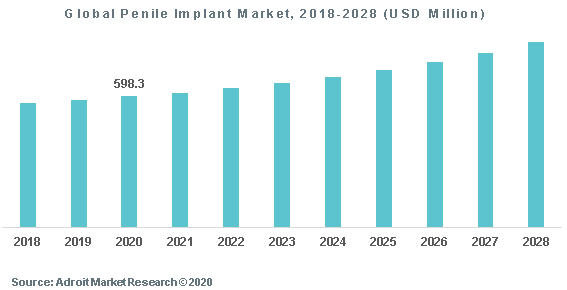 The global penile implant market is segmented based on type and end-use. On the basis of type, the market is segmented into inflatable penile implant and non-inflatable/malleable penile implant. The inflatable penile implant was the largest market of the penile implant market in 2019. By end-use, the market is segmented into hospital, ambulatory surgery center and others. The hospital segment accounted for the largest share of the global penile implant market and is projected to sustain its dominance over the forecast period.
It's being expected that by 2028, the Penile Implant market cap will hit US $898.4 million at a CAGR growth of about 5.3%.
Regionally, North America accounted for the largest market share of the global penile implant market attributable to the increasing demand for invasive treatment options for prolonged sex life. Leading players of the global penile implant market include Zephyr Surgical Implants; Coloplast; Boston Scientific Corporation; Promedon, Rigicon Inc. among others.
Key segments of the global penile implant market
Type Overview, 2018-2028 (USD Million)
Inflatable penile implant
Non-inflatable/malleable penile implant
End Use Overview, 2018-2028 (USD Million)
Hospitals
Ambulatory Surgery Center (ASC)
Others
Regional Overview, 2018-2028 (USD Million)
North America
Europe

Germany
United Kingdom
France

Asia Pacific
Latin America
Middle East & Africa
Reasons for the study
Increasing incidence of Erectile Dysfunction
Technological advancements, increasing adoption of minimally invasive surgeries
High disposable income
What does the report include?
The study on the global penile implant market includes qualitative factors such as drivers, restraints and opportunities
The study covers qualitative and quantitative analysis of the market segmented on the basis of type and end-use. Moreover, the study provides similar information for the key geographies.
Actual market sizes and forecasts have been provided for all the above-mentioned segments
The study includes the profiles of key players in the market with a significant global and/or regional presence
Who should buy this report?
The report on the global penile implant market is suitable for all the players across the value chain including product manufacturing companies, suppliers/distributors, R&D labs, CROs, healthcare organizations, medical reimbursement and insurance providers
Venture capitalists and investors looking for more information on the future outlook of the global penile implant market
Consultants, analysts, researchers, and academicians looking for insights shaping the global penile implant market
Frequently Asked Questions (FAQ) :
The base year for the report is 2021 in penile implant market.
The penile implant market is growing at a CAGR of 5.3% over the forecast period.
To get latest version of penile implant market report can be obtained on demand from the website.
Erectile dysfunction (ED) is a disorder that affects more than half of men between 40 and 70 years of age. Oral phosphodiesterase type-5 inhibitors are generally used for ED as first-line therapy. Intracavernous vasodilator injection remedy is a second-line treatment used to treat those cases who have a mild-to-severe arteriogenic or veno-occlusive dysfunction following uselessness of oral drugs. However, in patients where pharmacological cure is unsupportive or contraindicated, alternative choice is the invasive method. Penile vascular surgery is fit merely for healthy men with acquired ED owing to remote stenosis of extrapenile arteries devoid of any kind of general vascular disease. Penile implant is thus, a standard and the most effective selection, as of now to gain an artificial erection pleasure for a sexual intercourse in patients in which the pharmacological line is ineffective. These devices are under constant development and are attaining improved mechanical dependability and security. Patient gratification with the cosmetic advent and the extensive use of implant reveal their quality and the experience gained by surgeons in device implantation.
The key classification of penile implants is among inflatable and non-inflatable devices. The non-inflatable devices are semi-rigid comprised of silicone malleable rods or a chain of articulating polyethylene discs with a central metal cable support. Non-inflatable implants are comparatively inexpensive and easy to inset with hardly any mechanical difficulties. Conversely, they offer a less than perfect result equally in terms of cosmetic/concealment and quality of erection. Inflatable implants target to replicate usual function as much as possible in both permitting penile flaccidity when not in use and consequent girth/length enlargement during erection. Even though two-piece devices are present, these are not normally used and three-piece devices containing, penile cylinders, pump and fluid reservoir lead the market.
North America dominated the market for penile implant in 2019. In the US about 1 in 5 men above 20 years of age is said to have ED. This accounts for roughly 30 million American men suffering from ED. Amongst men aged 40 to 49 years old, more than half of men over 40 have some degree of ED. The possibility of ED and its brutality surges with age. Inflatable penile implant remains dominant in the United States, gaining enormous number of devices implanted. Worldwide, malleable devices are more frequently used owing to price and consistency issues. There is an overall accord that inflatable devices make a more natural flaccid look and offer a closer estimate of natural physiological erections. Intrusions that decrease the expense of implant materials (e.g., lower cost means to produce medical grade silicone) and/or entry of players into the market can lead to gradually lower costs, making inflatable devices available to a larger swath of the global ED population.