The rising demand for natural sweeteners, the increasing number of innovative Organic Stevia-based product releases, the rising incidence of obesity and diabetes, and the expanding demand for Organic Stevia application in the beverage sector are driving the expansion of this market.
Covid-19 Impact & Market Status
With its rapid spread in more than 215 countries, the COVID-19 illness caused by the new coronavirus SARS-nCoV-2 has produced a significant public health emergency worldwide. Many governments throughout the world have declared states of emergency and imposed entire national, statewide, or municipal lockdowns, prohibiting all manufacturing, transportation, educational institutions, and non-essential trade. This has had a tremendous influence on numerous sectors throughout the world, particularly in terms of reduced manufacturing and distribution. Organic Stevia is one of the areas where manufacturers are experiencing raw material supply problems as a result of the epidemic. Furthermore, imports and exports have been banned or delayed in several countries since the epidemic, posing challenges for Organic Stevia suppliers.
Leaf Segment will Hold Majority of the Market in the Coming Future
The leaf category is expected to expand at a quicker CAGR during the projection period due to increased demand from food and beverage producers and processors throughout the world.
Beverages Segment is Anticipated for the Significant Growth in the Predicted Timeframe
Beverages would be the most important application sector in 2020. This can be ascribed to Organic Stevia's rising market penetration in soft drinks, juices, teas, and nectar. Companies such as PepsiCo, Inc. and The Coca-Cola Company have included the substance into their diet soft drinks, which are touted as having no negative health consequences. It is projected to be used to substitute sucrose in a variety of culinary products such as candy jellies, traditional cakes, biscuits, and other baked goods.
European Market is expected to be a High Growth Rate in the near Future
The demand for Organic Stevia is expanding significantly in the European area, owing to an increase in the number of health-conscious customers in this region. The Organic Stevia industry is expanding rapidly in Latin America and North America. Organic food is more appealing and accessible to customers than the original commodity. Organic Stevia leaves are utilized commercially in the creation of various value-added commodities, either directly or after processing.
Organic Stevia has been utilized as a key component in baked foods, dairy products, confectionery items, and other products. The current analysis examines the commercial usage of Organic Stevia in various food items, as well as its impact on the various qualities of Organic Stevia. Because the majority of Organic Stevia product releases are new products, these ingredients contribute to substantial advancements in a variety of product categories, ranging from energy drinks and baked goods to frozen desserts. As a result, the industry is seeing an increase in product introductions with low, no, or reduced sugar claims, particularly in bread and dairy goods.
With the commencement of the coronavirus epidemic, there has been a quick increase in demand for less sugary and immunity-boosting goods, as individuals seek remedies to improve their overall health and welfare.
Organic Stevia is a natural sweetener that, even in little amounts, may produce the required sweet flavor. It has less food energy than sugar-based sweeteners and hence is a zero-calorie or low-calorie sweetener. Obesity, diabetes, and metabolic syndrome have all become serious public health issues as a result of their links to unbalanced calorie consumption. Organic Stevia plays an important function in decreasing calories as part of an overall balanced diet and physical activity program to combat the illnesses outlined above. The global Organic Stevia market is likely to grow by 2 US$ billion by the end of the estimated period, at a CAGR of 9%.
Organic sweeteners are becoming a more feasible and preferable alternative for consumers who are suffering from a variety of health issues. The market's rising use and interest in Organic Stevia-based sweeteners have been spurred by this shift in consumer tastes. Given consumer preferences, organic Stevia has shown to suit many of their needs: organic Stevia sweeteners are label-friendly and give a sweet flavor while avoiding the negative effects of calories and sugar because they are made from Organic Stevia plants. It has become a flexible component for product inventors, resolving both the technical challenges of sugar-free manufacturing and the preservation of label-friendliness in a variety of food and beverage applications.
Cargill is developing new ways to expand the capabilities of Organic Stevia components, which deliver the same sweetness for a variety of product applications while also lowering the calorie amount of the product. The Organic Stevia industry is being driven by a variety of high-intensity Organic Stevia sweeteners created with the highest quality Organic Stevia leaf extracts that have a taste similar to sugar while retaining calories for a number of applications.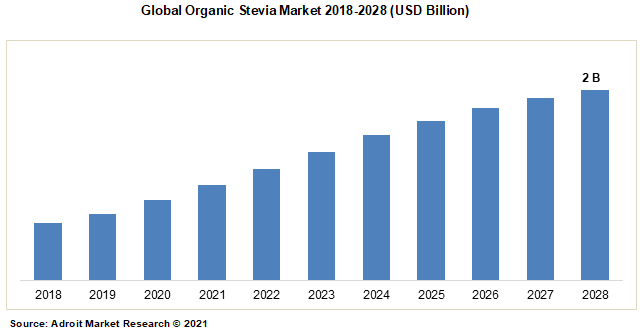 In accordance with this, this study investigates many important Organic Stevia market suppliers, including SWEETLEAF. Pure, KAL, Easy Use, NOW FOODS, Green Leaf, Nature Restore, In the Raw, and others are among the brands. Furthermore, the Organic Stevias market research report contains data on emerging trends, opportunities, breadth, and threats that will impact market growth. This report is being created to help businesses capitalize on and plan for potential future growth possibilities. The Organic Stevia industry is being driven by a variety of high-intensity Organic Stevia sweeteners created with the highest quality Organic Stevia leaf extracts that have a taste similar to sugar while retaining calories for a number of applications.
Latest Innovations in the Global Organic Stevia Market: a Snapshot
In December 2021, an organic energy drink made from tapioca is going on sale across the country. OCA and its new prickly pear lime flavor will be available at online at vitacost.com and Kroger.com as well as over 2,000 Kroger stores nationwide. Sparkling water, organic agave syrup, organic tapioca syrup, organic gum acacia, natural taste, organic citric acid, organic caffeine from green coffee, and Organic Stevia are all used to make OCA. It was produced in partnership with Magnus Media, the media initiative of Grammy Award-winning performer Marc Anthony, by global beverage brand Beliv.
In May 2021, Pyure Organic collaborated with Ideabar, a national advertising firm, to create a new design and language for its Organic Stevia-sweetened goods.
The goal of the market research analysis is to provide reliable information on the global Organic Stevia market. The report decodes complex data and depicts the current and historical status of the industry, as well as predicted market trends and size. The study examines market leaders, investors, customers, and new entrants from all aspects of the industry.
Organic Stevia Market Scope
| | |
| --- | --- |
| Metrics | Details |
| Base Year | 2020 |
| Historic Data | 2018-2019 |
| Forecast Period | 2021-2028 |
| Study Period | 2018-2028 |
| Forecast Unit | Value (USD) |
| Revenue forecast in 2028 | 2 US$ billion |
| Growth Rate | CAGR of 9% during 2021-2028 |
| Segment Covered | Extract Type, Application, Regions |
| Regions Covered | North America, Europe, Asia Pacific, South America, Middle East and South Africa |
| Key Players Profiled | suppliers, including SWEETLEAF. Pure, KAL, Easy Use, NOW FOODS, Green Leaf, Nature Restore, In the Raw, and others are among the brands |
Key Segments of the Global Organic Stevia Market
Extract Type Overview, 2018-2028 (USD Billion)
Application Overview, 2018-2028 (USD Billion)
Bakery
Dairy Product
Tabletop Sweetener
Dietary Supplements
Packaged Food
Confectionery
Beverages
Others
Regional Overview, 2018-2028 (USD Billion)
North America
Europe
Germany
France
UK
Rest of Europe
Asia Pacific
China
India
Japan
Rest of Asia Pacific
South America
Mexico
Brazil
Rest of South America
The Middle East and South Africa
Frequently Asked Questions (FAQ) :
The market is projected to grow 2 US$ billion with at a CAGR of 9% between 2021-2028
The major regions in the industry are North America, Latin America, the Middle East and Africa, Europe, and the Asia Pacific, with the Asia Pacific and Europe as the leading stevia markets.