Global Organic Personal Care accounted for a market size of USD 22 billion in the year 2019 and is projected to grow at a CAGR of more than 6% over the forecast period. Organic personal care products are primarily manufactured by plant ingredients and excludes the utilization of multiple chemicals such as phthalates, parabens, aluminium salts, and petrochemicals which impact individual's health. Growing health awareness, environmental consciousness, along with balancing personal care are driving the market growth.
The global Organic Personal Care market size is projected to reach nearly USD 40 billion by 2028. Stringent government mandates coupled with rising climate change concerns have compelled industry players operating in personal care market to introduce organic products. Improving living standard leading to shift toward personal appearance and health awareness is further contributing to the growth of the industry.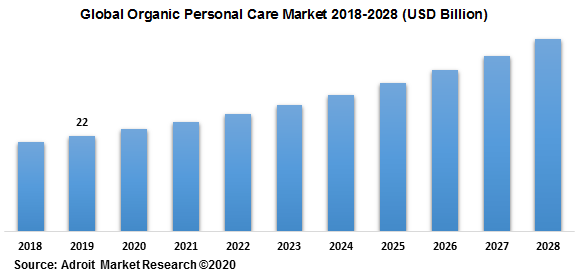 The COVID-19 situation has obstructed the personal care market growth. The discretionary spending took a hit, and increased health awareness led consumer behavioural shift toward safe, organic and reliable products. Products characterizing lower risk of contamination and longer shelf lives, in turn, helping the rationing of consumer supplies is witnessing demand upsurge. Industry further remain aloft owing to lipstick effect, as consumers are spending money on small indulgences during economic downturn. Although, global lockdown has impacted supply chain and operations at manufacturing facility, widening demand supply mismatch. As a result, the manufacturers are focusing on establishing resilient supply lines, by diversifying its supplying capabilities along with shifting toward E-commerce channel pertaining to induced volatile business environment. The report will comprise the impact of COVID-19 situation over the industry.
Key segments across Organic Personal Care market
Type Overview, 2018 – 2028 (USD Million and kilotons)

Cosmetics
Skin Care
Oral Care
Hair Care
Others

Distribution Channel Overview, 2018 – 2028 (USD Million and kilotons)
Regional Overview, 2018 – 2028 (USD Million and kilotons)
• North America
o U.S.
o Canada
o Mexico
• Europe
o UK
o Germany
o France
o Italy
o Rest of Europe
• Asia Pacific
o China
o India
o Japan
o Rest of Asia-Pacific
• Middle East & Africa
o Saudi Arabia
o Rest of Middle East & Africa
• South America
o Brazil
o Rest of South America
Reasons for the study
The purpose of the study is to give an exhaustive outlook of the global Organic Personal Care industry. Benchmark yourself against the rest of the market.
Be prepared for how Organic Personal Care industry investments will be impacted by socio-political and economic factors over the next few years.
Ensure you remain competitive as new innovations by existing key players boost the market.
What does the report include?
The study on the global Organic Personal Care includes qualitative factors such as drivers, restraints, and opportunities.
The study covers the competitive landscape of existing/prospective players in the industry and their strategic initiatives for the form development.
The study covers a qualitative and quantitative analysis of the market segmented on the basis of type and distribution channel. Moreover, the study provides similar information for the key geographies.
Actual market sizes and forecasts have been provided for all the above-mentioned segments.
Who should buy this report?
This study is suitable for industry participants and stakeholders in the global Organic Personal Care. The report will benefit:
Every stakeholder involved in manufacturing and distributing components or solutions.
Managers within financial institutions looking to publish recent and forecasted statistics pertaining to the global Organic Personal Care industry.
Government organizations, regulatory authorities, policymakers and financial organizations looking for T&D investment trends in global Organic Personal Care industry.
Analysts, researchers, educators, strategy managers, and academic institutions looking for insights into the market to determine future strategies.
The personal care products comprising natural products are witnessing significant adoption of the products owing to increasing awareness toward maintaining health and ill-effects of chemical products. Positive government outlook and introduction of strict regulations toward adoption of environment-friendly products and limiting the usage of chemical products comprising pollutants is stimulating the industry size. As a result, industry players are investing toward research & development activities to offer multiple personal care products integrated with organic ingredients. Although, brief shelf life along with availability of advanced beauty treatments and other counterparts are hampering the business upsurge. However, the health and personal care alarms raised by the pandemic is expected to boost the advances across the organic products industry.
Type Segment
In terms of type, the market is bifurcated into cosmetics, skin care, oral care, hair care, and others. The skin care segment is estimated to hold a major market share over the forecast period. The market growth of this segment is ascribed to anti-aging pursuit and rising skin concerns.
Distribution Channel Segment
Based on the distribution channel, the market is segmented into Online channel and Offline channel. The online channel is anticipated to witness a significant growth rate during the forecast years. The market growth of this segment is mainly attributed to the rising shift toward e-commerce channel along with paradigm shift in buying patterns owing to emergence of pandemic is expected to boost the growth.
In terms of geography, the global Organic Personal Care is segmented into North America, Europe, Asia Pacific, South America, and Middle East & Africa. Asia Pacific is anticipated to dominate the global Organic Personal Care market. Surge in domestic consumption owing to rising population index coupled with growing per capita income is stimulating the market demand in the region. Furthermore, the region comprises of multiple emerging countries such as China, India, Vietnam, South Korea, and Thailand is contributing to the industry growth.
The leading players operating across the global Organic Personal Care market include Aveda Corporation, The Body Shop International PLC, Amway Corporation, The Estée Lauder Companies Inc., Burt's Bees, Yves Rocher, The Hain Celestial Group, and Bare Escentuals Beauty, Inc. The market for Organic Personal Care is consolidated with established global players and is further witnessing the emergence of new industry players Moreover, the industry players are targeting toward enhancing their market share through implementation of merger & acquisition, collaborations growth strategies.