The global optometry equipment market was valued at USD 2,563.4 million in 2020 and is projected to grow at a CAGR of 6.5% during the forecast period. Factors driving the growth of the optometry equipment market include growing commonness of eye diseases, several government initiatives to combat visual impairment and technical improvements in ophthalmic devices.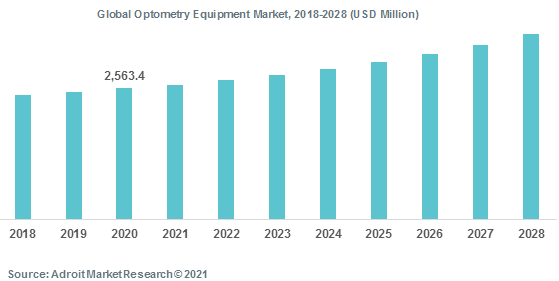 In many countries, eye conditions have emerged as potential threats to the status of sight of their populations. The increase of diabetes, causing diabetic retinopathy, glaucoma and age-related macular degeneration (AMD) remains on the public health agenda due to difficulties in its early diagnosis and frequent necessity of life long treatment. However, uncorrected refractive errors is the probable cause of several visual impairments.
Regionally, North America accounted for the largest market share of the global optometry equipment market attributable to the presence of major market players. Leading players of the global optometry equipment market include Bausch & Lomb Inc, Alcon Inc., Carl Zeiss Meditec AG, Johnson & Johnson Vision Care Inc., ESSILOR INTERNATIONAL S.A., Bausch & Lomb Incorporated, Ziemer Ophthalmic Systems AG, TOPCON MEDICAL SYSTEMS, INC., NIDEK CO. LTD., HAAG-STREIT, VISIONCARE INC. among others.
Key segments of the global optometry equipment market
Type Overview, 2018-2028 (USD Million)
Retina and glaucoma examination products
General examination products
Cornea and cataract examination products
End User Overview, 2018-2028 (USD Million)
Clinics
Hospitals
Other end users
Regional Overview, 2018-2028 (USD Million)
North America
Europe

Germany
United Kingdom
France

Asia Pacific
South America
Middle East & Africa
Reasons for the study
Technological advancements in eye exam equipment
Increasing government initiatives to control visual impairment
Increasing awareness about eye health
What does the report include?
The study on the global optometry equipment market includes qualitative factors such as drivers, restraints and opportunities
The study covers qualitative and quantitative analysis of the market segmented on the basis of type and end user. Moreover, the study provides similar information for the key geographies.
Actual market sizes and forecasts have been provided for all the above-mentioned segments
The study includes the profiles of key players in the market with a significant global and/or regional presence
Who should buy this report?
The report on the global optometry equipment market is suitable for all the players across the value chain including product manufacturing companies, suppliers/distributors, R&D labs, CROs, healthcare organizations, medical reimbursement and insurance providers
Venture capitalists and investors looking for more information on the future outlook of the global optometry equipment market
Consultants, analysts, researchers, and academicians looking for insights shaping the global optometry equipment market
The delivery of ophthalmic services at all levels is completely dependent on equipment: from the simple torch light to the highly sophisticated equipment used for diagnosis and treatment. Equipment is vital to service delivery and quality and is thoroughly associated with the impulse of eye care workers to do their job. More efficient, effective, and long-term use of equipment will be possible if eye units are able to acquire appropriate equipment which meets their needs, which they are trained to use and care for, and which they can afford to maintain.
The global optometry equipment market is categorized based on type and end user.
By type: The retina and glaucoma examination products segment dominated the market in 2020 due to rising popularity of retinal diseases and glaucoma and emergent access to up-to-date ophthalmic diagnostic device.
By end user: The clinics segment dominated the market in 2020 due to a number of ophthalmic operations executed in these facilities and growing private clinical practices in developing countries.
North America dominated the market in 2020. Over 28 million adults in the United States suffer from one or more age-related eye diseases. With the growing older population and increasing incidence of diabetes, this number is projected to rise. By 2022, the number of people with visual impairment and eye diseases could increase by 50% or more. Still, eye care access and utilization in the United States varies according to factors such as income, race, insurance, and having known vision or eye problems. Race/ethnicity and low-socioeconomic status appear to be independently associated with increased visual loss, placing poor ethnic minorities at highest risk.