The Online Food Delivery market is expected to grow at a CAGR of 10.8 % to reach in .
Global online food delivery industry size was valued at USD 72.1 billion in 2020. With the fast-paced lives, online food delivery has a priority audience of the millennials for food delivery services as they tend to spend the greater share of their budgets on prepared food in comparison with the other generations. Inevitably with the bigger spending power and changing lifestyles, consumers' appeal towards the approach of online food ordering is increasing considerably. In this digital age, most of the work is being managed online and consumers are too busy to go to the restaurant and wait in long queues. Instead, from their perspective, convenience is having the restaurant come to them. These factors are expected to drive the online food delivery market which is expected to grow at a rate of 16.0% from a period of 2019- 2028.
The online food delivery market is also driven by the easy availability of mobile phone apps that provide various coupons at greater redemption rates. With the technological advancement in mobile phones, apps earn a profit by getting large amounts of business to the vendors and restaurants and, in addition to it, charging them with a commission over it. Since the app makes money from both vendors and restaurants, the revenue grows exponentially expanding the network of this market. The food delivery operators have high labor costs and hence high delivery costs. With the increase in the number of orders, there will be a need for more riders and, hence, an increase in capital investment for the food delivery operators. The food delivery services have altered consumer behavior according to their customer base especially in the metropolitan areas as there is a large crowd preferring prepared food in comparison to the consumer pool residing in other rural or inner-city areas.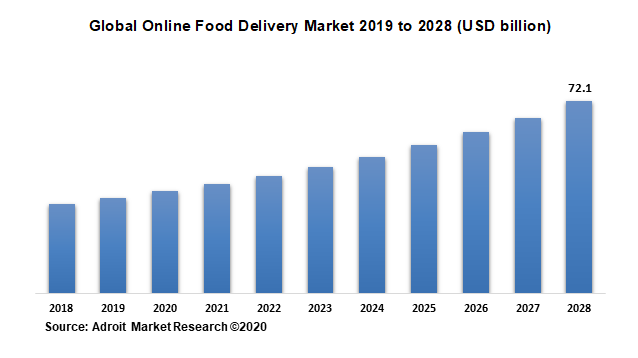 Online Food Delivery Market Scope
| | |
| --- | --- |
| Metrics | Details |
| Base Year | 2020 |
| Historic Data | 2018-2019 |
| Forecast Period | 2021-2028 |
| Study Period | 2018-2028 |
| Forecast Unit | Value (USD) |
| Revenue forecast in 2028 | USD 72.1 billion |
| Growth Rate | CAGR of 16.2% during 2021-2028 |
| Segment Covered | Type, Application, Regions |
| Regions Covered | North America, Europe, Asia Pacific, South America, Middle East & Africa |
| Key Players Profiled | Domino's, Grub Hub/Eat 24, Pizza Hut, Papa John's International, Inc., and Jimmy John's accounts for nearly 90% of the global online food delivery market. |
Key Segments of the Global Online Food Delivery Market
Type Overview, 2019 to 2028 (USD Billion)
Application Overview, 2019 to 2028 (USD Billion)
Regional Overview, 2019 to 2028 (USD Billion)
North America
Europe
UK
Germany
France
Rest of Europe
Asia Pacific
China
Japan
India
Rest of Asia-Pacific
Middle East and Africa
UAE
South Africa
Rest of Middle East and Africa
South America
Brazil
Rest of South America
Reasons for the study
The purpose of the study is to give an exhaustive outlook of the global Online Food Delivery market.
Online Food Delivery is widely used for various end uses, owing to their excellent properties and the market is expected to gain traction over the coming years
With the growing personal care uses, there is a rise in the demand for Online Food Delivery which is further expected to have a positive impact on the overall market growth
What does the report include?
The study on the global Online Food Delivery market includes qualitative factors such as drivers, restraints, and opportunities
The study covers the competitive landscape of existing/prospective players in the Online Food Delivery industry and their strategic initiatives for the product development
The study covers a qualitative and quantitative analysis of the market segmented based on Type and End Use. Moreover, the study provides similar information for the key geographies.
Actual market sizes and forecasts have been provided for all the above-mentioned segments.
Who should buy this report?
This study is suitable for industry participants and stakeholders in the global Online Food Delivery market. The report will benefit: Every stakeholder involved in the Online Food Delivery market.
Managers within the Online Food Delivery industry looking to publish recent and forecasted statistics about the global Online Food Delivery market.
Government organizations, regulatory authorities, policymakers, and organizations looking for investments in trends of global Online Food Delivery market.
Analysts, researchers, educators, strategy managers, and academic institutions looking for insights into the market to determine future strategies.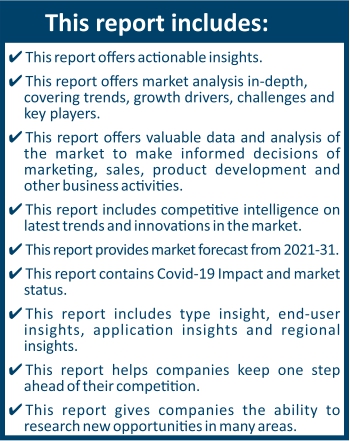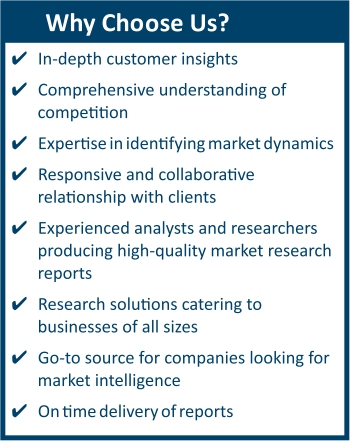 Frequently Asked Questions (FAQ) :
The global online food delivery market reached a value of US$ 72.1 Billion in 2020.
The key companies in the global online food delivery market are Zomato, Deliveroo, Just Eat, Swiggy, Takeaway.com, Delivery Hero, Food panda, Domino's, Grub Hub/Eat 24, Pizza Hut, Papa John's International, Inc.
Region-wise, the market has been classified into North America, Asia Pacific (excluding China), Europe, and Middle East and Africa, South America dominates the global market.
Asia-Pacific is expected to grow at the fastest rate in the online food delivery market during the forecast period.
The Global online food delivery market is segmented on the basis of Type, Application and Geography.
The report sample for online food delivery Market report can be obtained on demand from the website. Also, the 24*7 chat support & direct call services are provided to procure the sample report.
Online food delivery is expected to witness a surge in demand over the coming years with increasing disposable income, hectic lifestyle, changes in consumer consumption patterns, and increasing working population. Longer waiting times and growing overcrowding levels at many restaurants has influenced a section of consumers to go for the convenience of online delivery and the trend is expected to continue over the coming years.
In addition, the emergence of mobile communication and increasing penetration of the internet in developing countries is expected to raise demand for ordering from home. In order to grab this opportunity, many online food delivery service providers are enhancing their online services with the help of technology. For instance, Domino's launched online food delivery via a mobile application, so that consumers can order food anytime, anywhere with their mobile phones.
Globally, hectic and muddled consumer lifestyle, a common scenario in every country, have boosted the demand for home delivery services, particularly in foremost cities where heavy traffic jams are a part of everyday life. Throughout sporting events such as the European Cup and Olympics, Home delivery services see substantial growth in demand. Even in Thailand, McDonald's serves 24 hours a day during the peak seasons.
Delivery services are also noticeable in nations such as Indonesia, where the foremost quick service restaurant chain are trying to build their own unique selling point. For Instance, A&W Restaurants launched a home delivery call center to facilitate customers in better ways. Also, another local chain named Bakmi GM waived the takeaway minimum order limit on its food home delivery services to attract more customers. Similarly, in China, significant QSR chains like Pizza Hut, East Dawning, KFC, and McDonald's hostilely encourage the delivery services through special promotions, advertisements, and also empower online order placement to speed up ordering.
Type Segment
Originally, the notion of "On the Go" food evolved from quick service restaurants, which provided busy customers with time-efficient eat out options such as online food delivery. To avoid long-standing queue the kiosk format has evolved. This notion is typically present in airports, railway stations, shopping malls, and office complexes, i.e. locations where customer prefer not to dedicate much time to eating and standing in a queue. The influence of western modes of life has also helped build the acceptance of the concept among Indian consumers. For instance, a coffee chain named, Coffee day Xpress is a distinct division, which is devoted largely to serving people on the move. Also, quick service restaurant brands, Such as McDonald's not only had discrete takeaway counters but also drive-through windows in certain outlets. Other brands such as Fast Trax, Nirula's, Kaati Zone and BizzyB have accepted the takeaway format together with dine-in.
One of the successful examples of takeaway business model is Just Eat. It is into online food order and delivery services and one of the biggest aggregator platforms for restaurants worldwide. It acts as an intermediator between customers and take-out food outlets. It allows the customers to search for local restaurants to place an order online and choose from pick up or delivery options.
Application Segment
Non-family online food delivery industry is growing by virtue of increasing single household population in the Americas and Europe. In 2017, the U.S. census reported more than 100 million unmarried people over the age of 18, that's more than 40% of the American adult population. In addition, more than 45% of the single population was women. Increasing working women population is expected to flourish online food delivery industry by virtue of hectic lifestyle.
APAC is the most populous region across the globe. Presence of key economies such as China, India, Japan, and South Korea is projected to drive the online food delivery services in this region at a CAGR of 17.3 % over the forecast period. APAC online food delivery market stood at USD 34.31 billion in 2017 and is projected to reach USD 90.95 billion by 2028
China is the most populated country across the world with 1.38 billion residents. No wonder online food delivery services are one of the fastest and most frequently used services in China, especially in tier 1 and 2 cities. China has a huge scope for the development of food delivery service providers financed by the growth of emerging infrastructure, hospitality industry, quicker expansion and development of the cities. America's online food delivery market accounted for a market revenue of USD 22.74 billion in the year 2019. Americas is the second most favorable market for online food delivery services and is expected to grow at a CAGR of 11.7 % over the forecast period. Presence of key economies such as the U.S., Canada, and Mexico is the key driver for the development of this region.
The U.S. is one of the key regions across America's online food delivery market as it stands as a hub for the most successful start-ups to date. For instance, the top online delivery food platforms as per Orbis market research such as Domino's, Grub Hub/Eat 24 , Pizza Hut, Papa John's International, Inc., Jimmy John's, POSTMATES INC, DoorDash, Square, Inc./Caviar/Seamless , UberEats, and Delivery.com are headquartered in U.S., providing this region an edge of presence in this market.