The global online course provider market size in 2018 was USD 1.53 billion and is anticipated to rise with a CAGR of 5.7% in the forecast period of 2019 to 2025 owing to the growing reputation, reach and brand awareness of online education among students and corporates across the world. New animated, engaging and interactive learning instruments provided to the users facilitate easy access and enhance efficiency. In addition, the market for online courses is anticipated to expand over the next few years as the use of the internet and mobile devices grows.
Key factors impacting the global online course provider market
Rising demand for online education
In 2017, the number and percentage of college and university learners taking internet courses rose steadily as overall post secondary enrolments decreased. A third of all students now take at least one course online, which drives the need for a worldwide market for the online course provider.
This is apparent in the recent study of the National Center for Education Statistics of the Department of Education. It indicates that with nearly 90,000 learners dropping in the total postsecondary level, almost half a percentage point, the number of learners taking at least part of their online courses was up more than 350,000 and 5.7 percent, from fall 2016 to fall 2017, confirming earlier released information from the National Student Clearingshouse.
The percentage of all solely internet registered learners increased to 15.4% (14.7% in 2016), or around one in six students. The proportion of learners who blended classes in person and online was up somewhat quicker in 2017 to 17.6% compared to 16,4% in 2016. And the share of all learners attending at least one internet course rose to 33.1% from 31.1% in 2016.
| | | | | | |
| --- | --- | --- | --- | --- | --- |
| | 2016 | % of 2016 total | 2017 | % of 2017 total | % Change 2016- 2017 |
| All students | 20,224,069 | | 20,135,159 | | -0.44% |
| Enrolled Exclusively Online | 2,974,836 | 14.71% | 3,104,879 | 15.42% | 4.19% |
| Enrolled in Some Online Courses | 3,325,750 | 16.44% | 3,552,581 | 17.64% | 6.38% |
| Enrolled in No online courses | 13,923,483 | 68.85% | 13,477,699 | 66.94% | -3.31% |
Source: Adroit Market Research Analysis, 2019
The table demonstrates that the acceptance of online courses between learners is progressively increasing. This is anticipated to stimulate demand for online courses worldwide.
Increasing inclination towards online education among the corporate sector
Every individual urge for better growth opportunity and to seek such milestones, corporates are emerging fast in terms of adoption of online course Also hectic lifestyle of working professional paired with remote learning features is driving the need for flexible learning solution, which is skyrocketing the demand for online content further boosting the growth of online course provider.
Also, many of the companies offer online course subscription to promote training and development in their companies. Free educational courses assist employees in getting professional certification and enhance their carrier goals apart from this, online course assist companies in enhancing their work productivity.
For instance, Yahoo reimburses its employees for the cost of verified course-completion certificates from Coursera. The 1-800-Flowers online retailer announces that they will develop an online educational portal for their self-employed florists on the Udemy platform. The portal will offer a combination of general business courses and customized lessons on floral subjects.
Segment overview of Online Course Providers Market
Application Overview, 2015-2025 (USD million)
Provider Overview, 2015-2025 (USD million)
Reasons for the study
The purpose of the study is to give an exhaustive outlook of the global online course provider industry.
We have been following the e-learning market. The market is gaining immense importance across various regions as new movies are constantly emerging.
Rapid growth in technological advancements has led to the rise of internet usage and smartphones for daily use which is the major driver for online learning.
What does the report include?
The study on the global online course provider market includes qualitative factors such as drivers, restraints, opportunities and vendor analysis.
The study covers the qualitative and quantitative analysis of the market segment such as application, and provider.
Actual market sizes and forecasts have been provided for all the above-mentioned segments
The study includes the profiles of key players in the market with a significant global and/or regional presence
Who should buy this report?
This study is suitable for industry participants and stakeholders in the e-learning industry, who want an in-depth insight into the online course market. The report will benefit:
Executives of any online course provider platform
Managers within financial institutions looking to publish recent and forecasted statistics pertaining to e-learning
Venture capitalist looking into investing capital
Government organizations, regulatory authorities, policymakers and financial organizations looking for innovative solutions in the field of online learning
Analysts, researchers, educators, strategy managers, and academic institutions looking for insights into the market to determine future strategies
E-learning has been effective to the individuals that understood its value. It provides the possibility of excellent economic cost outcomes and sometimes at no cost. However, there are many other benefits to online learning. E-learning can even revolutionize education as it offers greater opportunities for traditional learning. Online courses have many benefits, such as remote accessibility, variety of courses, convenience, flexibility, and many others.
The increasing amount of mobile consumers and social media learning trend are increasing the development of the worldwide e-learning industry. Developers of e-learning content focus on creating bite-sized courses and deploying sprint learning modules to suit mobile users ' daily routine. Service providers focus on creating fresh e-learning content through ongoing news releases, peer-to-peer difficulties, flashcards, and collaborative content to attract many customers and implement learning modules.
Social media development paves the way for innovative and new educational paradigms like hybrid and internet teaching to emerge. These latest techniques of teaching guarantee the highest level of commitment and provide flexibility for end-users. New modules are being developed to support the growth of the e-learning industry.
With growing digitalization across the world, there are still numerous underdeveloped economies, which are witnessing lack of technological infrastructure that leads to slightly impact the growth of the global online course provider market. For example, villages of India and other underdeveloped economies are still facing connectivity issues. Remote village locations have low cellular range due to bad weather condition, which certainly impacts the approachability of online courses and negatively impact the growth of the market.
Many people still believe in the conventional classroom learning experience, which leads to lack of trust over an online education system that generates difficulties in penetrating online course infrastructures among technology ignorant generation. Apart from above, many people still face difficulties in expressing their doubts and queries over the online educational portal, which germinates a lack of trust in online course methodology that negatively influences the growth of the market.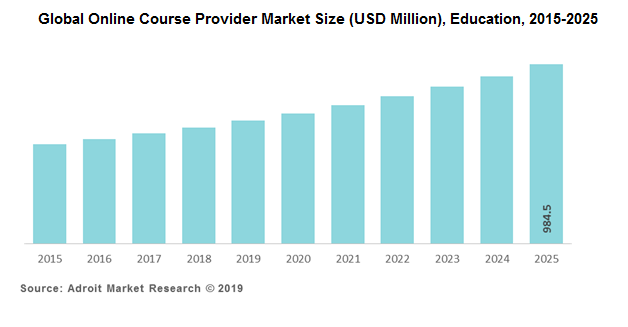 The education segment of the global online course provider market includes individual consumers who enroll for the online courses for their personal benefit, and the courses for primary, secondary and post-secondary education all across the globe. The revenue for the education segment is expected to reach almost USD 985 million in 2025, with a growth rate of 6.5% during the forecast period of 2019-2025. Factors such as huge number of courses to select, ease of accessibility and opportunity to gain certifications from credible universities have created a boom in this market will continue to do so in the future.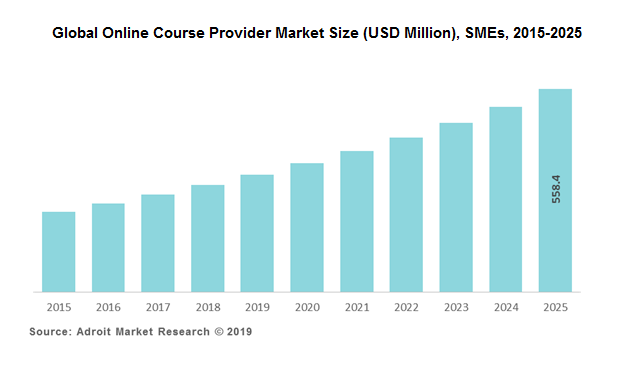 In the corporate sector, companies use online courses in the areas such as training, recruiting, marketing and branding. Corporations started using online courses to reduce the costs of employee training, build talent pipelines and identify job candidates. In 2018, the global market size of online course providers was USD 896.6 million and is expected to rise with a CAGR of 5.2% during the forecast period. The companies with employees less than 1,500 are considered under SMEs in this study. SMEs are anticipated to grow with the highest CAGR of 9.5% under the 'corporates' segment, owing to the growing awareness of training and educating employees among the employers.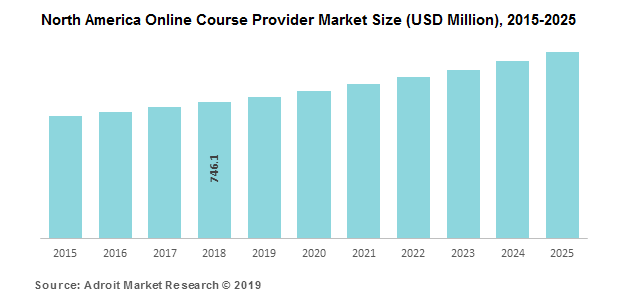 The North America region accounts for nearly 50% of the total online course providers market. The market value is expected to rise from USD 746.1 million in 2018 to more than a billion in 2025 with a CAGR of 4.8% during the forecast period of 2019-2025. Due to the growing preference for continuous learning, many corporates have become more conscious about effectively using their technologies to deliver content and accessibility to the content from anywhere and anytime. This change in the focus towards continuous learning will lead to the growth of the market in this region during the next 5 years.
The education system in the USA is growing rapidly with greater technological maturity trend in the learning technologies sector. Organizations have started to adopt learning technologies that are not limited internal training purposes in North America. Most of the global market players are based in the USA and generate the highest amount of revenue in this region.
The leading companies operating in online course market are Pluralsight, Udemy, Coursera, Edx, Codeacademy, Datacamp, Skillsoft, Khan Academy, Udacity, FutureLearn, and Lynda.com (Linkedin Learning).