The global market for the Oncology Nutrition is anticipated to develop at a compound annual growth rate (CAGR) of 8.9 % throughout the course of the forecast, to reach US$ 4.79 Bn by 2032.
The global oncology nutrition market was valued at USD 1,798.9 million in 2020 and is projected to grow at a CAGR of 7.6% during the forecast period. Factors driving the growth of the oncology nutrition market include increasing quality of clinical research on nutritional interventions, rising demand for nutritional feeding in the homecare sector and mounting number of patients being treated for malnutrition.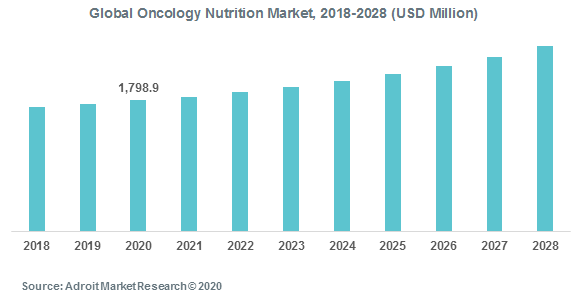 Nutrition plays a major role in many aspects of cancer development and treatment. The American Cancer Society (ACS) states that one third of cancers could be prevented from an improved diet and increased physical activity. This position is shared by the United States Department of Agriculture (USDA), the National Cancer Institute (NCI), the American Institute of Cancer Research (AICR), and the World Health Organization (WHO). Each of these organizations has published cancer prevention guidelines, including diet and activity recommendations. Malnutrition is seen in approximately 15% to 20% of people diagnosed with cancer, and up to 80% to 90% of patients with advanced disease. During treatment, a patient's nutritional status is frequently compromised by treatment-related side effects. Malnutrition increases morbidity and mortality and decreases quality of life. It increases the risk of postoperative infection and blunts response to treatment therapies.
The global oncology nutrition market is categorized based on cancer type. By cancer type, the head & neck cancer held the largest share in 2020, conditions such as severe mucositis, dysgeusia, xerostomia, and nausea limit nutritional intake in head & neck cancer patients leading to the adoption of oncology nutritional feeding formulas.
Regionally, North America accounted for the largest market share of the global oncology nutrition market in 2020, while Asia Pacific is set to grow at a highest CAGR by 2028. Leading players of the global oncology nutrition market include Abbott Laboratories, Nestle S.A., Danone, Fresenius Kabi AG, B.Braun Melsungen AG, Mead Johnson Nutrition Company, Hormel Foods, Meiji Holdings, Victus, Global Health Products among others.
Oncology Nutrition Market Scope
| | |
| --- | --- |
| Metrics | Details |
| Base Year | 2022 |
| Historic Data | 2021-2022 |
| Forecast Period | 2022-2032 |
| Study Period | 2021-2032 |
| Forecast Unit | Value (USD) |
| Revenue forecast in 2032 | US$ 4.79 Bn |
| Growth Rate | CAGR of 8.9 % during 2022-2032 |
| Segment Covered | By Cancer Type, By End Use, Regions |
| Regions Covered | North America, Europe, Asia Pacific, South America, Middle East and Africa |
| Key Players Profiled | FMC Corporation, Danone India, Abbott, Aceto, B. Braun Melsungen AG, Baxter, Fresenius Kabi AG, Global Health Products, Inc., Hormel Foods Corporation, Mead Johnson & Company, LLC, Meiji Holdings Co., Ltd, Nestlé S.A. |
Key Segment Of The Oncology Nutrition Market
By Cancer Type, 2022-2032(USD Million)
• Head & Neck Cancer
• Stomach & Gastrointestinal Cancers
• Blood Cancer
• Breast Cancer
• Lung Cancer
• Other cancers
By End Use, 2022-2032(USD Million)
• Hospitals
• Home Care
• Others
Regional Overview, 2022-2032 (USD Million)
North America
• US
• Canada
Europe
• Germany
• France
• UK
• Rest of Europe
Asia Pacific
• China
• India
• Japan
• Rest of Asia Pacific
South America
• Mexico
• Brazil
• Rest of South America
Middle East and South Africa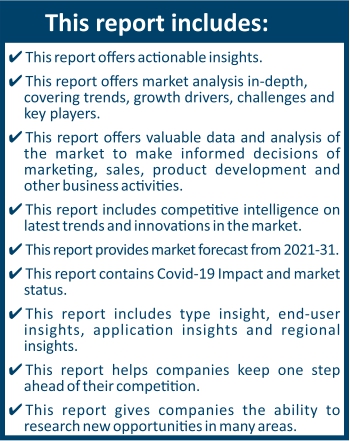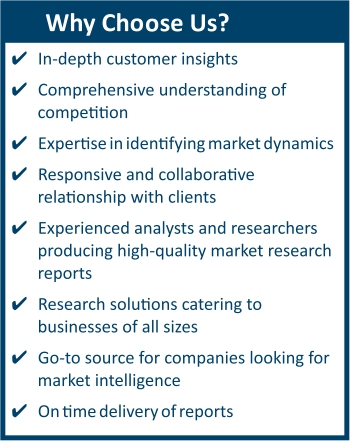 Frequently Asked Questions (FAQ) :
The oncology nutrition market is growing at a CAGR of 7.6% over the forecast period.
North America dominated the market for oncology nutrition market and accounted for the largest revenue share.
The major contenders in the global market are Abbott Laboratories, Nestle S.A., Danone, Fresenius Kabi AG, B.Braun Melsungen AG, Mead Johnson Nutrition Company, Hormel Foods, Meiji Holdings, Victus, Global Health Products among others
The nutritional status of every patient with cancer is negatively affected by the cancer itself or indirectly through tumour-induced metabolic changes (often referred to as cancer-induced malnutrition or cachexia). According to several studies, medical oncologists and other healthcare professionals treating patients with cancer seem to neglect nutritional issues, both considering screening and information or intervention. This has lead the European Cancer Patient Coalition to publish a Cancer Patient's Nutritional Bill of Rights, which was presented in the European Parliament in Brussels in November 2017. The Bill of Rights is also based on the recently updated European Society of Parenteral and Enteral Nutrition guidelines on nutrition in patients with cancer patients.
The relatively low esteem of nutritional support in today's clinical oncology has to be overcome with more room for education in the Medical Oncologist's curriculum to make future oncologists aware and train them. The European Society for Medical Oncology/American Society of Clinical Oncology global core curriculum refers very briefly to the fact that a trainee should learn and understand 'supportive measures in relation to all kinds of systemic anticancer therapies'. In this regard, nutrition needs continuous support. Nutritional assessment and management should become an integrative part of clinical trials. This would further enhance its importance and facilitate integrating management strategies into daily practice. Guidelines should provide clear and easy to follow algorithms, adapted to different phases of the journey of a patient with cancer and according to needs at diagnosis, during treatment and follow-up. The development of checklists at the oncologist's and the patients' disposal could facilitate guideline implementations. In the future, this could be part of a national or other accreditation framework for an oncologic centre of excellence.
The global oncology nutrition market is segmented based on cancer type. By cancer type, the market is segmented into head & neck cancer, stomach and gastrointestinal cancers, liver cancer, esophageal cancer, pancreatic cancer, lung cancer, blood cancer, breast cancer, and other cancers. The head & neck cancer segment dominated the market in 2020.
Progression in the early detection of cancer and its treatments has increased the survival rate of patients suffering from this disease. Moreover, the supportive care to improve the quality of life in these patients is an important issue. Despite the ever-growing advances in the management of cancer, malnutrition is still unsolved problem in these patients. Patients with head and neck cancers are susceptible to malnutrition because of the tumor site per se, as well as the treatment with multi anticancer treatments. The negative effects of malnutrition in these patients can cause decreased response and tolerance to treatments, lower quality of life, and higher risk of complications, healthcare costs and mortality. Therefore, nutritional status of patients in all the stages of anticancer treatment should be assessed by highly sensitive and specific tools, from the early stages at diagnosis and the beginning of the disease through the anticancer-therapy period.
North America accounted for the largest share of the global oncology nutrition market in 2020. Moreover, Asia is likely to show lucrative growth during the forecast period.
Cancer is a major public health problem and is the second leading cause of death in the United States and worldwide. Cancer is responsible for over 8.8 and 1.6 million deaths globally and domestically and nearly one in six deaths are attributable to cancer. In the United States, prostate, lung, and colorectal cancers account for 44% of all cases in men, with prostate cancer accounting for one in five new diagnoses. Breast, lung, and colorectal cancers account for one-half of all cases in women, with breast cancer accounting for 29% of new diagnoses. Approximately 20% of all cancers diagnosed in the United States are attributable to unhealthy diet, excessive alcohol consumption, physical inactivity, and body fatness. The American College of Nutrition (ACN) supports the recommendations of the American Cancer Society (ACS) but seeks to further expand guidance and messaging in several specific key areas that have recently emerged as favorable in preventing and/or disrupting cancer. Recommendation of specific foods with significant scientific research is warranted given the current cancer epidemic, accompanied with the low risk of harm and high potential for benefit. Moreover, lack of access to nutrition care in outpatient cancer centers is a critical issue in the US health care system. Based upon this, the Oncology Nutrition Dietetic Practice Group (ON DPG), a practice group of the Academy of Nutrition and Dietetics (Academy), has formulated a strategic plan to address nutrition-related gaps in cancer care. The ultimate goal of the strategic plan is to improve patient access to oncology nutrition care from the time of diagnoses, through treatment and into cancer survivorship, for whatever period of time survivorship may encompass.