The working personnel in offices and industries typically require a higher level of comfort and flexibility from the office chairs they use. One of the most significant things manufacturers can do to drive income from the office chair segment is to provide a variety of chairs with many functions in addition to their primary purpose.
The global Office Chairs market is anticipated to increase at a 5.1% CAGR to reach value USD 22.4 Bn in 2032
Covid-19 Impact and Market Status
As a result of the COVID-19 epidemic, many countries have been obliged to implement lockdowns, which has caused disruptions in the supply and distribution chain. Companies are facing difficulties in the manufacturing process for office chairs as a result of the restricted availability of labor, disruptions in the supply of raw materials, and issues with logistics.
Asia-Pacific Will Dominate The Office Chairs Market
The high volume of deals involving industrial buildings in nations across the Asia Pacific, including China, India, Hong Kong, and Singapore, is expected to make this sector the most lucrative for manufacturers of office chairs worldwide. PwC reports that China's commercial real estate transaction volume hit USD 25 Million by the middle of 2019 and grew by 174% year over year. Moreover, the Asia Pacific region is home to a large number of well-known furniture manufacturers like Herman Miller, Steelcase, and many others, all of which contribute to meeting the needs of local businesses, which in turn bodes well for the office chair industry. Following suite, South America will see a stable growth rate in the period of interest. It is anticipated that South America will expand rapidly due to the rising demand for cutting-edge office chairs among business executives in that region. Additionally, rising per capita incomes in nations such as Brazil and Argentina are driving increased demand for high-end office chairs in business settings.
Ergonomic Chairs Segment Will Dominate The Office Chairs Market
The market for office chairs is divided into several subcategories, including ergonomic chairs, executive office chairs, conference chairs, computer chairs, and other types of seats, such as mesh office chairs and foldable chairs. This is attributable to the expanding use of computers in corporate and other industries for operation and administration, in addition to the growing number of computer operator professionals worldwide.
In today's business world, corporations are placing a significant amount of emphasis on keeping abreast of the most recent technological advances so that these advancements can be incorporated into the design of office chairs aimed at corporate professionals.
Both organized and unstructured furniture enterprises all over the world play a significant part in the production of office chairs, which in turn is anticipated to support the expansion of the market for office chairs. These practices are among a wide variety of management practices. In addition, for the office chair business to be successful in the long run, it must cultivate notable relationships with dealers and raw material suppliers.
The expansion of firms that sell office chairs is fueled by an increase in the number of organizations that deliver increased levels of comfort solutions to corporate workplaces in the form of furniture products. It is anticipated that increasing requirements for furniture goods by corporations, in addition to increased demand for housing in commercial properties, will boost the demand for a variety of different types of office chairs.
The increasing need for computer uses across a variety of industries, including information technology, telecommunications, the internet, and a great number of others, is fueling the increased consumption of computer seats in corporate settings.
In addition, the increasing use of the drop shipping approach by enterprises for their online businesses, in conjunction with the expanding internet penetration around the globe, is pushing the growth of the industry. Additionally, future potential for the demand for furniture goods are created as a result of the expanding trend of interior planning and renovation in corporate workplaces. In addition, the proliferation of infrastructure facilities associated with educational establishments and schools is driving up the need for conference chairs.
These chairs are required for a variety of meetings that take place in auditoriums and seminar halls. The Department of Commerce of the United States of America reports that overall spending on educational construction projects in the United States increased by 2.3% in 2020 compared to the previous year's spending levels.
However, it is expected that the market expansion will be hampered by the increased shipping and transit costs of the various furniture products. Moreover, the demand for conference chairs for the various meetings in the auditoriums and seminar halls is being driven by the expanding infrastructural facilities associated with educational institutes and schools. The United States Department of Commerce reports a 2.3% rise in national spending on educational buildings in 2020 compared to 2019. A further factor anticipated to fuel market expansion is the rising need for furniture manufacturing enterprises and the organizations affiliated with them. This, in turn, helps to deliver an efficient supply of the various varieties of office chairs needed to meet this rising demand.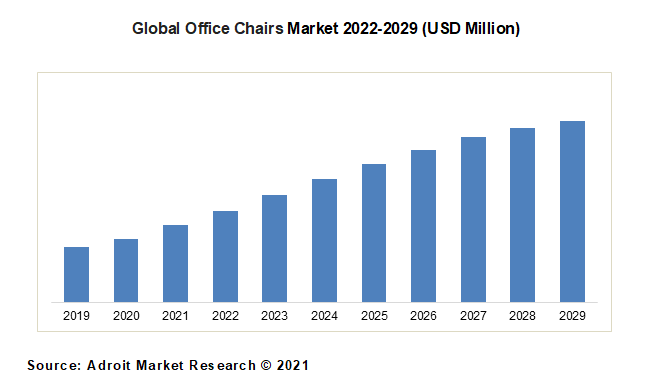 GM Seating, Alera Elusion, Flokk, Steelcase, Herman Miller, Haworth Zody, Eurotech, HNI, Balt Butterfly, and Serta-Mid-Back are the primary players in the global market for office chairs. Other significant players are Herman Miller and Steelcase.
Recent Developments in Global Office Chairs Market: A Snapshot
In 2019, Steelcase completed the acquisition of orange box Group Ltd., a company based in the United Kingdom that specializes in producing task chairs, architectural pods, and privacy solutions for corporations. This acquisition will allow Steelcase to innovate its office furniture product line through collaborative efforts with the orange box group and the company's customers, who purchase a wider variety of furniture.
Wayfair Professional will launch a commercial use collection of the office furniture and décor line in February 2020. This collection will be designed to fulfill the diverse seating requirements of employees in offices, collaboration spaces, reception areas, kitchens and cafes, and other locations.
Office Chairs Market Scope
| | |
| --- | --- |
| Metrics | Details |
| Base Year | 2021 |
| Historic Data | 2019-2020 |
| Forecast Period | 2022-2029 |
| Study Period | 2019-2029 |
| Forecast Unit | Value (USD) |
| Segment Covered | Type, End-User, Application, Regions |
| Regions Covered | North America, Europe, Asia Pacific, Middle East and Africa, South America |
| Key Players Profiled | GM Seating, Alera Elusion, Flokk, Steelcase, Herman Miller, Haworth Zody, Eurotech, HNI, Balt Butterfly, and Serta-Mid-Back |
Key Segments In 'Global Office Chairs Market'
Type Overview, 2019-2029 (USD Million)
Ergonomic Chairs
Computer Chairs
Executive Office Chairs
Conference Chairs
Others
End-User Overview, 2019-2029 (USD Million)
Hypermarkets
Online Retails
Specialty Stores
Others
Application Overview, 2019-2029 (USD Million)
School
Enterprise
Households
Industrials
Others
Regional Overview, 2022-2029 (USD Million)
North America
Europe
Germany
France
UK
Rest of Europe
Asia Pacific
China
India
Japan
Rest of Asia Pacific
South America
Mexico
Brazil
Rest of South America
Middle East and South Africa
Frequently Asked Questions (FAQ) :
The application of the office chairs market school, enterprise, households, industrials and other.
The top companies that hold the market share in office chairs market are GM Seating, Alera Elusion, Flokk, Steelcase, Herman Miller, Haworth Zody, Eurotech, HNI, Balt Butterfly, and Serta-Mid-Back & among others.
To get latest version of office chairs market report can be obtained on demand from the website.