Global nuclear medicine market was estimated to be worth USD 9.25 billion in 2018 and is predicted to show lucrative growth in coming years. Rising number of procedures to diagnose and treat cancer is a key driver for the growth of nuclear medicine market globally. Nuclear diagnostics for elderly patients resulting in healthcare savings and nuclear medicine for improved pediatric survival rate are the other factors supporting the growth of nuclear medicine market.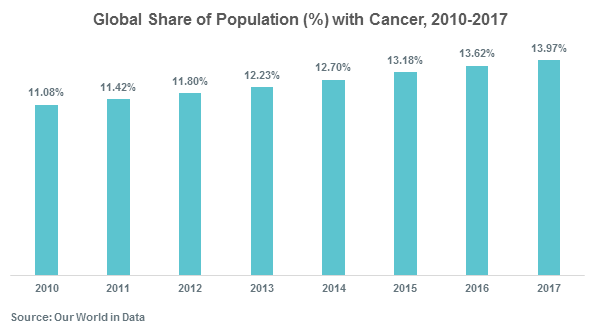 However, competition from other imaging modalities, lack of patient and physician education and awareness may reduce the market penetration of nuclear medicines. Medical imaging is an extremely competitive market with nuclear medicines most expensive of the existing modalities. As a result, nuclear medicine's market is relatively constrained. The current market for nuclear diagnostics is saturated because nuclear diagnostics has failed to expand its patient and physician base. It has also failed to educate patients about the benefits of physiological imaging. The rival imaging modalities have been proactively accepted among medical practitioners and endorsed themselves to patients, nuclear medicine remains largely concealed from the mainstream. Thus, the potential of nuclear diagnostics remains unfulfilled. Educating medical practitioners and patients about the benefits of nuclear medicine can propagate and convince both groups of the economic benefits of nuclear medicine.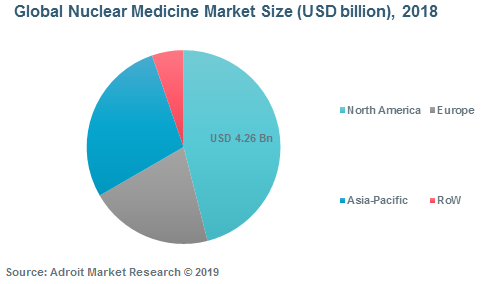 Nuclear medicines has been underutilized in many regions of the world. North America, dominated the nuclear medicines market in 2018, contributing USD 4.26 billion with U.S. a major consumer of nuclear medicines and Canada being the major supplier of the world radioisotopes. South America has been a slow growing market but is now realizing the potential of nuclear medicines and is thus expected to show lucrative growth during the forecast period. In the nuclear diagnostics market, PET and its hybrid modalities is expected to outpace SPECT analysis. Market players are concentrating in capacity addition to serve the growing demand of Technetium-99.
Nuclear Medicine Market Scope
| | |
| --- | --- |
| Metrics | Details |
| Base Year | 2019 |
| Historic Data | 2017-2018 |
| Forecast Period | 2020-2025 |
| Study Period | 2015-2025 |
| Forecast Unit | Value (USD) |
| Revenue forecast in 2025 | USD 9.25 billion |
| Growth Rate | CAGR of 10.1% during 2021-2028 |
| Segment Covered | Type, Application, Diagnostics, Regions |
| Regions Covered | North America, Europe, Asia Pacific, Rest of the World |
| Key Players Profiled | Bosch Security Systems Incorporation, Axis Communications AB, Avigilon Corporation, Hangzhou Hikvision Digital Technology Company Limited, Honeywell Security Group, and Flir Systems Incorporation |
Key Segments of the Global Nuclear Medicine Market
Type Overview, 2015-2025 (USD Million)

Technetium (Tc-99)
Iodine (I-131)
Fluorine (F-18)

Lutetium (Lu-177)

Yttrium (Y-90)
Others

Diagnostics Overview, 2015-2025 (USD Million)

PET (

Positron Emission Tomography)

SPECT (

Single Photon Emission Computed Tomography)

Application Overview, 2015-2025 (USD Million)

Oncology
Neurology
Cardiology
Others

Regional Overview, 2015-2025 (USD Million)

North America
Europe
Asia Pacific

India
China
Japan
Australia

Rest of the World
Reasons for the study
Growing demand for radioisotopes in cancer imaging

Market players involved in capacity addition, for the production of radioisotopes

Nuclear diagnostics for older patients resulting in healthcare savings

Increasing application of Tc-99 in various medical procedures
What does the report include?
The study on the global nuclear medicine market includes qualitative factors such as drivers, restraints and opportunities

Additionally, the market has been evaluated using the Vendor Landscape Analysis and Value Chain Analysis.

The study covers qualitative and quantitative analysis of the market segmented on the basis of type, diagnostics, application and region. Moreover, the study provides similar information for the key geographies.

Actual market sizes and forecasts have been provided for all the above-mentioned segments

The study includes the profiles of key players in the market with a significant global and/or regional presence
Who should buy this report?
This study is suitable for industry participants and stakeholders in the nuclear medicine market. The report will benefit:
Executives of the nuclear medicine manufacturing companies.

Managers within financial institutions looking to publish recent and forecasted statistics pertaining to the nuclear medicine market.

Venture capitalist looking into investing capital.

Government organizations, regulatory authorities, policymakers and financial organizations looking for innovative nuclear medicine solutions.

Analysts, researchers, educators, strategy managers and academic institutions looking for insights into the market to determine future strategies.
Frequently Asked Questions (FAQ) :
The nuclear medicine market size is expected to reach USD 18.10 billion by 2025.
The nuclear medicine market is expected to grow at a CAGR of 10.1% during 2018-2025.
The application of the nuclear medicine market Oncology, Neurology, Cardiology and other.
North America dominated the market for nuclear medicine market and accounted for the largest revenue share.
The major players are Curium, Nordion Inc., Cardinal Health Inc., Bracco Imaging S.p.A, Eczacibasi-Monrol Nükleer Ürünler San. ve Tic. A.S., Lantheus Medical Imaging, Inc., Jubilant Pharma. LLC, Ire-Elit SA, GE Healthcare Company.
Nuclear medicine uses radiation to deliver information about the functioning of a person's organ of interest to treat a disease. There is extensive awareness about the use of radiation and radioisotopes in medicine, mainly for the diagnosis of various medical conditions. In developed countries about 1 in 50 people use diagnostic nuclear medicine every year. About 10,000 hospitals globally use radioisotopes in medicine of which 90% of the procedures are for diagnosis. The most versatile radioisotope used in diagnosis is technetium-99 with approximately, 40 million procedures per year, accounting for more than 75% of all nuclear medicine procedures globally. The frequency of using diagnostic nuclear medicine in developed regions, which account for 26% of world population is about, 1.9% per year. Over, 20 million nuclear medicine procedures are performed every year in the U.S., 10 million procedures in Europe and 560,000 procedures in Australia. The global nuclear medicine market is anticipated to grow at a CAGR of 10.1% by 2025.
The prime, worldwide isotope suppliers are, Nordion in Canada, Isotop-NIIAR in Russia, Curium with its presence in France and USA, ANM (ANSTO) in Australia, IRE in Europe and NTP in South Africa.
Research Reactors Producing Medical Radioisotopes
| | | |
| --- | --- | --- |
| Research Reactors | Location | Supplier |
| HFR | Netherland | IRE & Curium |
| BR-2 | Belgium | IRE & Curium |
| Maria | Poland | Curium |
| Orphee | France | IRE |
| FRJ-2/FRM-2 | Germany | IRE |
| LVR-15 | Czech Republic | IRE |
| Safari | South Africa | NTP |
| OPAL | Australia | ANM |
| Dimitrovgard | Russia | Isotop-NIIAR |
Source: World Nuclear Association
Considering the growing demand for nuclear medicines, particularly in cancer treatment and diagnostics, Curium has partnered with NRG for the production of Molybdenum-99, the base material for Technetium-99 generators. Furthermore, in early 2019, 64Cu-Dotatate, Curium's and RadioMedix Inc. diagnostic radiopharmaceutical has completed the Phase III clinical trial. If approved by the U.S. FDA, 64Cu-Dotatate, will serve lack of availability of somatostatin analogue PET agents for the detection of neuroendocrine tumors.
The nuclear medicine market has been segmented based on type, diagnostic and application. Type wise it is bifurcated into Technetium (Tc-99), Iodine (I-131), Fluorine (F-18), Lutetium (Lu-177), Yttrium (Y-90) and others. Technetium (Tc-99) is the most widely used radioisotope in more than 80% of the diagnostic procedures. It is ideal in a way, as it offers,
Short life of up to 6 hours, which is sufficient to examine metabolic processes, with reduced radiation exposure to the patient
Low radiation dose to the patient due to absence of high-energy beta emission
Easily escapes human body due to the presence of low-energy gamma rays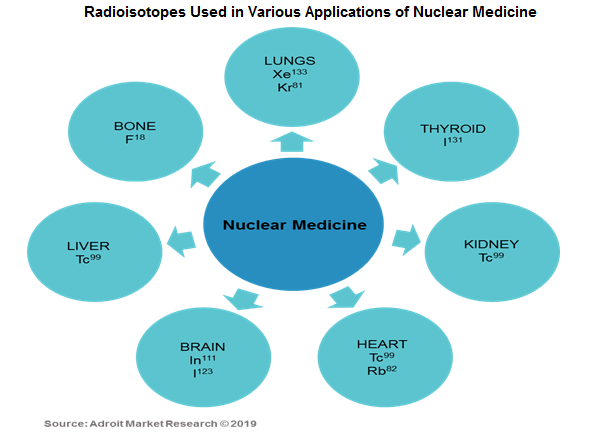 Even logistic partners favor its use. A lead pot from the manufacturing sites, containing molybdenum-99 (Mo-99), is supplied to the hospitals, where it decays to Tc-99. As per requirement Tc-99 can be flushed out of the lead pot using saline solution. After a couple of weeks, the generator can be returned for recharging.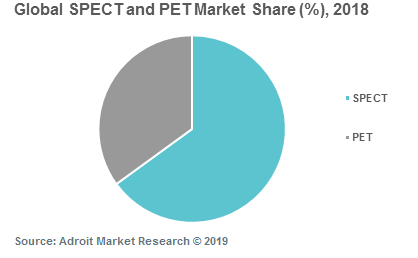 In diagnostics, SPECT and PET are the most commonly used procedures for nuclear imaging. SPECT accounted for majority market share in 2018, however PET is expected to grow at a highest pace during the forecast period. There is an explosion of the use of these techniques driven largely by nuclear medicine companies conducting research and development on new biomarkers and nuclear tracers. Additionally, along with the market for imaging equipment used in nuclear medicine, highly dedicated technologies are vital in the radio-pharmacies that produce the isotopes and in the hot labs in hospitals and imaging centers that handle the radioactive tracers.
Application wise, the nuclear medicine market is bifurcated into oncology, neurology, cardiology and others. Oncology will be the highest growing segment by 2025, primarily due to the rising number of cancer patients. Various market players are making investments to manufacture products for cancer imaging. With this in view, Curium has partnered with NRG to largely produce Tc-99, used in cancer imaging.
The major consumers of nuclear medicines are spread across North America, Europe and Asia Pacific. In 2018, North America was a major market for nuclear medicines however, the Asian countries are expected to outpace other regions by 2025 growing with a CAGR of 13.3%. Japan, in particularly is witnessing tremendous growth in the use of nuclear medicines. In China, the players are concerned about lack of intellectual property protection for their formulations. Also, the rapidly ageing population in China is seen as an opportunity for growth of nuclear medicine in this region due to the rising number of people with age related cancer. However, in less developed countries like Indonesia, the modality is seriously underutilized.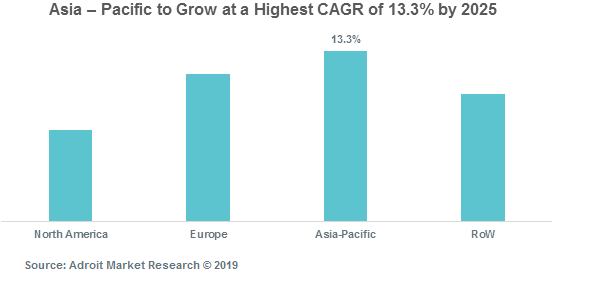 In Asian market, large patient pool with potential for increased consumer spending and the accessibility of inexpensive skilled and unskilled labor are the major drivers attracting manufacturing and other business from more developed countries. Also, majority of new production irradiators currently being built are in the developing markets.
In Europe, neuroscience has great potential for expansion, but cost effectiveness is an area of concern in the region. Furthermore, in South America, nuclear medicines are priced differently as compared to other regions. The nuclear medicine players sell their products at lower rates in this region, because of economic reasons. Furthermore, the companies also face rivalry from the local atomic energy agencies that manufacture and distribute tracers. The, cost of nuclear medicine imaging also restrains its expansion into the less developed healthcare markets.
For the expansion of nuclear medicine market, it is important to focus on strategic actions. Emphasis should be paid on developing new radiopharmaceuticals. Importance should be given on raising public awareness of the benefits of nuclear medicine, which will foster strong growth of nuclear medicines in the developing world.