North America latex paints stood at USD 17,504.9 billion in the year 2018, and is anticipated to show significant growth over the forecast period from 2019 to 2025. Latex paint is a type of waterborne paints, with water content ranging from 60% to 90%. Switch to water based (latex paints) is the latest trend followed in the paints and coatings industry. In the architectural sector, consumers prefer latex over solvent borne paints due to glossy property and water resistance.
Yet the growth of waterborne formulations in industrial applications has been slow, as solvent-based coatings are generally preferred due to number of performance advantages, such as lower vulnerability to high temperature, humidity, and corrosion. Waterborne coatings are superior in comparison to solvent-borne technology on account of properties such as eco-friendly nature, easier blending, superior metallic control, higher opacity, lesser product needed and low hazardous waste.
Rising concerns over volatile organic compounds (VOC) content in paints and coatings in the U.S. and Europe is anticipated to play a key role in the growth of the latex paints market. Increasing consumption owing to its superior properties such as durability, corrosion resistance, flexibility, hardness, low flammability and toxicity is expected to drive the product growth in the near future.
North America is expected to witness exponential growth in the latex paints industry due to various concerns arising on the environmental hazards caused by solvent-borne coatings. Environmental agencies and government institutions are issuing regulations and guidelines to minimize the use of automotive refinish coatings with high VOCs content and is expected to boost the growth of waterborne coatings technology.
Instability in the prices of the raw materials such as titanium oxides (key raw material), pigments, resins, and additives is expected to restrain the market growth. In addition, hazardous risk posed by solvent-borne coatings, coupled with the failure of industry leaders to meet OEMs' expectations in terms of environmental durability and sustainability of the coatings are other challenges to the market growth. However, increasing R&D investments along with ongoing product development to improve the performance of coating products is expected to open massive opportunities for market growth in the coming years.
Key segments of the North America latex paints market
Type Overview, 2015-2025 (USD Million)
Application Overview, 2015-2025 (USD Million)
Construction
Transportation
Industrial
Others
Regional Overview, 2015-2025 (USD Million)
Reasons for the study
Latex paints are extremely beneficial for painting large surface areas
Latex paints have come a long way and are even being used as substitutes for oil based paints, thus, now holding the command of paints industry
North America latex paint market is witnessing significant growth on account to rapid development of disposable income of the middle class
What does the report include?
The report covers an exhaustive study on latex paints market in North America
Various trends in the market has been covered such as drivers, restraints, opportunities
The report also covers value chain analysis, production outlook scenario, manufacturing cost break down, competitive landscape, etc.
The qualitative and quantitative data for the market has been segmented into type and application on regional and country level
Historic, current, and forecast data is provided for all the market segments mentioned in the table of contents
Key players in the latex paints market have also been included in this report
Who should you buy this report?
This report can fulfill the needs of manufacturers, associations, key organizations engaged in paints and coatings industry, and new comers in the market
The report is a best suit for players currently working in the and for those who look to integrate their operations in the latex paints industry
In addition, the research can also assist fresh entrants in making informed market choices
Latex paints have come a long way and are even being used as substitutes for oil based paints, thus, now holding command on paints industry. Some of the key features of latex paints such as shorter drying time than oil-based paint, minimal odor and low VOC content; these advantages are expected to continuously drive the North America latex paints market in the coming years. The global paints and coatings leaders continue to decrease the volatile organic compounds (VOCs) content in their products to comply with the growing regulatory pressure. Hence, water-based latex paints are bound to gain maximum market share at the expense of solvent-based products, especially in countries such as China, where enforcement of environmental legislation is stringent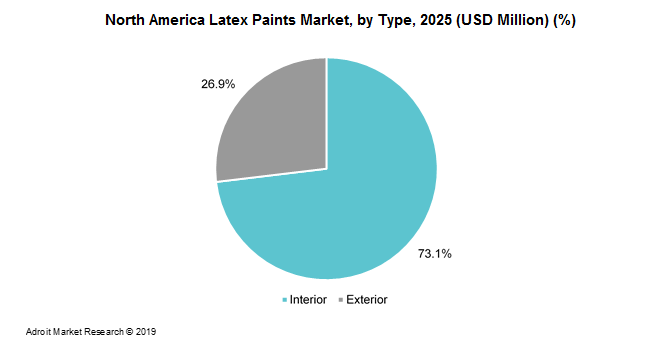 North America latex paints market is witnessing significant growth on account of rapid development of disposable income of middle class families. Rising home ownership, rebounding growth of construction industry and need for improvements in exterior and interior building appearance to provide resistance from extreme temperatures and weather conditions are key factors riding the growth of latex paints market in this region.
Rapid demand for eco-friendly coatings that includes UV-cured and waterborne coatings in developing markets of China and Brazil is expected to propel the growth of automotive refinish coating industry over the forecast period. Furthermore, rapid economic growth, rising government spending, advancements in road infrastructure, and increasing preference of consumers towards personal conveyance are anticipated to propel market demand.
North America latex paints market based on types is segmented into interior and exterior paints. Interior segment dominated the North America latex paint industry with a market revenue share of 71.3% in the year 2018 and is projected to show similar trend by the end of 2025; growing at a CAGR of 6.1%. Use of interior latex paints in North America is highly dependent on the overall progress of housing as well automotive market.
Refinishing and cabinetry activities have shown a decline in 2008 and 2009; however, the demand is slowly turning up since then, which is anticipated to display optimistic growth opportunity for the North America latex paint industry. Due to surface corrosions, color degradation, scratches and cracks, and other wear and tear, old cars require repeated paint works, thus creating demand for latex paints.
Interior paints that are fast to apply within a single coat and also environmental friendly are majorly preferred. This is the reason Do-It-Yourself (DIY) segment is an attractive area in North America, as it saves the labor cost and gets the work done at the time of labor and expense shortage. Architectural/construction latex paints in the United States are primarily used for general maintenance of residential, commercial, institutional and industrial buildings. They are used as both exterior and interior paints and are 90% water-based.
Similar trend in latex paints is followed in the exterior category; however, the major notable difference is in the VOC content. For instance, exterior paints need more assistance in combating environmental adverse effects. Binders used in outdoor formulations provide paint resistance to integrity issues such as cracking, and offer enhanced moisture control. Levels of VOCs outside the homes can be as much as two to five times greater than inside, and concentrations can rise considerably after painting. Hence, it is always advised not to use exterior paints as an interior paint.
Canada latex paint market in dominated by Behr, Benjamin Moore, Cloverdale Paint, and Sherwin Williams. There is huge room for the consumption of latex paints to grow in Canada. For instance, the paint consumption in Canada is 13.7 liters as compared to 15.8 liters per person. Ontario and Quebec are the leading consumer base of latex paints in Canada. Key segments driving the use of latex paints is construction and automotive.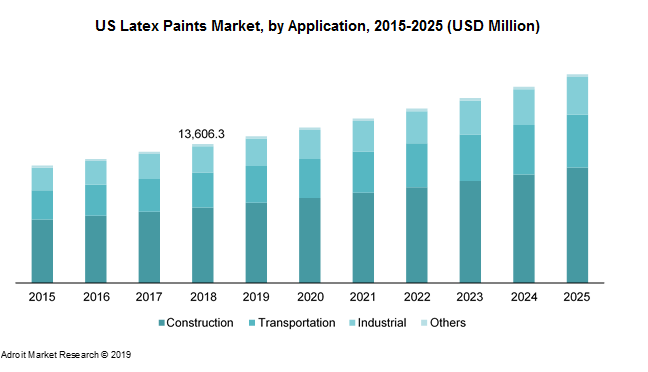 For the paint manufacturing industry in Canada, there are mild entry barriers, mostly due to the maturity of the sector. New entrants may have difficulty finding trades because many markets for paint and coatings are well established, and there are already countless products to meet the requirements of these markets. Canadian latex paint industry continues its massive R&D investments generating numerous innovations and new technologies in product formulations.
Higher consumer spending on home décor and automotive is the key reason driving the demand for interior and exterior latex paints market in the U.S. Furthermore, interior of the house has more section to be painted so that the complete inside of the house looks more appealing and colorful. This is the reason interior latex paints in the construction sector account for major market share as compared to exterior and automotive sector.
PPG's third generation acrylic latex is still its recent technology for complementing today's OEM finishing systems with settling waterborne basecoat technology. Another trend dominating the paint sector is hyper-segmentation. Consumers are looking for personalized home decor alternatives; therefore, all established paint players are launching and re-launching various fresh and existing product versions in the latex paint category.
Key players present in this market include The Sherwin-Williams Company, PPG Industries, Inc., Masco Corporation, Akzo Nobel N.V., BASF SE, Valspar, Nippon Paint Holdings Co., Ltd., Rust-Oleum Corporation, Kansai Nerolac Paints Limited, Benjamin Moore & Co., Miller Paint, Farrell-Calhoun, Kelly-Moore Paints, California Paints (ICP Building Solutions Group), Hallman/Lindsay Paints.