The global neuroendoscopy market was valued at USD 216.7 million in 2020 and is projected to grow at a CAGR of 5.4% during the forecast period. Factors driving the growth of the neuroendoscopy market include favorable government initiatives, rise in number of brain tumor cases and surging demand for minimally invasive surgical procedures.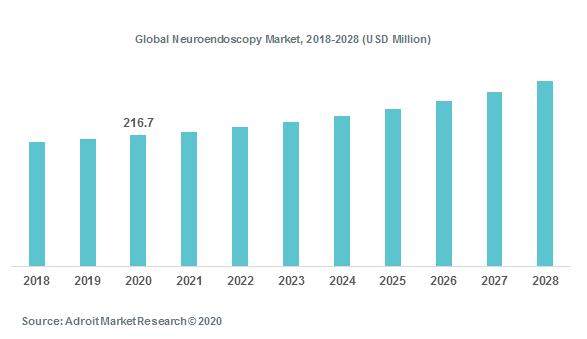 The dawn of neuroendoscopy has had an incredible impact in the field of neurosurgery. While the use of an endoscope to detect and treat several central nervous system disorders, mainly those narrowed to the ventricular system, has been well acknowledged for years, the story of contemporary neuroendoscopy is just commencing. It has been show up by a number of noteworthy innovations in technology, instrumentation and optical physics. Needless to say, understanding the basic physics and instrumentation underlying today's endoscopes is indispensable for safe and fruitful work with these elusive instruments.
Regionally, North America accounted for the largest market share of the global neuroendoscopy market attributable to increasing research activities on neuroendoscopy equipment. Leading players of the global neuroendoscopy market include KARL STORZ, Ackermann Instrumente, B. Braun, Adeor Medical, Machida Endoscope, Hangzhou Hawk Optical Electronic Instruments, Tonglu Wanhe Medical Instrument, Clarus Medical, Schindler Endoskopie, Visionsense Corporation among others.
Key segments of the global neuroendoscopy market
Product Overview, 2018-2028 (USD Million)
Rigid neuroendoscopes
Flexible neuroendoscopes
Application, 2018-2028 (USD Million)
Intraventricular neuroendoscopy
Transcranial neuroendoscopy
Transnasal neuroendoscopy
Usability Overview, 2018-2028 (USD Million)
Reusable neuroendoscopes
Disposable neuroendoscopes
Regional Overview, 2018-2028 (USD Million)
North America
Europe

Germany
United Kingdom
France

Asia Pacific
South America
Middle East & Africa
Reasons for the study
Increasing number of brain tumor cases worldwide
Surging demand for minimally invasive surgical procedures
Technological advances in neurosurgery
Growing elderly population across the globe
What does the report include?
The study on the global neuroendoscopy market includes qualitative factors such as drivers, restraints and opportunities
The study covers qualitative and quantitative analysis of the market segmented on the basis of product, application and usability. Moreover, the study provides similar information for the key geographies.
Actual market sizes and forecasts have been provided for all the above-mentioned segments
The study includes the profiles of key players in the market with a significant global and/or regional presence
Who should buy this report?
The report on the global neuroendoscopy market is suitable for all the players across the value chain including product manufacturing companies, suppliers/distributors, R&D labs, CROs, healthcare organizations, medical reimbursement and insurance providers
Venture capitalists and investors looking for more information on the future outlook of the global neuroendoscopy market
Consultants, analysts, researchers, and academicians looking for insights shaping the global neuroendoscopy market
Minimally invasive neurosurgical methods decrease patient morbidity by offering the physician with improved imagining and access to complex lesions, with negligible disruption to normal makeup. The procedure of rigid or flexible neuroendoscopes, accompanied with a conservative stereoscopic functioning microscope, has been fundamental to the acceptance of these procedures. Neurosurgeons normally use neuroendoscopes to execute the ventricular and endonasal methods. It is stimulating to learn neuroendoscopy aids from the prevailing apprenticeship model of clinical training. The teaching approaches, which use simulation-based methods, have attained wide recognition. Physical simulators offer anatomic positioning and practical understanding with repeatability.
The global neuroendoscopy market is categorized based on product, application and usability.
By product: The rigid endoscopes was the largest market in 2020 and is expected to show promising growth by 2028, due to superior optics, autoclavable, reusability and less fragility.
By application: The transnasal neuroendoscopy segment was the largest market in 2020, while the transcranial neuroendoscopy is set to growth at a highest CAGR through the forecast period due to improvements in preoperative imaging.
By usability: The reusable neuroendoscopes accounted for the largest share of the global neuroendoscopy market and is projected to retain its dominance in the coming years due to its cost-effectiveness.
Over the last 15 years, neuroendoscopy has grown in a big way across India. There are several centers practicing neuroendoscopy for various cranial and spinal procedures. A group of like-minded neurosurgeons in India, interested in neuroendoscopy, have formed 'Neuroendoscopy Study Group of India' to discuss and exchange their ideas and experience. The clinical volume has significantly increased with several interesting clinical conditions. The indications enlarged rapidly with familiarity, enthusiasm of younger neurosurgeons, practical courses, and growth in technology. Today neuroendoscopy has become a regular feature of neurosurgical operation theaters. Over the years, several neurosurgeons, spine surgeons, and ENT surgeons joined hands to expand this into a wider arena.