Poor resolution not only causes the adverse effect to human health but also damage the environment by its harmful radiant owing to which, need for better and efficient display solutions are driving the demand for micro and mini LED display market. Many global players are significantly focusing on developing efficient micro-LED displays latest by the end of 2021. Apart from technological evolution, the consumer electronics market is persistently rising and evolving. This industry has seen electrifying new developments in recent years and at a rapid pace. For instance, the launch of smart TV is a revolution in the consumer electronics sector. This launch revolutionizes the industry by integrating television with the internet and interactive "Web 2.0" features. These features enable users to browse the internet, stream music and videos, and view photos. These are the vital factors promoting the adoption of smart TV, which is propelling the growth of the global micro and mini LED display market.
The global micro and mini LED display industry size is anticipated to be valued at close to USD 18.76 billion by 2028. The industry is mainly driven by an increase in demand for smart consumer electronics featured with brighter and energy-efficient display panels. Major players such as San'an Optoelectronics, Epistar, HC SemiTek, and Lextar are investing a lot in product research and development to manufacture advanced display quality, which is another factor driving the market growth.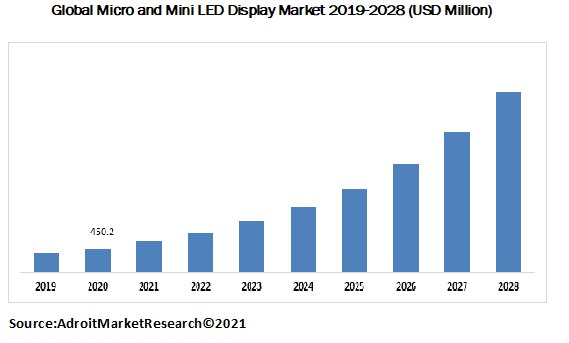 However, high prices associated with micro and mini LED Displays hampering the overall market growth. This factor restricting the adoption of this technology to large enterprises and industries. Apart from that, only economically sound consumers across the world are shifting toward the adoption of micro and mini LED Displays. This somewhere has been affecting the market growth of micro and mini LED Displays.
Key Segments of the Global Micro and Mini LED Display Market
Type Overview, 2019-2028 (USD Million)
Application Overview, 2019-2028 (USD Million)
Near-to-eye Devices (AR and VR)
Television
Smartphone and Tablet
Monitor and Laptop
Head-up Application
Digital Signage
End-user Overview, 2019-2028 (USD Million)
Consumer Electronics
Automotive
Aerospace and Defence
Other End Users
Regional Overview, 2019-2028 (USD Million)
North America
Europe
UK
Germany
France
Rest of Europe
Asia Pacific
China
Japan
India
Rest of Asia-Pacific
Middle East and Africa
UAE
South Africa
Rest of Middle East and Africa
South America
Brazil
Rest of South America
Reasons for the study
The purpose of the study is to give an exhaustive outlook of the global micro and mini LED Display market. Benchmark yourself against the rest of the market.
Ensure you remain competitive as innovations by existing key players to boost the market.
What does the report include?
The study on the global micro and mini LED Display market includes qualitative factors such as drivers, restraints, and opportunities
The study covers the competitive landscape of existing/prospective players in the augmented analytics industry and their strategic initiatives for Type development.
The study covers a qualitative and quantitative analysis of the market segmented based on type, application, and end-user. Moreover, the study provides similar information for the key geographies.
Actual market sizes and forecasts have been provided for all the above-mentioned segments.
Who should buy this report?
This study is suitable for industry participants and stakeholders in the global micro and mini LED Display market. The report will benefit every stakeholder involved in the Micro and Mini LED Display market.
Managers within the augmented analytics industry looking to publish recent and forecasted statistics about the global micro and mini LED Display market.
Government organizations, regulatory authorities, policymakers, and organizations looking for investments in trends of the global micro and mini LED Display market.
Analysts, researchers, educators, strategy managers, and government institutions looking for insights into the market to determine future strategies.
Micro LED is the most discussed and popular topic in the display industry. Most players such as San'an Optoelectronics, Epistar are focusing on spending huge capital to develop next-generation display technology. Though, from the technical point of view, the bulk production of micro LED is still facing numerous challenges such as LED uniformity and the yield rate of mass transfer, etc. Few of the manufacturers have thus diverted their development focus to mini LED as its architecture is comparable to that of LED and LCD displays and not many changes in the design are needed. It is expected that before micro-LED is ready for mass production, commercialization of mini LED is anticipated to penetrate with the effective rate in the display market. Companies are projecting that Mini LED will become a transitional product between LCD, LED and micro-LED. mini LED is certain to face direct competition from OLED. Consumer electronics, for instance, TVs, smartphone consumers have progressively presumed that OLED is another word for high-end products. Also with its stability in production, OLED will have additional advantages in terms of production in the coming years, so the display industry is finding out new applications of Mini LED.
Few companies are expected to launch Micro LED television in this year itself. For instance, in 2019, Samsung Electronics is planning to launch a consumer Micro-LED TV of 75 inches. This product is developed using LED chips and technologies from a Taiwan based company PlayNitride. The company is also expected to invest more in PlayNitride to assist the company to increase its production capacity.
Type Segment
Based on the type segment, the market is bifurcated into micro-LED, and mini LED. In 2020, the mini LED segment accumulated the maximum market share and it is likely to continue its dominance throughout the forecast years. However, the micro-LED segment projected to attain major growth throughout the forecast years owing to its increasing demand from consumer electronics for several wearable devices.
Application Segment
Based on application, the market is segmented into near-to-eye devices (AR and VR), television, smartphone and tablet, monitor and laptop, head-up application, and digital signage. The television segment is anticipated to exceed a worth of USD 1 Billion by 2025 due to an increase in demand for better display resolution. Also with the launch of smart T.V consumers are highly inclined towards advanced tech solutions, so that a single device can solve multiple solutions like video streaming, online gaming and others.
End-user Segment
Based on end-user, the market is bifurcated into consumer electronics, automotive, aerospace and defence and other end users. The consumer electronics segment dominates the market throughout the forecast period due to an increase in the need for high resolution in various devices such as smartphones, laptops, television and others. Also smaller the size of LED chips (below 200 microns) renders better resolution, owing to which the demand for micro and mini LED is expected to surge in coming years.
Based on the region, the global micro and mini LED is segregated into North America, Europe, Latin America, Asia Pacific and the Middle East. Wherein, Asia Pacific region captures the largest market share in terms of revenue due to the presence of major manufacturers in the region. Also, major research and development regarding micro-LEDs are happening in this region, which is another factor driving the growth of the Asia Pacific Micro and Mini LED display market during the coming years.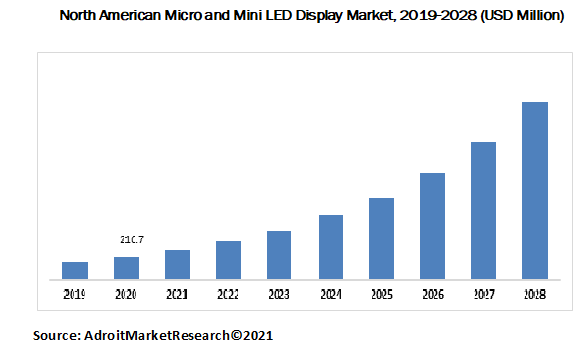 The major players of the global micro and mini LED Display market are Apple (LuxVue), Ostendo Technologies, Oculus VR, and PlayNitride, Moreover, the additional prospective market players in the micro and mini LED Display market are InfiniLED, Plessey Semiconductors, Sony, ALLOS Semiconductors, Samsung, and VueReal among Others. Renowned companies are offering new and modern micro and mini led Display for its customers across the world. Besides, the previously recognized as well as new market players are approaching the market with advanced and new strategic services and solutions and to remain competitive in the global market