The Latin America Antivirus Software market attained USD 340.0 million in 2018 in terms of revenues and is anticipated to grow in the future owing to the rising number of cyber-attacks. Increasing awareness of the importance of cyber security amongst the individual and enterprises will drive the Latin America antivirus software market. Although Latin America region accounts for only a small percentage of global cybercrime, the rise in internet usage has led to the corresponding cyber-attacks in the region.
Key factors impacting the Latin America antivirus software market
Rising cyber-attacks
Latin America has a daily average of 3.7 million malware attacks and approximately 1 billion events per year, according to the report published by Kaspersky Lab. The most affected Latin countries are Argentina, with an increase of 62% in Malware Attacks, followed by 39% in Peru and 35% in Mexico. According to Kaspersky, there are also more phishing attacks in the region with 192,000 daily attacks, up 115% from November 2016 until the same month in 2017. In December 2018, more than 2,000 android mobile banking users in Brazil unwillingly downloaded malware that controls devices and stolen its secret data.
Growing internet usage
use in Latin America has grown more rapidly than any other part of the world in recent years. And as internet use has increased across the region, cybercrime has increased as well; Latin America has seen substantial growth in data breaches, Trojans, mobile malware and other online threats. About 95% of the Internet users in the region are active on social networking sites and five of the top ten countries in Latin America occupy the most time in social networking.
Increasing smartphone penetration
Mobile devices are booming as a preferred method to access the Internet, and especially to use social media. Also, the mobile growth in this region is evident from the fact that every 4 of the 10 transactions are done via mobile phones. Latin Americans are also the most demanding social media users which can pose numerous threats. Applications such as Facebook and Twitter have become outlets that can be used to buy and transfer malware, phishing techniques, and various malicious software. In 2013, Symantec's research showed the rise of false social media offers such as the fake "like" buttons which are malevolent applications and plug-ins.
Segment Overview of Latin America Antivirus Software Market
Application Overview, 2015-2025 (USD Billion)
Device Overview, 2015-2025 (USD Billion)
Laptops
Desktops
Mobile Phones & Tablets
Country Overview, 2015-2025 (USD Billion)
Brazil
Mexico
Argentina
Rest of Latin America
Reasons for the study
The purpose of the study is to give an exhaustive outlook of the Latin America antivirus software industry.
We have been following the global cybersecurity market. The antivirus software market is gaining immense importance across various sectors as new malware is constantly emerging.
Rapid growth in technological advancements has led to the rise of internet usage and smartphones for daily use.
What does the report include?
The study on the Latin America antivirus software market includes qualitative factors such as drivers, restraints, and opportunities which are affecting the market.
The study covers the qualitative and quantitative analysis of the market segment such as application, device, and country.
Actual market sizes and forecasts have been provided for all the above-mentioned segments
The study includes the profiles of key players in the market with a significant global and/or regional presence
Who should buy this report?
This study is suitable for industry participants and stakeholders in the security industry, who want an in-depth insight into the antivirus software market. The report will benefit:
Executives of any cybersecurity company
Managers within financial institutions looking to publish recent and forecasted statistics pertaining to security threats
Venture capitalist looking into investing capital
Government organizations, regulatory authorities, policymakers and financial organizations looking for innovative solutions in the field of cybersecurity services
Analysts, researchers, educators, strategy managers, and academic institutions looking for insights into the market to determine future strategies
The importance of personal computers in our lives has grown significantly over the years and as a result of technological developments. This has led to some wanting to develop malicious applications, be it lonely teenagers or nationals, and distribute them over the Internet in a series of computer systems. This has led to a significant increase in the importance of antivirus software and an increased demand for reliable antivirus programs that can defend against a variety of malicious viruses.
Antivirus software is one of the most frequently used software to detect and stop malicious and unwanted files. Computer viruses range from relatively simple crime attacks to spyware that spy on users and data and can be quickly upgraded to cyber weapons with the touch of a button. With new priorities for industry and increased safety demand, more than just other tools, technologies, solutions or best practices are necessary. Viruses and malware are created and distributed throughout the internet every day. Antivirus software must be continuously updated to ensure efficiency and maximum protection. Today, most antivirus providers offer a free offer to home users. It puts them onto the computer and allows them to sell their more premium product offerings.
With smartphones and tablets offering increasingly sensitive information services, this data is becoming a more attractive goal for cyber attackers. Android has grown to be the most popular mobile operating system since its release and provides a variety of functionalities to Android users, such as instant messaging, online shopping, gaming, and geolocation services. But, due to its popularity, Android is a hot attack target for cybercriminals. According to Symantec's 2016 security report, there has been ~13.0 million Android malware in 2015.
Based on the type of device, the Latin America antivirus software can be segmented into laptops, desktops and mobile phones & tablets. Among these, laptops had the highest market share in 2018 owing to the larger demand for antivirus softwares for laptops. However, antivirus software demand for mobile phones and tablets are expected to grow significantly due to growing smartphone penetration in Latin America.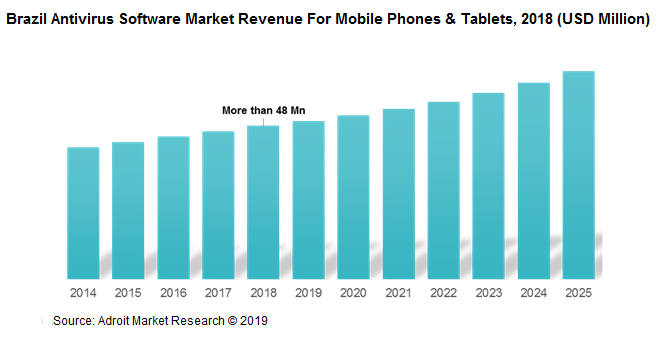 On the basis of application, the Latin America antivirus software market can be segmented into individual users and enterprise users. The maximum revenue share to the market came from the enterprise users holding almost ~65% share in 2018 owing to huge demand in the sensitive information generating companies such as the financial institutions, healthcare companies, and others. However, the individual segment is expected to rise with a higher CAGR than the enterprise in the forecast period due to the increasing demand of antivirus packages among the individuals who frequently use the internet on devices such as PCs, desktops and mobile phones.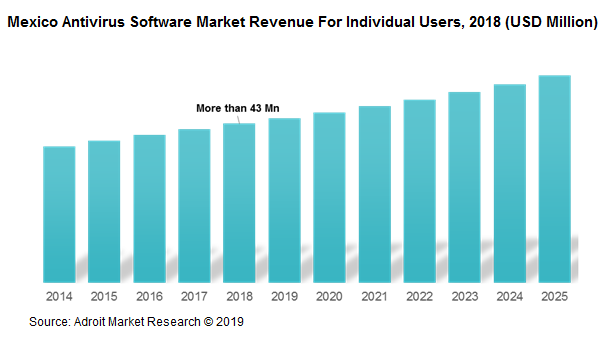 Brazil is one of the largest economies in Latin America contributes 40% to its GDP. With an increasing number of cyber threats world-wide, cybersecurity in Brazil is becoming a key focus area due to rapid digitalization. With smartphone users more than ever, there has been substantial growth in internet users in Brazil. In Brazil, in 2017 there were 240 million mobile subscribers, of which 77.3 million are Smartphone users, 37% of the population. However, with growing internet users, comes the risk of cyber-attacks which include malware, virus, Trojan and other infections over both PCs and mobile phones. Brazil suffers from the second highest number of online banking fraud and financial malware attacks in the world. The Antivirus software market of Brazil in 2018 stood at USD 162.8 million and is anticipated to grow to USD 204.5 in 2025 owing to the increased number of malware attacks in the consumer as well as a corporate segment. The antivirus software market is expected to grow with a CAGR of 3.5% within the period 2019 to 2025.
Right from 2000, the internet users in Mexico grew from approximately 5% of the total population to about 41% in 2014. Although wireless connectivity has generated economic changes and growth in Mexico, illegal cyber activities have emerged as a new way of generating revenue. Mexico ranks second in Latin America, after Brazil, with the largest number of cyber-attacks. The continuous growth in connectivity is one of the main drivers of cyber crime's attacks on Mexico. According to Symantec data, the most significant sectors affected by cybercrime are academic institutions, public authorities and the private sector.
The Mexican antivirus software market is quite fragmented consisting of many big as well as small & medium sized vendors. Avast shared the highest revenue among the top 5 vendors in the Mexico antivirus market followed by Symantec and Avira. All the other antivirus software vendors except the top 5 contributed 69.6% to the overall market in 2014 and grew to 70.2% in 2019. The market size of enterprise users segment in Mexico was USD 71.6 in 2014 and will continue to dominate in the forecast period by generating revenue of USD 106.4 million in 2025. However, the individual users will grow with the highest CAGR of 3.9% in the forecast period owing to the growing malware attacks among individual users.