The global kraft paper market is anticipated to reach a value of USD 20.4 billion by 2028. Kraft paper is a paperboard or paper comprising improved tear resistance and high strength and. It is manufactured from recycling materials or wood pulp which is bleached with chemicals to enhance its fiber's thickness, durability, and strength while sustaining light weight characteristics. It is primarily for grocery and shopping bags, producing carryout bags, butcher wrap, gift wrappers, and multiwall shipping sacks.
The growing regulatory body focus to adopt recycling practices for paper as held to a surge in the Kraft paper demand. Moreover, the industry has witnessed significant upsurge in the demand for kraft paper from food & beverage industry on account of its packaging attributes for various eating food items including sandwiches, pizza or burger. In addition, shifting consumer focus toward improved appearance of the end user product is further fueling the industry upsurge.
Paper based packaging in the recent years has attained prominence, with the growing inclination toward modern packaging including visual appeal, brand identity, and long shelf life. The primary advantage of the paper is its ability to blend with a broad range of fibers that improve its characteristics and in turn expand its spectrum of applications. Furthermore, these papers are eco-friendly, offer improved packaging capabilities, along with easy stacking and recycling properties, which in turn is positively influencing the industry size.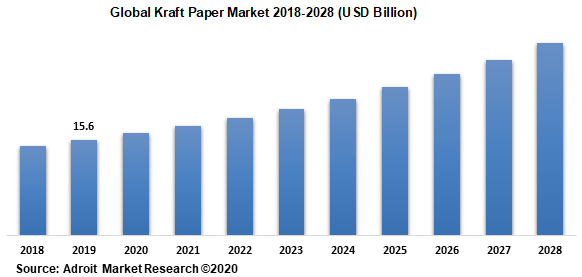 Key Segments of the Global Kraft Paper Market
Grade Overview, 2018-2028 (USD Billion) (Million Tons)
Bleached
Unbleached
Sack Kraft
Paper Wrapping & Packaging
Others
Application Overview, 2018-2028 (USD Billion) (Million Tons)
Healthcare
Food & Beverage
Construction
Cosmetics & Personal Care
Others
Packaging Overview, 2018-2028 (USD Billion) (Million Tons)
Envelops
Wraps
Pouches/Sachets
Grocery Bags
Corrugated Bags
Industrial Bags
Regional Overview, 2018-2028 (USD Billion) (Million Tons)
North America
Europe
UK
Germany
France
Rest of Europe
Asia Pacific
China
Japan
India
Rest of Asia-Pacific
Middle East and Africa
UAE
South Africa
Rest of Middle East and Africa
South America
Brazil
Rest of South America
Reasons for the study
The purpose of the study is to give an exhaustive outlook of the global Kraft Paper market.
Kraft Paper is widely used for various end uses in healthcare sector, owing to their excellent properties and the market is expected to gain traction over the coming years
With the growing food & beverage uses, there is a rise in the demand for kraft paper which is further expected to have a positive impact on the overall market growth
What does the report include?
The study on the global Kraft Paper market includes qualitative factors such as drivers, restraints, and opportunities
The study covers the competitive landscape of existing/prospective players in the Kraft Paper industry and their strategic initiatives for the product development
The study covers a qualitative and quantitative analysis of the market segmented based on Grade and Application and Packaging Form. Moreover, the study provides similar information for the key geographies.
Actual market sizes and forecasts have been provided for all the above-mentioned segments.
Who should buy this report?
This study is suitable for industry participants and stakeholders in the global Kraft Paper market. The report will benefit: Every stakeholder involved in the Kraft Paper market.
Managers within the kraft paper industry looking to publish recent and forecasted statistics about the global Kraft Paper market.
Government organizations, regulatory authorities, policymakers, and organizations looking for investments in trends of global Kraft Paper market.
Analysts, researchers, educators, strategy managers, and academic institutions looking for insights into the market to determine future strategies.
Ongoing proliferation across e-commerce industry along with significant upsurge in the packaging industry is simulating the business landscape. Although, rising penetration of digital technology is anticipated to hamper its growth. However, ongoing advancements in Packaging Applications along with its recyclable nature is poised to complement the business outlook over the forecast timeline.
Increasing consumer awareness along with shifting focus on green packaging he industry is witnessing a considerable upsurge. Further, multiple industries such as food & beverage, cosmetics, electronics, healthcare, personal care, and textile industry utilize kraft papers for packaging products. These industries use Kraft paper owing to its recyclable nature, high endurance, lightweight, and easy carrying features, which in turn is substantially contributing toward industry upsurge.
As a result of a growth in Kraft paper consumption, a rising regulatory body is focusing on adopting recycling techniques for paper. Furthermore, the food and beverage sector has seen a substantial increase in demand for kraft paper due to its packaging qualities for various eating food items such as sandwiches, pizza, and burgers. Furthermore, a shift in customer attention toward enhanced end-user product aesthetics is supporting the industry's growth.
On the basis of the grade segment, the market is categorized into bleached, unbleached, sack kraft papers, wrapping & packaging, and others. Bleached grade is analyzed to hold a significant share across the global Kraft Paper market in 2020 and wrapping & packaging is anticipated to gain considerable growth for the forecast period 2021-2028. Kraft Paper market is segmented into healthcare, food & beverage, construction, cosmetics & personal care, and others. In this segment, construction segment is anticipated to hold a major share in the coming years. Based on the packaging form, the segment is divided into Envelops, Wraps, Pouches/Sachets, Grocery Bags, Corrugated Bags, and Industrial Bags. The corrugated bags is analyzed to hold a significant share across the regions over the coming years.
Europe is expected to experience the significant growth over the forecast period. The ongoing introduction of lightweight and high-performance grades of paper across the consumer goods and food & beverage industry is stimulating the industry size in the region. Furthermore, government and regulatory bodies are promoting adoption of recyclable paper and imposing the bane of plastics, which in turn is fueling the paper demand. The steady growth across the construction and healthcare sector will further complement the industry size over the forecasted timeline.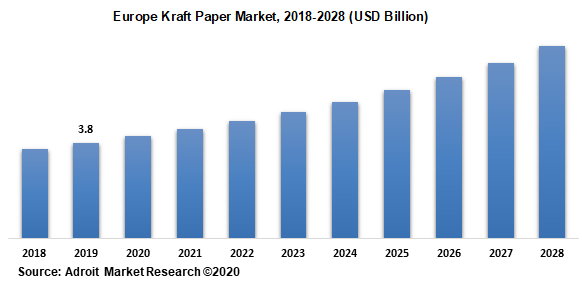 The major players of the global kraft paper market comprise of Mondi, Segezha group, Klabin, Billerudkorsnas, Stora Enso, Daio Paper Construction, Nordic Paper, and Glatfelter. The market for Kraft paper is consolidated with the presence of established global and domestic players across the globe. Moreover, the established companies are shifting focus toward establishing manufacturing facilities associated with the production of paper. Furthermore, the industry players are coming up with inorganic growth strategies to expand their market presence.