The global Intelligent Virtual Assistant (IVA) market size was valued at USD 2,166.0 million in 2019 and is anticipated to grow at a CAGR of over 33% in the next five years. Integration of Intenet of things (IoT) and Artificial Intelligence (AI) growing demand for automation within the service-based organizations and increasing usage of smartphones is likely to drive the market growth. Additionally, automation technologies that include AI and Robotic Process Automation (RPA) are been implemented in various sectors and are expected to increase the adoption of an intelligent virtual assistant.
Deployment of modern technology products and solutions, such as smart speakers and chatbots are growing in the retail, automotive, media & entertainment, travel & hospitality, among other sectors. In the last seven to eight years, consumer product brands have implemented IVA that includes interactive voice response to offer virtual identities that converse with the users. Moreover, constant innovation within the virtual assistant solutions intended for retail & e-commerce, as well as healthcare clients using Natural Language Processing (NLP) and AI is expected to draw the end-user attention for improving the client experience, hence, impelling the industry growth.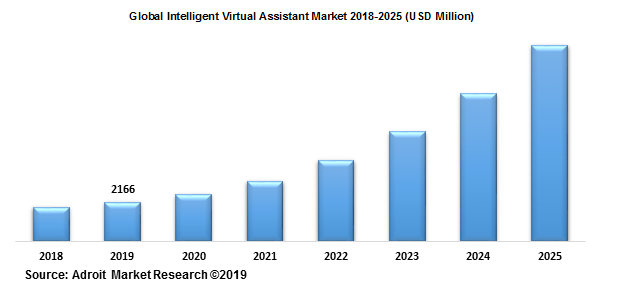 Growing penetration of mobile devices and increasing adoption of mobile banking solutions is one of the crucial differentiators within the consumer services responsible for the high growth in the IVA industry. Banks benefit through virtual agents by delivering round the clock services along with automating routine services, thus, reducing inbound calls and enhancing customer satisfaction.
Key Segments of the Global Intelligent Virtual Assistant Market
Type Overview, 2018-2025 (USD Million)
• Text-based
• Text-to-speech
• Automatic speech recognition
Application Overview, 2018-2025 (USD Million)
• Automotive
• BFSI
• Retail
• IT & Telecom
• Healthcare
• Education
• Others
Regional Overview, 2018-2025 (USD Million)
• North America
• U.S.
• Canada
• Europe
• France
• UK
• Germany
• Rest of Europe
• Asia Pacific
• China
• India
• Japan
• Singapore
• Rest of APAC
• Central and South America
• Brazil
• Argentina
• Mexico
• Rest of South America
• Middle East and Africa
Reasons for the study
• The purpose of the study is to give an exhaustive outlook of the global intelligent virtual market. Benchmark yourself against the rest of the market.
• Be prepared for how research & development (R&D) investments and the intelligent virtual assistant market will be impacted by socio-political and economic factors over the next few years
• Ensure you remain competitive as new innovations by existing key players boost the market.

What does the report include?
• The study on the global intelligent virtual market includes qualitative factors such as drivers, restraints, and opportunities
• The study covers the competitive landscape of existing/prospective players in the intelligent virtual assistant industry and their strategic initiatives for the product development
• The study covers a qualitative and quantitative analysis of the market segmented on the basis of type and applications. Moreover, the study provides similar information for the key geographies.
• Actual market sizes and forecasts have been provided for all the above-mentioned segments.

Who should buy this report?
This study is suitable for industry participants and stakeholders in the global intelligent virtual assistant market. The report will benefit:
• Every stakeholder involved in manufacturing and distributing intelligent virtual assistant components or solutions.
• Managers within financial institutions looking to publish recent and forecasted statistics pertaining to the global intelligent virtual assistant market.
• Government organizations, regulatory authorities, policymakers and financial organizations looking for R&D investment trends in the global intelligent virtual assistant market.
• Analysts, researchers, educators, strategy managers, and academic institutions looking for insights into the market to determine future strategies.

Virtual assistant technology enables features such as conversing in natural language, understanding various languages, as well as responding in voice or text. The IVAs provide personalized experiences and services and can also be designed to provide more information on promotions and offers, which decreases the requirement of the support team and enables in providing customer satisfaction and build brand image. Organizations can enhance client service functions that include front desk activities, meeting reminders, as well as other personalized activities with the help of virtual assistant solutions. Additionally, they produce a report showing the level of customer satisfaction and trends of frequently asked questions based on the customer response to those questions. This ascertains to be helpful in achieving customer satisfaction and enhancing the quality of responses.
Type Segment
On the basis of the type of intelligent virtual assistant, the industry is classified into text-based, text-to-speech, and automatic speech recognition. Text-to-speech intelligent virtual assistant dominated the overall intelligent virtual assistant market which occupied a 40% share in 2019 and is expected to maintain its position over the forecast period 2019 -2025. This is attributed due to the versatile solicitation of the technology that benefits consumers, businesses, personal users, and educational institutes. On the other hand, it enables content vendors to respond to various desires and needs of users and the means they interact with the content.
Over the years, the acceptance of speech recognition has gradually grown due to the implementation of mobile computing technology. The automatic speech recognition is anticipated to grow at a CAGR of over 33% from 2020 to 2025. It facilitates interaction with mobile devices along with its application easy, which is an important feature for developers to implement this technology.
Application Segment
On the basis of applications, this market covers categories like automotive, BFSI, retail, IT & telecom, healthcare, education, and others. In 2019, the market for BFSI intelligent virtual assistant segment was valued at 476 million and is anticipated to grow at a considerable rate over the forecast period.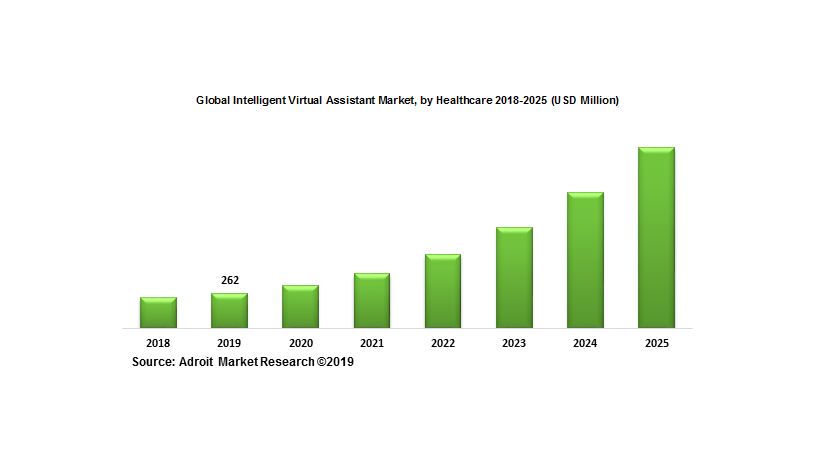 On the geographical front, North America dominated the global intelligent virtual assistant market in 2019 and is expected to do so over the forecast period 2019 – 2025. The rising number of mobile and wireless subscribers is projected to drive the demand from individual users. Moreover, increasing acceptance of Bring Your Own Device (BYOD) trends have led to the evolvement of operating remotely. Technological developments throughout the years have led to high usage of cloud-based tools that include MS Office and Skype online. Growing usage of such tools signifies a rising number of individuals working remotely, thus, offering lucrative prospects for industry growth.
Asia Pacific region is anticipated to grow at a considerable growth rate over the forecast period owing to the rising consumer & retail electronics in China. On the other hand, banking, financial, and insurance sector have registered a growing demand for virtual assistants to cater to the needs of rising monetary transactions.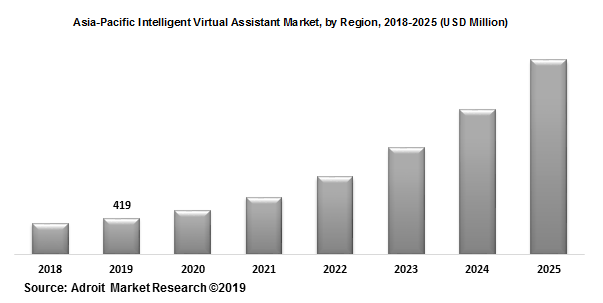 The key players operating within the global intelligent virtual assistant market are Apple, Inc., Microsoft Corporation, Alphabet, Inc., Nuance Communications, Inc., Samsung Electronics Co. Ltd., Amazon.com Inc., Baidu, Inc., International Business Machines (IBM) Corporation, Inbenta Technologies, Inc., and others. As of 2019, the market for intelligent virtual assistant providers is fragmented with the presence of established global and domestic players. Moreover, the established companies are coming up with advanced versions of IVAs with advanced digital and automation solutions.
Organizations are aggressively working on the advancement of equipment and applications as an artificial intelligence agent. These IVAs facilitate assistance to different sectors that include pharmacy, hospitals, travel agencies, bookings, hotels, and other associated areas to manage more clients and deliver higher customer practice.