The infrastructure as a service (IaaS) business is rapidly expanding and offers numerous options, making it a valuable sector. The adoption of IaaS is being driven by the growing demand for enterprises to decrease their IT burden and cut the expenses of establishing data centers and hiring qualified employees to operate their IT infrastructures. The increasing demand from a growing number of SMBs, the necessity to deploy enterprise level computing capabilities to compete in the market, and the expanding digitalization of enterprises and economies are all important areas of opportunity for IaaS. The infrastructure as a service market is expected to be driven by rising demand for hybrid cloud platforms. Various enterprises are expected to avoid assigning all of their data to a single system by using hybrid cloud services. Organizations are more vulnerable to unanticipated failures or data theft when all of their data is stored in one location. In comparison to other software, such as public cloud, hybrid cloud design reduces the risks of data theft or loss in the event of an unfavorable situation. It, in turn, has led to increased adoption of private platform implementations the safest mode of cloud deployment, despite its high implementation costs. However, the hybrid cloud provides many advantages including confidentiality, security, and retrieval of lost information or any critical data. With growing technological advancements and innovations hybrid cloud is expected to enable organizations in reducing their overhead costs. Additional benefits include the flexibility of storing information either on deployment mode or premise simultaneously. Cloud-based data storage protects operating systems and offers faster application recovery and accessibility.
The infrastructure as a service (IaaS) market was estimated to reach around USD 49.3 billion in 2020, and projected to grow at a CAGR of 26.7% over the forecast period. This can be ascribed to the high penetration of hybrid cloud and faster implementation, scalability, and accessibility of the IT system. It offers new opportunities for key players operating in the global IaaS market. Besides, the mobility and byod creating new it opportunities is affecting the market in a positive manner.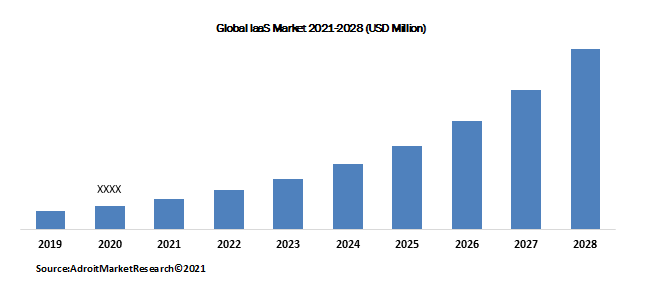 However, high cost of initial investment and less of privacy and data protection concern are hampering the market growth. Furthermore, high adoption rate in smbs and mobility and byod creating new IT opportunities is likely to provide lucrative development opportunities for the IaaS market in the forthcoming years.
Infrastructure as a Service Market Scope
| | |
| --- | --- |
| Metrics | Details |
| Base Year | 2020 |
| Historic Data | 2018-2019 |
| Forecast Period | 2021-2028 |
| Study Period | 2018-2028 |
| Forecast Unit | Value (USD) |
| Revenue forecast in 2028 | USD 49.3 billion |
| Growth Rate | CAGR of 26.7% during 2021-2028 |
| Segment Covered | Deployment Mode, Solution, End Use, User Types, Regions |
| Regions Covered | North America, Europe, Asia Pacific, Middle East and Africa |
| Key Players Profiled | Fujitsu, IBM, VMware, Cisco Systems, Google, Inc., Microsoft, AWS, Profitbricks, CSC, Rackspace, Amazon Web Services, Inc., Alibaba Group Holding Limited, Dell EMC, Oracle Corporation, and Red Hat, Inc. |
Key Segments of the Global IaaS Market
Solution Overview, 2021-2028 (USD Million)
Managed Hosting
Disaster Recovery as a Service
Storage as a Service
Colocation
Network Management
Others
Deployment Mode Overview, 2021-2028 (USD Million)
Public Cloud
Private Cloud
Hybrid Cloud
User Types Overview, 2021-2028 (USD Million)
Large Enterpirse
Small and Medium Enterprise
End Use Overview, 2021-2028 (USD Million)
BFSI
Healthcare
Retail and E-commerce
Government & Defense
IT & Telecom
Energy and Utility
Manufacturing
Others
Regional Overview, 2021-2028 (USD Million)
North America
Europe

UK
Germany
France
Italy
Rest of Europe

Asia Pacific

China
Japan
Singapore
Australia
Rest of APAC

Middle East and Africa (MEA)
Reasons for the study
The purpose of the study is to give an exhaustive outlook of the global IaaS market. Benchmark yourself against the rest of the market.
Ensure you remain competitive as innovations by existing key players to boost the market.
What does the report include?
The study on the global IaaS market includes qualitative factors such as drivers, restraints, and opportunities
The study covers the competitive landscape of existing/prospective players in the IaaS market industry and their strategic initiatives for product development.
The study covers a qualitative and quantitative analysis of the market segmented based on Solution, User TYpes, Deployment, and End User. Moreover, the study provides similar information for the key geographies.
Actual market sizes and forecasts have been provided for all the above-mentioned segments.
Who should buy this report?
This study is suitable for industry participants and stakeholders in the global IaaS market. The report will benefit every stakeholder involved in the IaaS market.
Managers within the IaaS market industry looking to publish recent and forecasted statistics about the global IaaS market.
Government organizations, regulatory authorities, policymakers, and organizations looking for investments in trends of the global IaaS market.
Analysts, researchers, educators, strategy managers, and Government institutions looking for insights into the market to determine future strategies.
Frequently Asked Questions (FAQ) :
Infrastructure as a Service(IaaS) is a cloud computing service where enterprises lease servers for compute and storage in cloud.
The market is segmented on the basis of component type, deployment mode, user type, industry vertical, and region.
The major players of the global Infrastructure as a Service (IaaS) market are Mindtree Pvt. Ltd., Amazon Web Services, Inc., IBM Corporation, Cisco Systems, Inc., Savvis, Google Inc., VMware, Inc., Microsoft Corporation, Rackspace Inc., Fujitsu Ltd., Computer Sciences Corp, and Profitbricks Inc.
Infrastructure as a service (IaaS) refers to a computing infrastructure that is instantaneously distributed and operated over the internet. It is one of four kinds of cloud services, together with software as a service (SaaS), platform as a service (PaaS), and serverless network. Infrastructure as a service (IaaS) helps to avoid the cost and complexity of buying and maintaining your own physical servers as well as other data centre infrastructure.
The emerging trend of digitization, along with the rising adoption of cloud-computing services, is one of the key factors driving the growth of the market. Furthermore, the growing demand for cost-effective information technology (IT) infrastructure and faster data accessibility by various industries, including banking, financial services and insurance (BFSI), healthcare, retail, manufacturing and telecommunications, is also providing a boost to the market growth.
The need for reducing cost in IT infrastructure management, and to focus more on their primary operations has been the key objective of various agencies. The technological innovations have led to growing mobility, ease of access, sophisticated working environment, and digitalization development in numerous business verticals. Ease of deployment, flexibility, and scalability of services can also be acknowledged as the key factors steering the market growth.
However, the market is expected to become fragmented in the forthcoming years as several new market players are emerging from developing countries such as India, Japan, China, and other countries.
Solution Segment
Based on the solutions segment, the market is classified into managed hosting, disaster recovery as a service, storage as a service, colocation, network management, and others. In 2020, disaster recovery as a service segment is anticipated to grow significantly. Disaster recovery as a service (DRaaS) is a cloud computing service model that enables an organization to back up its data and IT infrastructure in a third-party cloud computing environment and provide all DR orchestration, all through a SaaS solution, in order to regain access and functionality to IT infrastructure following a disaster. The as-a-service approach means that instead of owning all of the resources or handling all of the management for disaster recovery, the company may rely on the service provider.
Organization Segment
Based on the Organization Size, the market is segmented into large enterprise, and small & medium enterprises. In 2020, large enterprises accounted for the largest share of the infrastructure as a service market, owing to their use of IaaS technology to avoid the high cost and complexity of managing and acquiring their own physical servers. Because each resource in an IaaS service is a separate service component, consumers can choose the resources they require. Furthermore, cloud service providers are in charge of administering the IaaS infrastructure, while consumers concentrate on installing, configuring, and managing their software. This is a major element driving the adoption of IaaS by large businesses.
Deployment Type Segment
Based on the Deployment Type, the market is segmented into public cloud, private cloud, and hybrid cloud. In 2020, hybrid cloud was predicted to have the biggest market share due to their wide range of applications that provide an integrated solution by combining public and private cloud to execute multiple duties inside the same organization. Furthermore, owing to the increased demand for this service from small and medium enterprises (SMBs) and startups, public cloud is likely to develop at a high rate over the projection period. These services are cost-effective and provide end users with excellent operational efficiency.
End User Segment
Based on the Industry Verticals, the market is segmented into BFSI, healthcare, retail and E-commerce, government & defense, IT & telecom, energy & utilities, manufacturing, and others. The IT & telecom business, along with the BFSI and healthcare industries, account for the majority of the overall market share. The growing volume of business data in these verticals, as well as concerns about the security, confidentiality, and management of such a large volume of critical individual information, financial, and other health-related data, are some of the major factors driving high market spending by verticals.
Asia Pacific is likely to gather noteworthy growth through the forecast years 2021-2028. The growth of the IaaSmarket in this region is mostly ascribed to the increasing internet penetration coupled with developing technology in various economies including China, India, and South Korea can be attributed to high growth in this region.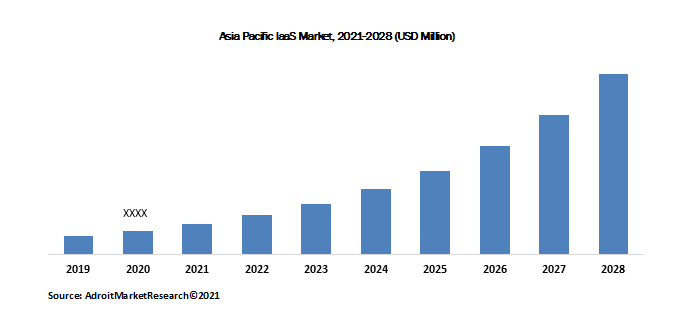 The major players of the global IaaS Market are Fujitsu, IBM, VMware, Cisco Systems, Google, Inc., Microsoft, AWS, Profitbricks, CSC, Rackspace, Amazon Web Services, Inc., Alibaba Group Holding Limited, Dell EMC, Oracle Corporation, and Red Hat, Inc. In addition, the previously recognized as well as new market players are approaching the market with advanced and new strategic solutions and to remain competitive in the global market.