The global high-throughput screening market was valued at USD 15.12 billion in 2018. Factors driving the growth of the HTS market include increasing R&D spending, initiatives undertaken by pharmaceutical and biotechnology companies, the convenience of government funding, venture capital investments and technological improvements.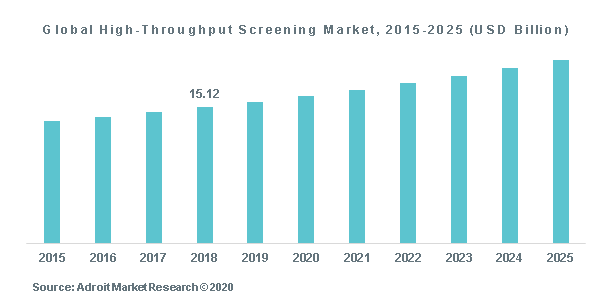 Biological "trial and error" testing of large collections of small molecules for a specific pharmacological effect is the classical route to discover novel lead compounds, which subsequently serve as templates for further optimization in medicinal chemistry programs. During the past two decades, the advent of recombinant DNA technologies together with improved assay techniques and high-performance laboratory automation dramatically changed the pharmacological screening process. Nowadays, high-throughput screening (HTS) has gained attention also in the academic environment.
The global high-throughput screening market is categorized based on product & services, technology, application and end user. Region wise, North America was the largest market in 2018, occupying more than 30% market share, however Asia Pacific is expected to be the fastest growing region by 2025.
Major players operating in the global high-throughput screening market include Thermo Fisher Scientific Inc., Agilent Technologies, Inc., Danaher Corporation, Perkinelmer, Inc., Tecan Group, Axxam S.P.A., Bio-Rad Laboratories, Merck Group, Hamilton Company, Corning Incorporated, Biotek Instruments and Aurora Biomed among others.
Key segments of the global high-throughput screening market
Product & Services Overview, 2015-2025 (USD Billion)
Reagents & Assay Kits
Instruments
Consumables & Accessories
Software & Services
Technology Overview, 2015-2025 (USD Billion)
Cell-Based Assays
Lab-On-A-Chip
Ultra-High-Throughput Screening
Bioinformatics
Label-Free Technology
Application Overview, 2015-2025 (USD Billion)
Drug Discovery
Chemical Biology Programs
Cell- & Organ-Based Screening
Biochemical Screening
Biological Active Compound Screening
Genomics
Proteomics
Compound Profiling
End User Overview, 2015-2025 (USD Billion)
Pharmaceutical and Biotechnology Companies
Academic and Government Institutes
Contract Research Organizations (CRO)
Other End Users
Regional Overview, 2015-2025 (USD Billion)
North America
Europe

Germany
United Kingdom
France
Rest of Europe

Asia Pacific

China
Japan
India
Rest of Asia Pacific

Latin America
Middle East & Africa
Reasons for the study
Increased R&D spending
Government funding for HTS assays
Dearth of labor faced by industry consumers
What does the report include?
The study on the global high-throughput screening market includes qualitative factors such as drivers, restraints and opportunities
Additionally, the market has been evaluated using the Porter's five forces analysis
The study covers qualitative and quantitative analysis of the market segmented on the basis of product & services, technology, application and end user. Moreover, the study provides similar information for the key geographies.
Actual market sizes and forecasts have been provided for all the above-mentioned segments
The study includes the profiles of key players in the market with a significant global and/or regional presence
Who should buy this report?
The report on the global high-throughput screening market is suitable for all the players across the value chain including raw material suppliers, R&D labs, medical device manufacturers, healthcare organizations, distributors, suppliers and technology geeks
Venture capitalists and investors looking for more information on the future outlook of the global high-throughput screening market
Consultants, analysts, researchers, and academicians looking for insights shaping the global high-throughput screening market
The HTS market is characterized by evolving industry standards and intense competition. The HTS products are subjected to regulatory approval by the FDA and other regulatory bodies throughout the world. These regulations govern a wide variety of product related activities, from quality management, design and development to labeling, manufacturing, promotion, sales and distribution. The players in the HTS market continually invest in manufacturing infrastructure to gain and maintain certifications necessary for the level of clearance.
The market players have significant R&D expenditures in order to sustain their competitive position with a continuing flow of innovative, high-quality products and services. Their research and development efforts primarily focus on potential new applications and product improvements covering wide variety of technologies, which is crucial for their operations. Their research also seeks to improve on various technical competencies in software, systems and solutions. Their workflow aims at conducting research that is focused on specific product development for release in the short-term as well as other research that is intended to be the foundation for future products over a longer time-horizon. Along with, product development the research is designed to improve products already in production, focus on major new product releases, and develop new product segments for the future. Moreover, each player looks for key strategic opportunities to align with the available markets and positions to capture market share.
Pharma & biotech companies held the largest HTS market share in 2018. Biotechnology is one of the most innovative scientific areas nowadays, with a rapid pace of progresses made every day driving the entire industry. In this sense, advances in the field have been tightly connected to both academic and industrial research, with close connections between discoveries made by research and the development of new products. This dependency encompasses a high degree of involvement between universities and industry, beneficial for both sides and especially important for reducing the time span between the development and the introduction of new products in the market.
A great majority of the value for the biotechnological industry is derived from research and development (R&D) activity in which much of the industry is based on the creation of new applications and products to the different areas of life sciences. In terms of development, because of the strict connection between biotechnology and R&D, investment in HTS research has become an essential component of these companies' business. This obviously carries an extremely high structure of costs, with very little revenue at early stages of development. Partnerships between small and larger companies are thus essential for the survival of the first. Because of that, this has been an industry led by a small group of big companies, which are able to support these structures of costs.
Moreover, increasing government expenditure is likely to augment growth in the biotechnology industry which will further fuel HTS market. Growing pharmaceuticals market is also estimated to aid growth of HTS industry accompanying the biotech industry.
In 2018, North America was the largest market for high-throughput screening and is anticipated to retain its position by 2025. Technological advancement, ageing population, chronic diseases and government funding are some of the reasons driving HTS market growth in this region.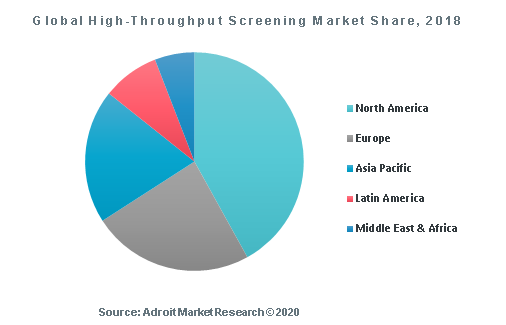 The U.S. health care spending increased 3.9% to reach USD 3.5 trillion, or USD 10,739 per person in 2017. Healthcare spending growth in 2017 was comparable to average growth from 2008 to 2013, which steered the more rapid growth experienced during the 2014-15 period that was marked by insurance coverage expansion and high rates of growth in retail prescription drug spending. In the U.S. the size of the HTS market means that there is unequaled purchasing power, demand, and opportunity for innovation. In contrast, by structure, reimbursement systems, regulation, issues of access, and complexity is perhaps the most opaque. Moreover, presence of prominent players and diverse biotech labs is also fueling HTS market in this region.