The global high potency APIs market was valued at USD 21.27 billion in 2020 and is projected to grow at a CAGR of 9.2% during the forecast period. Factors driving the growth of the high potency APIs market growing demand for oncology drugs, innovations in HPAPI manufacturing technologies, increasing emphasis of prominent pharmaceutical companies on HPAPIs, rising demand for antibody-drug conjugates, and emergent focus on precision medicine.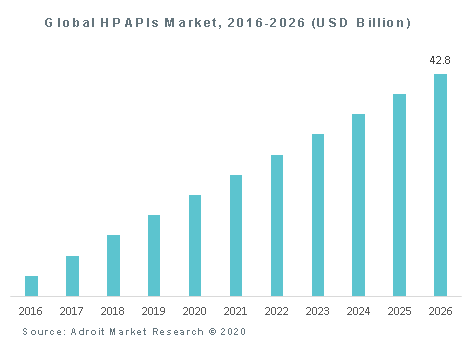 Highly potent active pharmaceutical ingredients (HPAPIs) represent significant innovation for pharmaceutical companies in preparing new medicines for patients. They employ new, small molecules which are active in lower doses, with reduced side effects. A significant proportion of new active ingredients under development will be classified as highly potent, suggesting an increase in the therapeutic efficacy of these products. While most of the HPAPIs will be used as anti-cancer, others may be classified as hormones, narcotics and retinoids. The introduction of highly potent APIs incurs new manufacturing problems and challenges. The production of HPAPIs using hormones and cytostatic drugs can have carcinogenic or mutagenic effects to exposed operators. They should therefore be handled with specific precautions.
The global high potency APIs market is segmented based on product, manufacturers, drug type and application. By product it is categorized into synthetic and biotech. By manufacturers it is categorized into in-house and outsourced. Outsourced HPAPIs dominated the market in 2020. By drug type the market is categorized into innovative and generic, with the generic HPAPIs set to grow at a highest CAGR.
Regionally, North America accounted for the largest market share of the global high potency APIs market in 2020, while Asia Pacific is set to grow at a highest CAGR by 2028 due to government efforts to reorganize healthcare and embrace the use of generics. Leading players of the global high potency APIs market include Pfizer Inc., Novartis International AG, Merck & Co., Teva Pharmaceutical Industries Ltd., Mylan, Inc., Boehringer Ingelheim, Sanofi, AbbVie, Eli Lilly and Company, AstraZeneca plc. among others.
Key segments of the global high potency APIs market
Product Overview, 2018-2028 (USD Billion)
Manufacturers Overview, 2018-2028 (USD Billion)
Drug Type Overview, 2018-2028 (USD Billion)
Application Overview, 2018-2028 (USD Billion)
Oncology
Hormonal
Glaucoma
Others
Regional Overview, 2018-2028 (USD Billion)
North America
Europe

Germany
United Kingdom
France
Rest of Europe

Asia Pacific

China
Japan
India
Rest of Asia Pacific

Latin America

Brazil
Mexico
Rest of Latin America

Middle East & Africa

GCC
South Africa
Rest of MEA
Reasons for the study
Growing demand for oncology drugs
Increasing focus of leading pharmaceutical companies on HPAPIs
Advancements in HPAPI manufacturing technologies
Growing focus on precision medicine
What does the report include?
The study on the global high potency APIs market includes qualitative factors such as drivers, restraints and opportunities
The study covers qualitative and quantitative analysis of the market segmented on the basis of product, manufacturers, drug type and application. Moreover, the study provides similar information for the key geographies.
Actual market sizes and forecasts have been provided for all the above-mentioned segments
The study includes the profiles of key players in the market with a significant global and/or regional presence
Who should buy this report?
The report on the global high potency APIs market is suitable for all the players across the value chain including product manufacturing companies, suppliers/distributors, R&D labs, CROs, healthcare organizations, medical reimbursement and insurance providers
Venture capitalists and investors looking for more information on the future outlook of the global high potency APIs market
Consultants, analysts, researchers, and academicians looking for insights shaping the global high potency APIs market
Handling, containment, manufacturing, facility design, machinery and regulatory requirements of HPAPI compounds are more stringent and different from conventional APIs. In general, good manufacturing practices (GMP) apply to the production of highly potent and cytotoxic compounds. The only regulatory body to have flagged up the importance of bringing in updated guidance for safely dealing with HPAPIs is the European Medicines Agency (EMA). In 2005, EMA (European Medicines Agency) published a concept paper on HPAPIs, though it was mainly focused on high potent product segregation rather than classification. The concept paper primarily addressed the need to update GMPs and have better clarity on classification systems in order to determine requirements for working with specific compounds. In 2011, EMA introduced another concept paper mentioning the requirement for a toxicological tool and a risk-based scientific approach to establish exposure limits. Then, in January 2013, EMA published a draft guideline on setting health based exposure limits. The primary purpose of this guideline was to advocate the assessment of pharmacological and toxicological data of individual active substances, which would allow establishment of safe threshold levels as mentioned in the GMP guideline. There are cGMP guidelines from other regulatory bodies such as FDA and others for Japan, Switzerland, India and China but they do not address the issue of occupational health hazards. FDA also recommends risk based assessments in this field. However, the guidelines issued by the organization only deals with cross contamination issues associated with the production and not on worker protection.
The global high potency APIs market is segmented based on product, manufacturers, drug type and application. By manufacturer, the outsourced manufacturer HPAPIs held the largest share of the global HPAPI market, while application wise oncology dominated the global HPAPI market.
HPAPI manufacturing services is having significant impact on the contract manufacturing market. Companies with existing HPAPI capabilities have been busy expanding their facilities, while many without have sought to acquire existing businesses or add HPAPI capacity. HPAPI manufacturing requires millions of dollars in investment over and above that of CDMOs/CMOs providing traditional API (non-HPAPI) manufacturing services. Furthermore, CDMOs/ CMOs providing contract HPAPI manufacturing services must be prepared to adopt, improve, and/or implement new protocols, equipment, training, and technologies to meet the ever-rising bar for risk reduction and regulatory compliance in HPAPI manufacturing. Continuous improvement is essential to sustaining safe operations, mitigating risk, and attracting client opportunities. Increasingly, APIs of small-molecule therapeutics in development today, particularly in the oncology therapeutic area, are falling into the HPAPI category. The growth of potent new targeted therapies in oncology is helping to fuel the growth of this segment, with the future trending towards even more potent drugs. HPAPIs, however, present a special challenge for API manufacturers requiring appropriately designed facilities, with the necessary engineering and containment controls in place to handle these potent compounds as well as requiring highly trained and experienced staff to ensure safe and contained operations. Key to life science companies looking to outsource HPAPI manufacturing is finding a CMO/CDMO partner with clearly demonstrated experience and expertise for both safely and effectively managing projects involving highly potent compounds. Many life science companies developing potent small-molecule drugs prefer to use a HPAPI manufacturer in the U.S. or Europe that has a sustained and exemplary track record for safety, regulatory compliance, and a successful audit history when working with HPAPIs. The ability to support both the development and commercial manufacture of highly potent compounds in order to avoid any need for process transfers is also often preferred by many life science companies that outsource HPAPI projects.
North America was the largest market for high potency APIs owing to highly developed and regulated pharmaceutical industry, however Asia Pacific is expected to register the highest CAGR.
India has world-class strengths in chemical, biological, and environmental sciences alongside a fabulous process engineering community. These equip the Indian research community to provide the underpinning, understanding and breakthroughs to advance large scale opportunities. In India, HPAPIs is a relatively new segment in the pharma contract manufacturing sector with high profit margins and demand. Indian players have the complex chemistry manufacturing skills to differentiate themselves from competitors in this segment. Moreover, to support the "New Bio-economy Solutions" the Indian government has the following strategic goals,
Increase in growth of the biologics segment resulting in an increase in the application of HPAPI in segments like hormonal therapies, glaucoma and targeted release therapies for cancer
High demand for bio-pharma formulations with smaller, highly potent dosages with specialized release characteristics
Expected increase in the affordability and availability of high potency (anti-cancer, diabetes) drugs in India, China and pharmerging markets with the anticipated strengthening of these markets through various governmental initiatives in the form of healthcare reforms and increasing per capita spend