The global hemato oncology testing market was valued at USD 1.81 billion in 2018. The rise in the prevalence of hematologic cancer, increment in knowledge of precision medicine and the increase in the amount of assays are likely to result in the rapid growth of the oncology research industry in the forecast years.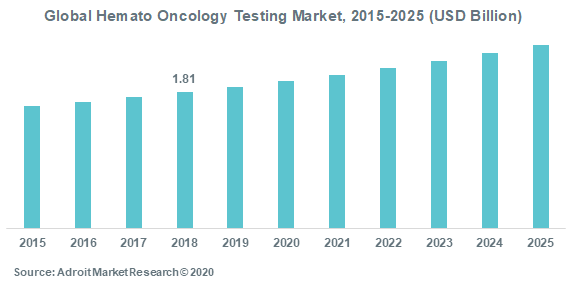 Leukemia is often induced from radiation toxicity, poor dietary patterns, and environmental causes. The main driving forces for the industry are rising geriatric population base and strong unmet requirements about early detection and treatment of leukemia. Globally, leukemia is the most prevalent blood cancer among males, 0.0148 percent men and 0.009 percent women worldwide, according to a study released by WHO. It is also among the most frequently occurring pediatric cancers.
In addition, advancement in drug research, increased output of biotechnology companies and increased spending in the R&D sector are also projected to boost this market's growth. Likewise, the launch of innovative treatments with more efficacy & less side effects, metabolic inhibitors and pipeline drugs pending clearance is anticipated to fuel the demand over the forecast timeframe increasing rate of diagnosis across the world is anticipated to drive the sales for testing kits over the forecast period.
Key segments of the global Hemato Oncology Testing market
Product Overview, 2015-2025 (USD Million)
Indication Overview, 2015-2025 (USD Million)
Leukemia

Acute Myeloid Leukemia
Acute Lymphocytic Leukemia
Others

Lymphoma

Non-Hodgkin Lymphoma
Hodgkin Lymphoma

Others
Technology Overview, 2015-2025 (USD Million)
Cytogenetics.
NGS
PCR
IHC
Others
End User Overview, 2015-2025 (USD Million)
Hospitals
Clinical Laboratories
Academic & Research Institutes
Others
Regional Overview, 2015-2025 (USD Million)
North America
Europe

Germany
United Kingdom
France
Rest of Europe

Asia Pacific

China
Japan
India
Rest of Asia Pacific

Latin America

Brazil
Mexico
Rest of Latin America

Middle East & Africa
Reasons for the study
· Rising incidence of hematologic cancer
· Focus on the development of advanced assay kits
What does the report include?
The study on the global hemato oncology testing market includes analysis of qualitative market indicators such as drivers, restraints, challenges and opportunities
Additionally, the market competition has been evaluated using the Porter's five forces analysis
The study covers qualitative and quantitative analysis of the market segmented on the basis of applications, product, technology and end user. Moreover, the study provides similar information for the key geographies.
Actual market sizes and forecasts have been provided for all the considered segments
The study includes the profiles of key players in the market with a significant global and/or regional presence
Who should buy this report?
The report on the global hemato oncology testing market is suitable for all the players across the value chain including raw material suppliers, hemato oncology testing providers, pharmaceutical and medical device manufacturers, distributors, suppliers and retailers
Venture capitalists and investors looking for more information on the future outlook of the global hemato oncology testing market
Consultants, analysts, researchers, and academicians looking for insights shaping the global hemato oncology testing market
Acute myeloid leukemia (AML) is a bone marrow malignancy that is distinguished by abnormal proliferation of progenitor myeloid cells (blasts) that induce neutropenia, anemia, and thrombocytopenia. AML is treated primarily using karyotechnologys and by evaluating the molecular modifications in leukemic blasts. Using these methods, patients are categorized according to their probability of relapse: strong, moderate and weak.
AML treatments are generally focused primarily on the chance of relapse in the patients. Thus, patients with a moderate to severe chance of relapse undergo hematopoietic stem cell transplant treatment, while patients with low risk obtain chemotherapy only.
Since certain forms of leukemia have no apparent signs early on in the illness, leukemia can accidentally be detected through a physical examination or as a consequence of regular blood tests. The doctor will consider leukemia if a person is blue, has bloated lymph nodes, swollen gums, bloated liver or spleen, severe swelling, vomiting, nausea, constant diarrhea, weakness or a tiny spotting rash. A blood test that shows an irregular count of white cells that indicate a diagnosis. To validate the diagnosis and classify the particular strain of leukemia, a needle biopsy and bone marrow aspiration from a pelvic bone would need to be conducted to check for leukemia cells, DNA markers and bone marrow chromosomal changes.
The ultimate aim in therapy with acute leukemia is for recovery. In a hospital the patient receives medication and remains in a private space to contain the risk of infection. Since people with acute leukemia have very small numbers of healthy blood cells, transfusions of blood and platelets are administered to either avoid or stop bleeding. Drugs are obtained to avoid infection, or to cure it. Medications are often provided for the prevention of side effects linked to therapeutics. Patients with acute leukemia are expected to reach recovery with usage of chemotherapy as the main treatment.
In 2018, services segment accounted for majority of the share in the global market and is anticipated to maintain its position by the end of the forecast period. This is partly attributed to the increasing occurrence and frequency of leukemia, non-Hodgkin lymphoma and cancers like myeloma. Besides this, increasing knowledge of innovative treatment approaches such as customized medicine also drives this segment's rise. Furthermore, in terms of technology, NGS is likely to emerge as the most lucrative of all due to its high accuracy, sensitivity and specificity compared to other detection techniques
On the basis of region, the global market is classified into North America, Europe, Asia Pacific, Central & South America, and Middle East and Africa. In 2018, North America contributed noticeable market share however, Asia Pacific is likely to emerge as the most lucrative region in coming years. Increasing pool of patients coupled with expansion of global leaders in India and China is anticipated to drive the regional market growth by 2025.
In India more than 10,000 cases of childhood leukemia are recorded annually. ALL accounted for 60 to 85 % of all leukemia in babies. The occurrence of leukemia was recorded as 34% in the Indian pediatric population, of which 25% was female. Notwithstanding the presence of the national register for childhood leukemia, there are still problems such as under-reporting due to lack of knowledge, under-diagnosis and poor facilities, which lead to the shortage of reliable records, delay in identifying the disease on time and a late comparison. This may put the child in a group of elevated risk. Therefore, it is important to increase understanding among doctors, health care professionals and the general public. Such high rate of prevalence also demands testing kits flourishing the market growth in the near future.