The global Hand and Equipment Sanitizers market is anticipated to increase at a 6.8 % CAGR to reach value USD 10.84 billion in 2030
Global hand and equipment sanitizers accounted for a market size of USD 2.5 billion in the year 2019 and is projected to grow at a CAGR of more than 18% over the forecast period. The primary mode of microbial transmission and contamination is hands. The simplest and cheapest way to avoid infections is to improve hand hygiene. Different hygiene products in hand sanitizer for the purpose of reducing or eliminating a microbial load in the skin are now in the market.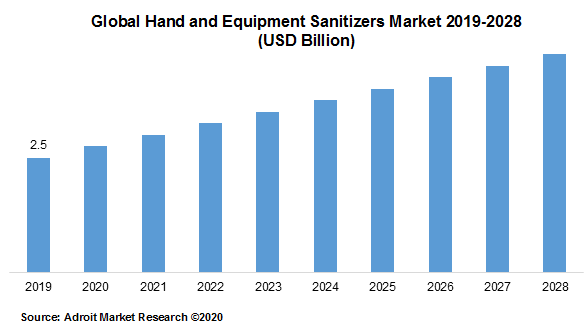 Specific types of hand sanitizers are currently available in various forms on the market. Hand sanitizers are usually available as alcohol sanitizers and hand sanitizers without alcohol. Hand sanitizers are advantageous compared to conventional hand washing products because they can be used without water directly. In addition, well-known manufacturers sell hand-sanitized items in compact packages like sachet and mini bottles that are easy for customers to bring into a bag or a pocket.
Key Segment Of The Hand and Equipment Sanitizers Market
Product, 2022-2030 (USD Million)
• Gel
• Foam
• Liquid
• Others
Distribution channel, 2022-2030 (USD Million)
• Hypermarket & Supermarket
• Drugstore
• Online
• Others
Regional Overview, 2022-2030 (USD Million)
North America
• US
• Canada
Europe
• Germany
• France
• UK
• Rest of Europe
Asia Pacific
• China
• India
• Japan
• Rest of Asia Pacific
South America
• Mexico
• Brazil
• Rest of South America
Middle East and South Africa
Frequently Asked Questions (FAQ) :
The Global hand and equipment sanitizers market is Segmented on the Product, Distribution, Geography.
The hand and equipment sanitizers market is growing at a CAGR of 18% over the forecast period.
The base year for the report is 2021 in hand and equipment sanitizers market.
Improved understanding of hand hygiene is becoming more common as it is an effective measure to prevent nosocomial infections. In addition, government encourages the use of hand care products to make customers more conscious and prevent health problems. For example, FDA and WHO together have taken steps to raise awareness of hand hygiene and the dangers linked to non-hygiene. In addition, the increasing influence of social media and online advertisement has introduced people to the recent trends in care and hygiene, which also accelerates consumer use of hand sanitizers.
In terms of segments the global hand and equipment sanitizers is segmented into gel, foam, liquid, and others. Similarly, the global market in terms of distribution channel is segmented into hypermarket & supermarket, specialty store, drugs store, and online. Hypermarket & supermarket are now accounting for maximum market share however, in future the trend is going to be online shopping. Considering the contactless delivery option across all the online delivery channels is likely to drive the demand of the sanitizers across online channels.
In terms of geography, the global hand and equipment sanitizers is segmented into North America, Europe, Asia Pacific, South America, and Middle East & Africa. North America dominated the global hand and equipment sanitizers market with a market revenue share of 28% in 2019. The growing concern for safety and hygienic maintenance is expected to drive the demand by the majority of the population in the country. Greater availability of goods, with increased online and offline channel penetration, drives market growth in the area.
Key players include Reckitt Benckiser Group plc, Procter and Gamble, The Himalaya Drug Company, GOJO Industries, Inc., Henkel AG and Company, Unilever, Vi-Jon, Chattem, Inc., Best Sanitizers, Inc., Kutol