The global green energy market is progressing at a significantly high pace, poised to register an overall market size of approximately USD 997.5 billion by 2028, with a robust CAGR of 14% through 2018-2028. The favorable growth trajectory could be attributed to the extreme amounts of greenhouse gases that are emitted globally particularly the environmentally harmful gases such as carbon dioxide that is emitted in extensive amounts while generating energy out of fossil fuels.
Growing awareness amongst end-users worldwide to engage in mindful energy consumption practices while reducing carbon bulk to avert further environmental damage is the primary growth initiator in green energy market. In addition, heavy reliance on fossil fuels has resulted in shortage of these resources gradually, leading to volatility of fossil fuel prices. These developments are directly impacting consumer psyche and encouraging reliance on alternative energy sources such as renewable energy, in turn pushing expansion in the green energy market.
Despite the scope, mass production of renewable energy requires massive investments which is a major factor that is estimated to hamper the green energy market over the forecast period. Veritable sources from international organizations such as the IEA (International Energy Agency) have affirmed, renewable, clean, and green energy resources are witnessing massive adoption rates as several developed and developing economies are encouraging electricity generation from wind and solar energy. As countries are reinforcing efforts to achieve carbon neutrality, the post pandemic era is likely to trace humongous growth opportunities in green energy market while conventionally used fuel consumption suffers a dip amidst the ongoing pandemic crisis.
Additionally, progress in green energy technology such as emergence of advanced, high-tech battery cells, developments in green hydrogen technology advance into commercial production, the global green energy market is also likely to experience unhindered opportunities in the near future.
Green energy also commonly referred to as clean energy focuses on energy that is generated from environmentally friendly resources and processes reducing the carbon footprint significantly. This energy is typically powered by solar, biogas, geothermal, low-impact hydroelectric, wind and few classes of eligible biomass sources that eliminate the possibility of greenhouse gases escaping into the atmosphere. As opposed to fossil fuel generated energy, green energy involves utilization of resources that do not cause any pollution making the renewable industry an appealing alternative.
However, green energy is not aimed at solely relying on renewable but in fact achieving zero carbon emission goals. Clean energy sources often eliminate the requirement of drilling activities or mining that effectively damage ecosystems. Global green energy market players include a group of diversely placed larger entities alongside young market players introducing modern approach and innovative technologies. With highly competitive distinction along with massively supported technological advancements from all across the globe has resulted in market consolidation.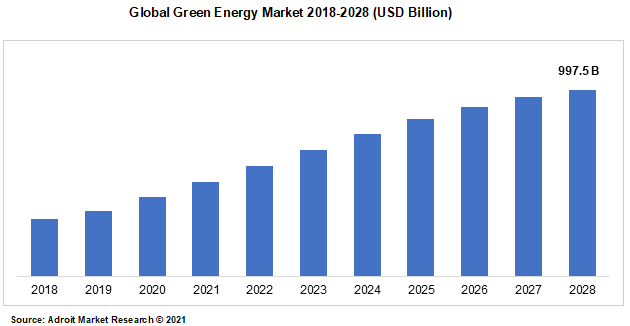 The major players of the global green energy market are General Electric, Innergex, Tata Power, Xcel Energy, Geronimo Energy, Enel Spa, EDF, Invenergy, Vestas Wind Systems A/S, ACCIONA, UpWind Solutions, Sinovel Wind Group and Senvion. The green energy market consists of globally acknowledged players along with the firmly established local players. The key players are intently adopting innovative strategies including product launch, partnerships, collaborations and acquisitions in order to stay ahead of the fiercely competitive environment. Previously recognized participants are setting forth breakthrough business strategies stimulating the growth and development of market.
Leading players are entering into diverse commercial agreements to initiate greater adoption of green energy. In this light, leading clean energy producer, Green Mountain Energy has affirmed its application to Arizona Corporation Commission aiming to introduce clean energy production for residential and commercial consumption in Arizona. The development is a significant step ahead in furthering growth in green energy market.
Green Energy Market Scope
| | |
| --- | --- |
| Metrics | Details |
| Base Year | 2020 |
| Historic Data | 2018-2019 |
| Forecast Period | 2021-2028 |
| Study Period | 2018-2028 |
| Forecast Unit | Value (USD) |
| Revenue forecast in 2028 | USD 997.5 billion |
| Growth Rate | CAGR of 14% during 2021-2028 |
| Segment Covered | Type, End-Use, Regions |
| Regions Covered | North America, Europe, Asia Pacific, Middle East and Africa, South America |
| Key Players Profiled | General Electric, Innergex, Tata Power, Xcel Energy, Geronimo Energy, Enel Spa, EDF, Invenergy, Vestas Wind Systems A/S, ACCIONA, UpWind Solutions, Sinovel Wind Group and Senvion. |
Key Segments of the Global Green Energy Market
Type Overview, 2018-2028 (USD Billion)
Hydroelectric Power
Bioenergy
Wind Power
Solar Energy
Geothermal Energy
End-Use Overview, 2018-2028 (USD Billion)
Residential
Commercial
Industrial
Others
Regional Overview, 2018-2028 (USD Billion)
North America
Europe
Germany
UK
France
Rest of Europe
Asia Pacific
China
Japan
India
Rest of Asia-Pacific
South America
Brazil
Mexico
Rest of South America
Middle East and Africa
Reasons for the study
Purpose of the study is to conduct an all-inclusive evaluation providing an exhaustive and reliable outlook of the global green energy market providing inquisitive market participants with an edge against the market.
Help market players introduce elaborate action plans to ensure smooth slide into the competitive landscape aligning with established player performance.
What does the report include?
The study on the global green energy market covers an in-depth evaluation of integral qualitative aspects determining the key trends, drivers, restrains, and opportunities.
The study includes a compartmentalized competitive landscape analysis determining the key existing market players along with the prospective players with a detailed understanding of specific initiatives for product development.
The study broadly encompasses a qualitative as well as quantitative approach over the market segmentation driven by the type, end user, and regions.
Market sizes, share, and forecasts for all the segments mentioned have been accurately evaluated.
Who should buy this report?
The report on the global green energy market is suitable for a broad range of market participants including vendors, service providers, distributors, and technology experts or engineers.
Public as well as private entities along with venture capitalists and investors looking for business and economic insights of the global green energy market.
Consultants, researchers, engineers, and analysts seeking for thorough understanding of the status and key insights restructuring the global green energy market.
Rapidly escalating climatic adversities and increasing amount of greenhouse gases emissions consisting of hazardous gases damaging the ecosystems are anticipated to accelerate the demand for green energy. Last decade has witnessed a gigantic surge in emission of carbon dioxide and methane, two of the most harmful and predominant greenhouse gases that are effectively disrupting the normal life cycle within an environment affecting every single living component. Rapid industrial development and urbanization have exceeded the demands for power and energy which is typically sourced from fossil fuel. With growing environmental awareness, the focus is largely turned towards renewables thereby driving the green energy market over the forecast period.
Constant developments in technologies coupled with extending government funding are factors boosting the clean energy market growth throughout the forecast years. With increasing involvement of external private and public entities the renewable energy sector is proposing lucrative growth opportunities over the pre-determined forecast years. As government regulations are more environmentally focused the stringency for energy companies is strengthening by the day. Deploying regulations associated with climate change consideration in production systems and resources is witnessing mass scale adoption.
Type Segment
Based on the type of green energy, the market is fragmented into bioenergy, wind energy, solar energy, hydroelectric power, and geothermal energy. Hydroelectric power segment has dominated the market in the past and is projected to offer lucrative growth and dominate the market over the forecast period. Hydroelectric power is gaining importance for its efficient energy service in times of electricity outages along with capabilities in flood control. Further, the solar energy segment is estimated to gather highest growth rate through the forecast years Hydropower accounts for 17% of total electricity produced, with China spearheading the production of hydroelectricity followed by Canada, Brazil, and the U.S.
End-Use Segment
In terms of end-use, the market is bifurcated into commercial, industrial, residential, and others. Industrial segment accounts for majority of market share with maximum energy production and utilization done by the industrial sector. With increasing energy demand and government regulations compelling use of clean energy, industrial use of green energy is expected to account for highest market share over the forecast years with substantial growth. Commercial and residential segment is also anticipated to grow at a sustainable rate.
Asia Pacific has largely dominated the global green energy market and is likely to continue with its leading position in the market space. China is the largest producer of renewable energy besides having enormous deployment capacities. The country's renewable energy sources include solar, hydropower, and wind power. India is another significant member of APAC driving the region's growth over the forecast timeframe owing to the surging power demand aligned with the significantly expanding economy and thus the country has emerged as the third largest global power consumer.
Developments such as the recently undersigned agreement between India and the US to launch India-US Climate and Clean Energy Agenda 2030 Partnership to collectively adhere to the Paris Agreement is a significant indicator of APAC's dominance in the green energy market. Globally, countries such as China, India, the U.S. and Italy are considered as the primary regions with a flourished wind renewable energy sector. Biofuels are highly predominant across regions of North America and Europe. North American countries such as Brazil and the U.S. majorly produce bioethanol whereas European countries France and Germany are inclined towards biodiesel production.