The global fusion biopsy market was valued at USD 432.2 million in 2020 and is projected to grow at a CAGR of 11.1% during the forecast period. Factors driving the growth of the fusion biopsy market include growing incidence of prostate cancer, high specificity of fusion biopsy, and increasing acceptance of multiparametric MRI in prostate cancer care.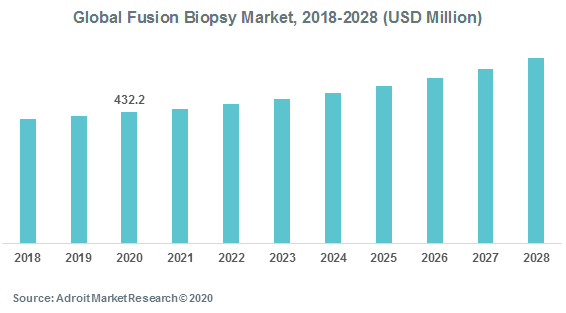 The diagnosis of prostate cancer by prostate biopsy demands a trade between acceptable specificity and sensitivity and patient morbidity. Emerging technologies and techniques are available with comparable results. As targeting techniques continue to improve, the detection of clinically significant prostate cancer will improve whilst decreasing the detection of insignificant disease and patient morbidity.
The global fusion biopsy market is segmented based on biopsy route and end-use. On the basis of biopsy route, the market is segmented into transrectal, and transperineal. The transperineal fusion biopsy is anticipated to experience the fastest CAGR by 2028. By end-use, the market is segmented into hospital, diagnostic centers and ambulatory care centers. The hospital segment accounted for the largest share of the global fusion biopsy market and is projected to sustain its dominance over the forecast period.
Regionally, North America accounted for the largest market share of the global fusion biopsy market attributable to the increasing R&D expenditure related to prostate cancer care. Leading players of the global fusion biopsy market include MedCom, KOELIS, ESAOTE SPA, Focal Helathcare, UC-Care Medical Systems Ltd., GeoScan Medical among others.
Key segments of the global fusion biopsy market
Biopsy Route Overview, 2018-2028 (USD Million)
Transrectal
Transperineal
End Use Overview, 2018-2028 (USD Million)
Hospitals
Diagnostic Centers
Ambulatory Care Centers
Regional Overview, 2018-2028 (USD Million)
North America
Europe

Germany
United Kingdom
France
Rest of Europe

Asia Pacific

China
Japan
India
Rest of Asia Pacific

Latin America
Middle East & Africa
Reasons for the study
Technological advancements in the field of fusion biopsy
Increasing prevalence of prostate cancer
High sensitivity and specificity of targeted mr/ultrasound fusion biopsy
What does the report include?
The study on the global Fusion biopsy market includes qualitative factors such as drivers, restraints and opportunities
The study covers qualitative and quantitative analysis of the market segmented on the basis of biopsy route and end-use. Moreover, the study provides similar information for the key geographies.
Actual market sizes and forecasts have been provided for all the above-mentioned segments
The study includes the profiles of key players in the market with a significant global and/or regional presence
Who should buy this report?
The report on the global fusion biopsy market is suitable for all the players across the value chain including product manufacturing companies, suppliers/distributors, R&D labs, CROs, healthcare organizations, medical reimbursement and insurance providers
Venture capitalists and investors looking for more information on the future outlook of the global fusion biopsy market
Consultants, analysts, researchers, and academicians looking for insights shaping the global fusion biopsy market
Frequently Asked Questions (FAQ) :
The market value of fusion biopsy market in 2028 was USD 1,001.2 Million.
The major contenders in the global market MedCom, KOELIS, ESAOTE SPA, Focal Helathcare, UC-Care Medical Systems Ltd., GeoScan Medical among others.
To get latest version of fusion biopsy market report can be obtained on demand from the website.
Two major revolutions have changed cancer treatment paradigms in the past few years: targeting actionable alterations in oncogene-driven cancers and immuno-oncology. Important challenges are still ongoing in both fields of cancer therapy. On the one hand, druggable genomic alterations are diverse and represent only small subsets of patients in certain tumor types, which limits testing their clinical impact in biomarker-driven clinical trials. Next-generation sequencing technologies are increasingly being implemented for molecular prescreening in clinical research, but issues regarding clinical interpretation of large genomic data make their wide clinical use difficult.
Prostate cancer is the most common non-skin cancer in America; 1 in 6 men will be diagnosed with prostate cancer. And the older you are, the more likely you are to be diagnosed with prostate cancer. Although only 1 in 10,000 under age 40 will be diagnosed, the rate shoots up to 1 in 39 for ages 40 to 59, and 1 in 14 for ages 60 to 69. In fact, about 65% of all prostate cancers are diagnosed in men over the age of 65. But the roles of race and family history are important as well. Although genetics might play a role in deciding why one man might be at higher risk than another, social and environmental factors, particularly diet and lifestyle, likely have an effect as well. The exact relationship between obesity and prostate cancer remains unclear, but there is no doubt that obesity can have a negative effect on outcomes.
On the basis of biopsy route, the transrectal segment accounted for the largest revenue share, while transperineal fusion biopsy is set to grow at the fastest CAGR.
As the second most diagnosed cancer worldwide, prostate cancer is confirmed via tissue biopsy. Given the large number of prostate biopsies performed each year, the technique should be as accurate and safe as possible for the patient's well-being. Tissue biopsy can be obtained using either transrectal ultrasound guided biopsy (TRUS-biopsy) or transperineal prostate biopsy (TPP-biopsy). TRUS-biopsy is the most commonly offered worldwide as it can be performed in a clinic setting with local anaesthesia. TPP-biopsy is typically a day procedure often requiring general anaesthesia. TPP biopsy was first described in the 1970s but has recently become more widely adopted as it has shown to be superior in sensitivity especially in detecting anterior cancers, as well as having a lower rate of sepsis compared to TRUS-biopsies. Due to the indolent nature of insignificant (low risk) forms of prostate cancer and morbidity associated with treatment, avoiding the diagnosis of clinically insignificant disease is of increasing importance. The optimal prostate biopsy technique should aim to have a high detection rate of clinically significant PCa whilst also having a low detection rate of insignificant PCa. Given the high number of prostate biopsies performed each year, biopsy must be accessible, time-efficient and cost-effective to ensure feasibility for patients and health care systems.
North America dominated the market for fusion biopsy in 2020, which is closely followed by Europe. However, Asia Pacific is anticipated to witness a highest CAGR.
Prostate cancer is the fourth most common cancer overall and the second most common cancer in men. Worldwide, there are estimated to have been 1.1 million men diagnosed with prostate cancer (accounting for 15% of all incident cancer cases in men), with almost 70% of the cases occurring in more developed regions. Prostate cancer incidence varies by a factor of more than 25 worldwide; the rates are highest in Australia/New Zealand and North America and in western and northern Europe, because the practice of prostate specific antigen (PSA) testing and subsequent biopsy has become widespread in those regions. Incidence rates are also relatively high in certain less developed regions, such as the Caribbean, southern Africa and South America but remain low in Asian populations. Its incidence shows arise in India. It is the second leading site of cancer in Indian cities like Delhi, Kolkata and Pune. It is the 3 leading site in cities like Mumbai and Bangalore. In India, it has an incidence rate of 3.9 per 1,00,000 men and is responsible for 9% of cancer related mortality.