Fuel cells are devices that generate energy by a chemical reaction within them, and they are predicted to gain in popularity in the future years.
Covid-19 Impact & Market Status
Business models are being thoroughly revised to align with current business dynamics and appropriately address all the challenges that have sprung amidst the ongoing Covid-19 pandemic and its associated implications. Market players in the global fuel cell market are aggressively targeting new opportunities to emerge from the pandemic inflicted growth downturn and reverse the financial vulnerabilities.
New working models that have emerged are being promoted and adopted by market veterans to unravel new growth possibilities. New market participants are also steadily coining ways to sustain tremendous competition. The impact of the outbreak on global supply chains will have an influence on hydrogen-based technologies, which require a well-coordinated supply chain and a large amount of cash to demonstrate.
The COVID-19 epidemic has impacted current hydrogen consumption from oil refining, steel manufacturing, and the chemicals sector, according to the IEA. According to the International Energy Agency, gasoline consumption will fall by 9%, diesel by 6%, and jet fuel by 26% by 2020, while demand for critical hydrogen-based chemicals (such as methanol) would fall by 7%. Sales of hydrogen-based fuel-cell vehicles increased in 2019, and it was predicted that early 2020 would set a new sales record.
Type Segment
The proton exchange membrane fuel cell (PEMFC) is projected to be the most important contributor to fuel cell technology advancements. Proton Exchange Membrane Fuel Cell (PEMFC), Phosphoric Acid Fuel Cell (PAFC), Alkaline Fuel Cell (AFC), and Microbial Fuel Cell are the four types of fuel cells used in the global market (MFC). In 2019, the Proton Exchange Membrane Fuel Cell (PEMFC) accounted for the majority of fuel cell technical advancements.
Application Segment
The market for improvements in market is divided into three categories: transportation, portable, and stationary applications. The transport segment of the advances in fuel cell technology market is expected to grow significantly due to the widespread use of fuel cell technology in heavy-duty operations such as public transportation in regions such as Asia Pacific, which is expected to boost demand for the transport segment of the market during the forecast period.
Fuel cell vehicles are predicted to be the most rapidly developing end-user segment.
Fuel cell cars, utilities, and military are the three end-user categories for the industry's advancements in fuel cell technology. The growing need to reduce carbon emissions has created a great opportunity for fuel cell-powered automobiles, which is projected to expand the market for fuel cell technology.
During the projection period, Asia Pacific is expected to account for the greatest market share.
The market has been studied for four regions in this report: Asia Pacific, North America, Europe, and the Rest of the World (RoW). From 2020 to 2025, Asia Pacific is predicted to be the largest market, with a high need for developments in fuel cell technology due to the region's expanding use of fuel cell-powered automobiles. Furthermore, the region's fuel cell technology industry is likely to benefit from increased power generation from cleaner energy sources.
Fuel cells produce heat and water while generating electricity from fuels such as methanol and natural gas. The type of fuel required for operations is determined not only by the membrane type, but also by the catalyst type utilised in the fuel cell. Some proton-exchange membrane (PEM) fuel cells require pure hydrogen to operate, while others are fuel-flexible, allowing users to operate them more easily. Phosphoric acid fuel cells (PAFCs), solid oxide fuel cells (SOFCs), alkaline fuel cells (AFCs), and direct methanol fuel cells (DMFCs) are examples of fuel cells that can function without pure hydrogen.
The worldwide fuel cell market has a lot of room for expansion. Although the market is mature, its contribution to the global market is predicted to grow significantly during the next six years.
The influence of these forces is projected to grow dramatically as the benefits of the fuel cell become more widely known. The high cost of the catalyst, which boosts the cost of the fuel cell, and the absence of fuel cell infrastructure are two of the industry's and market's constraints. The cost of a fuel cell is likely to drop in the future years as technology advances.
This is owing to the fuel cell's competitive benefits over other technologies, such as increased efficiency, environmental friendliness, and longer lifespan. Fuel cells are predicted to become more widely used in transportation in the next years, including as in vehicles and buses.
The worldwide fuel cell market has a lot of room for expansion. Although the market is mature, its contribution to the global market is predicted to grow significantly during the next six years. The high cost of fuel cells is a major stumbling block for their adoption. Recent advances, such as incorporating high-efficiency portable technologies, are more likely to appeal to a wider audience. A slew of new businesses are entering the market with cutting-edge items. In the coming years, emerging technology, such as new types of fuel cells, is projected to boost competitiveness.
In the European market, automotive and portable applications have historically been the primary drivers of the fuel cell. Fuel cells, on the other hand, are gaining traction in the market as their use in industrial activities grows. The Eurozone's economic slowdown has had a significant impact on fuel cell deployment. Furthermore, the medical, military, and energy storage categories are the most niche areas that are projected to contribute to growth.
One of the fuel cell market's driving forces is the growing use of fuel cells in (EV/HEV/PHV) vehicles. The market for electric vehicles is rapidly growing, resulting in a significant demand for fuel cells. Furthermore, rising carbon emissions have ened government interest in the use of electric and plug-in hybrid automobiles.
The need for fuel cells has increased around the world. Excessive CO2, CO, NOx, and SOx emissions from conventional petroleum products and fuels have raised environmental concerns. By minimising reliance on oil, diesel, and other fossil fuels, fuel cells serve as an alternative to conventional and unconventional energy sources.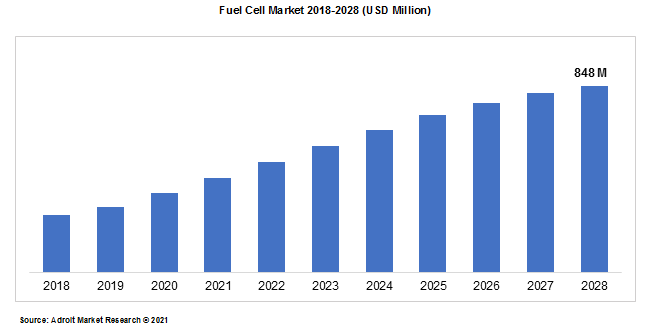 The major players of the global Fuel Cell Market BALLARD POWER SYSTEMS INC., PLUG POWER INC., PROTON POWER SYSTEMS PLC, ITM POWER PLC, AFC Energy Plc, FUEL CELL ENERGY INC., SFC ENERGY, UNITED TECHNOLOGIES, HYDROGENICS, FUJI ELECTRIC INDIA PVT LTD. Due to the growing demand for environmentally friendly automobiles, the transportation market has a high adoption rate of fuel cells. Furthermore, as the government's commitment to reducing carbon emissions grows, the demand for fuel cell automobiles, buses, and trucks grows. The need for stationary fuel cells in buildings, schools, and shopping malls has increased as a result of globalisation.
Latest Innovations in the Global Fuel Cell Market: a Snapshot
Hydrogenics opened a new facility in Carlsbad, California, in October 2018. The facility's primary goal would be to integrate hydrogen fuel cell systems onto heavy-duty truck and bus platforms for California customers. The establishment of this production plant aided Hydrogenics in consolidating its market position in the United States.
Plug Power has added a new product to its hydrogen-based fuel cell line-up. The ProGen 30kW engine is a cost-effective solution for today's electric vehicle (EV) use-case, with high utilisation, prolonged runtimes, and reliable performance in severe settings, as well as quick fueling and zero emissions. Original equipment manufacturers (OEMs) may easily implement sustainable fuel cell electricity thanks to ProGen's industry-leading products.
Fuel cell Market Scope
| | |
| --- | --- |
| Metrics | Details |
| Base Year | 2020 |
| Historic Data | 2018-2019 |
| Forecast Period | 2021-2028 |
| Study Period | 2018-2028 |
| Forecast Unit | Value (USD) |
| Segment Covered | Type, Application, Regions |
| Regions Covered | North America, Europe, Asia Pacific, Middle East and Africa, South America |
| Key Players Profiled | BALLARD POWER SYSTEMS INC., PLUG POWER INC., PROTON POWER SYSTEMS PLC, ITM POWER PLC, AFC Energy Plc, FUEL CELL ENERGY INC., SFC ENERGY, UNITED TECHNOLOGIES, HYDROGENICS, FUJI ELECTRIC INDIA PVT LTD. |
Key Segments of the Global Fuel Cell Market
Type Overview, 2018-2028 (USD Million)
Solid Oxide Fuel Cells,
Proton Exchange Membrane Fuel Cells
Molten Carbonate Fuel Cells
Phosphoric Acid Fuel Cells
others
Application Overview, 2018-2028 (USD Million)
Portable
Stationary
Transport
Regional Overview, 2018-2028 (USD Million)
North America
Europe
Germany
France
UK
Russia
Norway
Rest of Europe
Asia Pacific
China
India
Japan
Taiwan
South Korea
Rest of Asia Pacific
South America
Mexico
Brazil
Rest of South America
Middle East and South Africa
Frequently Asked Questions (FAQ) :
The Fuel Cell Market market is studied from 2021 - 2028.
Key players in this market include Panasonic, Toshiba, Ballard Power Systems, Ceramic Fuel Cells, Ltd., Doosan Fuel Cell America, Hydrogenics Corporation, FuelCell Energy, Inc., Aisin Seiki Co., Ltd., Horizon Fuel Cell Technologies, NUVERA FUEL CELLS, LLC, SFC Energy AG, Bloom Energy, UTC Power Corporation, Nedstack Fuel Cell Technology BV., Plug Power Inc., and Arcola Energy.
The transport segment is projected to account for a significant market share due to the increasing demand for fuel cell-powered heavy-duty vehicles.