The global frozen food market accounted for a market revenue of nearly USD 231 billion in the year 2019 and is projected to further grow at a CAGR of more than 5% over the forecast period. The shelf life of a food can be defined as the time period within which the food is safe to consume and/or has an acceptable quality to consumers. Frozen foods degrade during storage by different modes or processes, much like any other food. Microbes are usually no concern because, when they are exposed to extreme violence above the freezing point at frost levels, they typically cannot grow. The degradation rate and level depend on the composition and the ambient circumstances during storage and distribution. Most food products require various types of refrigeration in order to maintain quality and to extend shelf life throughout the cold chain. Freezing is a way to package food in such a way that it lasts longer before it is actually consumed.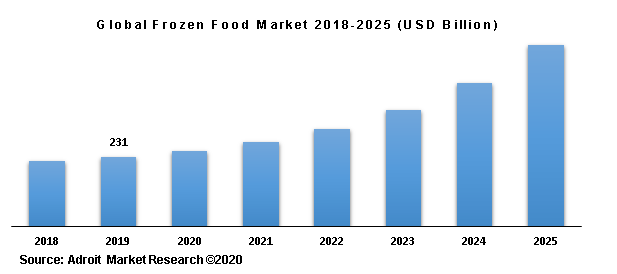 It can also have growing environmental benefits, including contributing to food waste reduction and the opportunity to reuse and use seasonal food throughout the year. Thanks to the current impulse buying phenomenon, the boom in large grocery chains is a significant growing outlet for frozen food products. The frozen food market has recently seen an exponential rise as consumers are shifting their dietary preferences to ready-to-eat food items.
Key segments across frozen food market
Product Overview, 2018-2025, (USD Million)

Fruits & Vegetables
Dairy Products
Bakery Products
Meat & Seafood Products
Convenience Foods & Ready Meals
Others

Type Overview, 2018-2025, (USD Million)

Raw Material
Half-Cooked
Ready-To-Eat

Distribution Overview, 2018-2025, (USD Million)
Regional Overview, 2018-2025, (USD Million)

North America
Europe

Germany
UK
France
Rest of Europe

Asia Pacific

China
India
Japan
Rest of Asia-Pacific

Central & South America
Middle East & Africa
Reasons for the study
The purpose of the study is to give an exhaustive outlook of the global Frozen Food. Benchmark yourself against the rest of the market.
Be prepared for how glass industry investments and Frozen Food will be impacted by socio-political and economic factors over the next few years
Ensure you remain competitive as new innovations by existing key players boost the market.
What does the report include?
The study on the global Frozen Food includes qualitative factors such as drivers, restraints, and opportunities.
The study covers the competitive landscape of existing/prospective players in the industry and their strategic initiatives for the product development
The study covers a qualitative and quantitative analysis of the market segmented on the basis of derivative and application. Moreover, the study provides similar information for the key geographies.
Actual market sizes and forecasts have been provided for all the above-mentioned segments.
Who should buy this report?
This study is suitable for industry participants and stakeholders in the global Frozen Food. The report will benefit:
Every stakeholder involved in manufacturing and distributing components or solutions.
Managers within financial institutions looking to publish recent and forecasted statistics pertaining to the global Frozen Food.
Government organizations, regulatory authorities, policymakers and financial organizations looking for T&D investment trends in global Frozen Food.
Analysts, researchers, educators, strategy managers, and academic institutions looking for insights into the market to determine future strategies.
The world trade in frozen food has gained considerable traction, powered by increased consumption of frozen food in Asia-Pacific and South America's emerging markets. New developments such as packaging and increase in shelf life offer potential opportunities for growth in the frozen food market. Hence, food-businesses are investing in food storage systems where food can be stored for longer periods of time. Retail innovations and advances in the cold-chain technology tend to drive the frozen food market. New and natural food products choice and the need to maintain a constant temperature for frozen food sustainability serve as a key factor restricting the growth of the industry.
In terms of product category, the market is segmented into Fruits & Vegetables, Dairy Products, Bakery Products, Meat & Seafood Products, Convenience Foods & Ready Meals, Others. In terms of food type the market is categorized into Raw Material, Half-Cooked, Ready-To-Eat. Similarly, in terms of distribution channel the market is divided into online and offline.
Frozen fruits and vegetables have been gaining traction since the beginning. These products have been gaining immense traction in India owing to their convenience as they require minimal preparation and culinary expertise to cook. In terms of ranking, frozen vegetable snacks topped the list followed by frozen meat, frozen vegetables,0020and frozen fruit.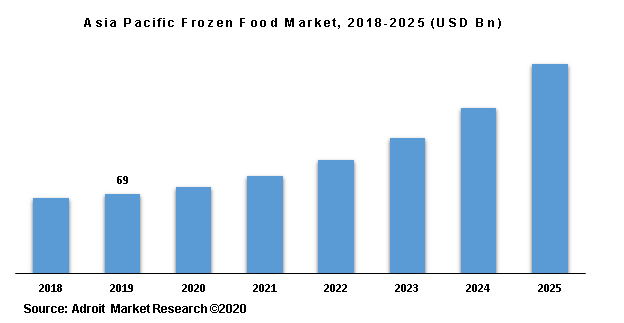 In terms of geography the global frozen food market is categorized into North America, Europe, Asia Pacific, Central & South America, and Middle East & Africa. Asian countries such as India is projected to show immense demand over the forecast period. For instance, recent COVID 19 outbreak that has led to a lockdown, people are preferring frozen food owing to limited supply of fresh vegetables. People has to say that they could store the food for longer and need not have to go out for buying. Convenience is the main criteria for the people when it comes to frozen food because consumers are looking for variety of food options that require minimum time for preparation.
Key players in this market comprise of General Mills Inc., Conagra Brands, Inc. , Grupo Bimbo S.A.B. De C.V. , Nestle SA , Unilever , Kellogg Company , Mccain Foods Limited , The Kraft Heinz Company , Ajinomoto, Vandemoortele Nv , Lantmannen Unibake International