The market size of foam glass is projected to grow from 1,703 kilotons in 2019 to 1,994 kilotons by 2028, approximately at a CAGR of 5.5% during the forecast period. Foam glass is an inorganic, legal substance made from recycled glass by annealing the glass used and adding foaming agents of a molten form. It is used as an offering excellent resistance to high temperatures, humidity, insulating material, corrosion and most chemicals. Foam glass has a higher fire resistance among the insulating materials than other isolating materials. Therefore, such desirable properties make foam glass, among others, an suitable material for use in end-use industries such as building & construction, pharmaceutical, manufacturing, and packaging.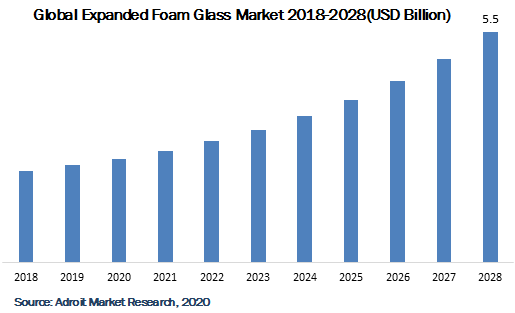 For the forecast period from 2020 to 2028, the foam glass market will experience growth of 5.45 %. Rising environmental regulations are expected to generate new business opportunities. Growing demand for the highest form of industrial insulation is expected to boost growth in the market. . Some of the other factors such as increasing prevalence for fire safety & longer life, growing visibility of foam glasses and high insulation value of foam glass, which will increase the demand for foam glass in the 2020 to 2028 forecast period. In the forecast period listed, high costs of foam glass and a lack of knowledge among the population about foam glass are expected to hinder market growth.
Key Segments of the Global Foam Glass Market
Type Overview, 2018-2028 (USD Million)
Open Cell Foam Glass
Closed Cell Foam Glass
Process Overview, 2018-2028 (USD Million)
End-use industry ] Overview, 2018-2028 (USD Million)
Building & Construction
Industrial
Others
Application Overview, 2018-2028 (USD Million)
Building & Industrial Insulation
Chemical Processing Systems
Consumer Abrasive
Regional Overview, 2018-2028 (USD Million)
North America
Europe
UK
Germany
France
Rest of Europ
Asia Pacific
China
Japan
India
Rest of Asia-Pacifi
Middle East and Africa
UAE
South Africa
Rest of Middle East and Afric
South America
Brazil
Rest of South America
Reasons for the study
The purpose of the study is to give an exhaustive outlook of the global foam glass market. Benchmark yourself against the rest of the market.
Ensure you remain competitive as innovations by existing key players to boost themarket.
What does the report include?
The study on the global foam glass market includes qualitative factors such as drivers, restraints, and opportunities
The study covers the competitive landscape of existing/prospective players in the foam glass industry and their strategic initiatives for the product development
The study covers a qualitative and quantitative analysis of the market segmented based onsolution, service, and industry vertical. Moreover, the study provides similar information for the key geographies.
Actual market sizes and forecasts have been provided for all the above-mentioned segments.
Who should buy this report?
This study is suitable for industry participants and stakeholders in the global foam glass market.The report will benefit:Every stakeholder involved in the field service management market.
Managers within the field service management industry looking to publish recent and forecasted statistics about the global field service management market.
Government organizations, regulatory authorities, policymakers, and organizations looking for investments in trends of global field service management market.
Analysts, researchers, educators, strategy managers, and academic institutions looking for insights into the market to determine future strategies.
Market Synopsis -
Foam glass is a porous glass foam material that offers lightweight, high strength, and excellent acoustic and thermal insulation. Foam glass is manufactured using recycled glass, which makes it an eco-friendly product, adding to its market value, especially in developed countries. Foam glass is used extensively in refineries, shipbuilding, cryogenic, and chemical technologies.
Pricing Analysis
The price of foam glass depends on its application and requirement of end-use, for instance, the price varies according to different of thickness, length, and width of foam glass. Such as foam glass price with (65 Thickness x 100Width x 450Length (mm)) was around USD 159.04 slap whereas (140 Thickness x 215 Width x 450Length (mm)) was around USD 133 per slap. Thus, the foam glass price varies from a range of USD 181.38 to USD 272.07 cubic meter depending on its sizes.
Market USP-
Excellent thermal and acoustic insulation.
Market Drivers-
Increase in manufacturing industries is accelerating the application of foam glass in equipment's and machines
Growing demand for use in commercial infrastructure, especially in developing nations
Supporting government regulation and Long service life of foam glass
Market Restraints -
High installation cost of foam glass is high owing to its fragile nature
By Type
Open-cell: Open cell foam glass commands a smaller market share due to its niche applicability. Open-cell foam glass is used primarily as an excellent acoustic dampener and is noncombustible. It is also be recycled indefinitely. It is very fragile and has high porosity, which limits its applications. Open-cell foam glass is usually made by treating closed-cell foam glass, a fact which ensures that this segment will always be smaller than the closed-cell segment.
Closed-cell: This is the largest market within the segment and is used extensively for heat insulation and sound insulation. It is also moisture-proof. The use of closed-cell foam glass in heating ducts reduces heat loss by approximately 25%.
By End-Use
Industrial: The fastest-growing segment within this market, industries benefit from the use of foam glass to prevent heat dampening, chemical corrosion and ensure deep cooling. Primarily the petroleum industry and the chemical industry find utility for foam glass. It is also used to dampen the sound of heavy machinery although it is somewhat susceptible to vibrations.
Building & Infrastructure: A large segment within this market, foam glass is used to provide heat and sound insulation in buildings. It has a very long service life, though installation is a little tricky due to foam glass's fragility, when compared to its alternatives.
Europe has the largest share of the global foam glass industry, and the market domination over the expected period is predicted to continue. We expect Europeans like Norway , Sweden and Germany to take the lead in the region's foam glass industry. The the demand for environmentally friendly insulating materials across various end-use industries is expected to stimulate growth on the regional foam glass market. Europe held the largest share of the foam glass market and it is predicted that this trend will continue over the forecast period.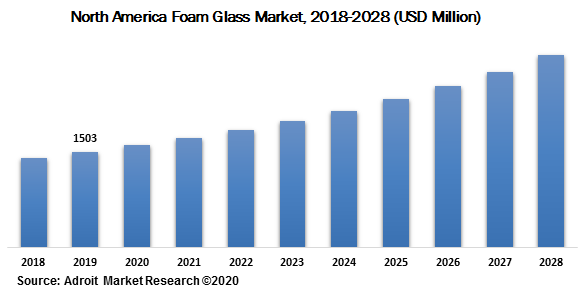 The leading Foam glass manufacturers are Owens UUSIOAINES OY, Glapor , MISAPOR (Switzerland), Polydros S.A, Refaglass, Zhejiang Zhenshen Insulation Technology Corp., Earthstone international, and Anhui Huichang New Material Co., Ltd..These players adopted key growth strategies from 2014 to 2019, which helped them increase their capacities and cater to the widening customer base. Owens Corning (US) is one of the market leaders on foam glass. The company is involved in the production of foam glass and is also the producer of the same. The company has broad geographic reach covering APAC, Middle East & Africa, North America , and Europe.