Fluoropolymers are used in almost every part of the chemical industry, where the most common applications range from reactor receptacles and storage tanks to valves, pump fittings and seals to tube and other components are corrosive chemicals, solvents, high temperatures and pressures in combination to the manufacture of required PTFE (Teflon) products. Due to its improved impact ability, FEP is used to bandage chemical conduits, fittings, and storage tanks.
The global fluoropolymer coating market revenue is expected to generate a revenue of USD 2.1 billion by 2028. This can be attributed to the increasing need to keep track of field activities. In addition, increasing infrastructure spending, particularly in emerging markets of Asia Pacific and Latin America has been driving the global construction industry.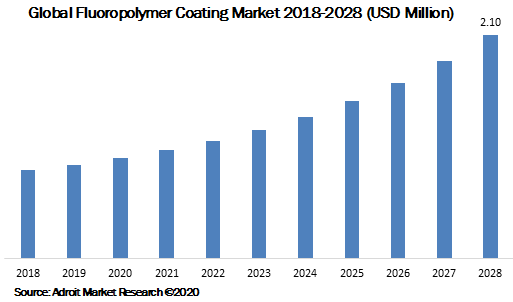 However, growing demand from various application markets, such as automotive, construction, furniture, and other industrial applications, is expected to drive the fluoropolymer coatings demand.
Key Segments of the Global Fluoropolymer Coating Market
Resin Overview, 2018-2028 (USD Million) (Kilo Tons)
Polyvinyl Fluoride (PVF)
Polytetrafluoroethylene (PTFE)
Fluorinated Ethylene Propylene (FEP)
Ethylene Tetrafluoroethylene (ETFE)
Perfluoroalkoxy Alkanes (PFA)
Others
End-user Overview, 2018-2028 (USD Million) (Kilo Tons)
Building and Construction
Automotive
Aerospace
Electrical
Food Processing
Others
Regional Overview, 2018-2028 (USD Million) (Kilo Tons)
North America
Europe
UK
Germany
France
Rest of Europ
Asia Pacific
China
Japan
India
Rest of Asia-Pacifi
Middle East and Africa
UAE
South Africa
Rest of Middle East and Afric
South America
Brazil
Rest of South America
Reasons for the study
The purpose of the study is to give an exhaustive outlook of the global Fluoropolymer Coating Market. Benchmark yourself against the rest of the market.
Ensure you remain competitive as innovations by existing key players to boost the market
What does the report include?
The study on the global Fluoropolymer Coating Market includes qualitative factors such as drivers, restraints, and opportunities
The study covers the competitive landscape of existing/prospective players in the fluoropolymers coatings industry and their strategic initiatives for the product development
The study covers a qualitative and quantitative analysis of the market segmented based on formulation, type, application. Moreover, the study provides similar information for the key geographies.
Actual market sizes and forecasts have been provided for all the above-mentioned segments.
Who should buy this report?
This study is suitable for industry participants and stakeholders in the global fluoropolymers coatings market. The report will benefit: Every stakeholder involved in the Fluoropolymer Coating Market.
Managers within the fluoropolymers coatings industry looking to publish recent and forecasted statistics about the global fluoropolymers coatings market.
Government organizations, regulatory authorities, policymakers, and organizations looking for investments in trends of global fluoropolymers coatings market.
Analysts, researchers, educators, strategy managers, and academic institutions looking for insights into the market to determine future strategies.
In a range of industrial, commercial, and domestic applications, fluoropolymers are found to be useful. Fluoropolymers have become the chosen substrate for many specialist applications due to the primary characteristics of inert hardness, water, and resistance to staining, high resilience, and improved optical and electronic characteristics. With PTFE still at the forefront of development and use, fluoroplastics dominated the fluoropolymer industry. At a constant growth rate of 5–8 percent per year, the fluoropolymer market is growing. More demand would place pressure on the availability of raw materials (for example fluorspar), which will trigger more competition with the global steel, aluminum, and fertilizer industries.
In-cabin interiors, structural parts, wheels, and fan blades are commonly used in aerospace as well as in the automotive pistons, fuel pumps, gearboxes, and in health equipment such as bone prosthetics. These large applications are the key drivers that increase the global demand for fluoropolymers. This increases the use of fluoropolymers worldwide.
Resin Segment
The demand for coatings for global fluoropolymers has been segmented based on the product, and end-user. Fluoropolymer coatings can be further graded into polytetrafluoroethylene, fluorinated ethylene propylene, and polyvinylidene fluoride. These sub-categories show high resistance to corrosion, chemical inertness, and high temperatures, which in turn will give tremendous opportunities to the market participants and increase the global market growth. The price of high fluoropolymer coating coatings is a major market challenge. Fluoropolymer coating additive costs are a significant concern for the price of volatile raw materials. It is anticipated that this pattern would negatively affect their demand.
End-user Segment
The global fluoropolymers coatings market has been segmented based on the end-user segment Because of its chemical and physical properties, fluoropolymers are used in the pharmaceutical, electrical, mechanical, manufacturing, architectural, and automotive sectors. In-cabin interior, structural parts, wheels, fan blades as well as auto pistons, fuel pumps, gearboxes, medical equipment for bone prosthesis, and food processing equipment. Fluoropolymer coatings are widely utilized in aerospace as well. The major driving factors for the global fluoropolymer coating market are these broad applications.
Asia Pacific, due to the rising demand from emerging economies, including China and India, is expected to be the biggest regional market for the next six years. Building industry growth is a major driver of Asia Pacific market demand development in China and India.
The growing production of automobiles is expected to further increase the demand for fluoropolymer coatings in China, India, Japan, and Korea. The projected growth of the fluoropolymer coating coatings in the furniture and paint and coating industries in North America and Europe is expected to continue over the forecast period. Over the forecast era, the Middle East is expected to show substantial growth.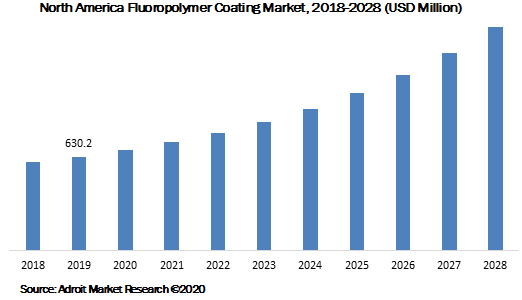 North America is likely to grow in the expanding production base for the car, building, and electronic industries in the US. In the near future, Mexico will promote the development of automobiles and the increasing demand for PVDF. Wire and cable insulation piezoelectric material. Growth in the lucrative building sector is expected to support positive growth in African countries like Nigeria and South Africa, as a result of regulatory support for infrastructure and mining improvement in the next few months.