The global flat steel market was valued at >USD 420 billion in 2019 and is expected to grow by more than CAGR 4% over the forecast period. Increasing adoption in building & construction, automotive, and mechanical equipment is expected to drive the flat steel market over the forecast period. Iron and steel industries are seen as the backbone of the economy depicting the nation's success and growth. It is the most commonly used material and recyclable on earth. The economic growth of emerging nations greatly depends on industrialization. In developing economies, rapid industrialization is likely to encourage an increase in demand from many consumer products.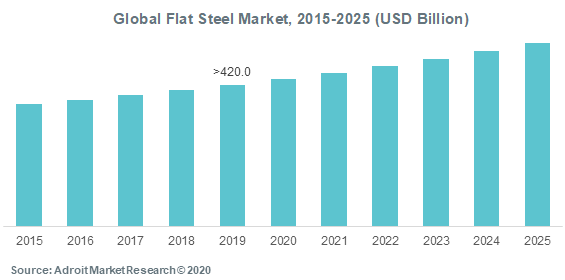 Rising population, increasing infrastructure development, and improving disposable income of middle-class families in developing countries like India, China, Southeast Asia, and Brazil are expected to be the industry's main market driver. More than 25.0% of the overall investment in infrastructure has been made in India since 2016. Increasing building investment in developed and developing nations would also open up new opportunities for the flat steel industry.
Iron ore prices are very unpredictable due to the substitution of an annual benchmark pricing system with a quarterly pricing system. Under such a pricing mechanism, producers of raw materials aimed at receiving maximum benefits from the upper spot prices of raw materials rather than being constrained by annual contracts that are supposed to curb demand growth. Raw materials prices are largely dependent on the major companies operating on the flat steel market, which is likely to impact the manufacturing cycle in the years to come.
Key segments of the global flat steel market
End-Use Overview, 2015-2025 (Million Tons) (USD Billion)
Mechanical Equipment
Automotive
Building & Infrastructure
Others
Material Overview, 2015-2025 (Million Tons) (USD Billion)
Carbon Steel
Alloy Steel
Stainless Steel
Tool Steel
Product Overview, 2015-2025 (Million Tons) (USD Billion)
Regional Overview, 2015-2025 (Million Tons) (USD Billion)
North America
Europe

Germany
UK
France
Rest of Europe

Asia Pacific

China
Japan
India
Rest of Asia Pacific

Central & South America

Brazil
Rest of Central & South America

Middle East & Africa

GCC
Rest of Middle East & Africa
Reasons for the study
Increasing urbanization and infrastructure development in developing economies
Rising construction activities all around the world
Rising vehicle demand for developing economies
What does the report include?
The study on the global flat steel market includes analysis of qualitative market indicators such as drivers, restraints, challenges and opportunities
Additionally, the market competition has been evaluated using the Porter's five forces analysis
The study covers qualitative and quantitative analysis of the market segmented on the basis of

end-use and product

. Moreover, the study provides similar information for the key geographies.
Actual market sizes and forecasts have been provided for all the considered segments
The study includes the profiles of key players in the market with a significant global and/or regional presence
Who should buy this report?
The report on the global flat steel market is suitable for all the players across the value chain including raw material suppliers, flat steel manufacturers, distributors, suppliers and retailers
Venture capitalists and investors looking for more information on the future outlook of the global flat steel market
Consultants, analysts, researchers, and academicians looking for insights shaping the global flat steel market
The global flat steel market is highly competitive in nature as a large number of well-established companies are operating in developed as well as developing countries. Some prominent companies are ArcelorMittal, United States Steel Corporation, Nippon Steel & Sumitomo Metal Corporation, Tata Steel, POSCO, China Baowu Steel Group Corporation Limited, Shagang Group, Shougang Group Co. Ltd., Ansteel Group Corporation Limited, SSAB AB, JFE Steel Corporation, and Thyssenkrupp AG.
The flat steel market concentration ratio is high as well-established manufacturers dominated the overall market. Capital intensive industry followed by high brand recognition of multinational companies is expected to make difficult for new companies to enter the industry. However, increasing demand for construction, automotive, and industrial equipment are expected to encourage new companies to enter into raw material manufacturing. The well-established manufacturers operating in this industry are adopting mergers & acquisitions, capacity expansion, and partnership strategies to sustain in a competitive environment and increase their market concentration.
In December 2019, ArcelorMittal, a Luxembourg based multinational steel manufacturing company acquired Essar Steel India Limited, an Indian carbon steel manufacturer. This strategic acquisition is expected to increase ArcelorMittal's presence in Indian market. Additionally, HBIS Group Co Ltd, a Chinese iron and steel manufacturer, announced in Dec 2019 that it will partner with POSCO, a South Korean steel mining company to produce, manufacture and sell high-end steel products for the Chinese automotive industry, with the goal of capturing opportunities in the automotive sector in the region.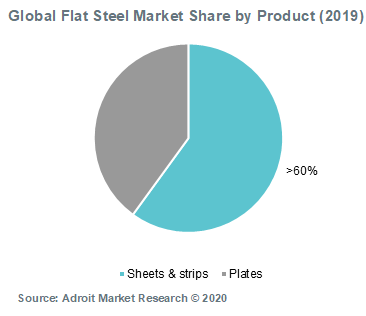 By product, the flat steel market is categorized as sheets & strips and plates. In 2019, sheets & strips accounted for > 60% of the global flat steel market. This can be made solely based on the design of the specification from various types of materials like tool steel, alloy steel, stainless steel, and carbon steel. Because of its advantages such as corrosion-resistant, strong adhesive & welding properties and lightweight, these are used in industrial applications, construction, and transport industries. Both hot rolled and cold rolled sheets, sheets are divided into two groups. Cold-rolled sheets are ideally suited for electrical and automotive equipment due to broader workable ranges, from general to industrial applications. The carbon sheet is used in various applications in the system structure such as automotive clutch parts, chain parts, automotive seat belt parts, automotive AT parts, and sprocket gears.
Steel plates are more than 3/16-inch thick and are manufactured on either coiled plate mill or separate plate mill. For particular applications such as mining and logging equipment, special plates like high strength, heat-treated, and low-alloy plates are made.
Steel plates accounted for the largest growth rate over the coming years. Because of its properties such as seawater resistant, atmospheric corrosion resistant, abrasion resistant and high tensile strength, plates are used in applications including shipbuilding, storage tanks, hydroelectric power station, building & construction, bridges, boiler & pressure vessels, offshore structure, and industrial machinery.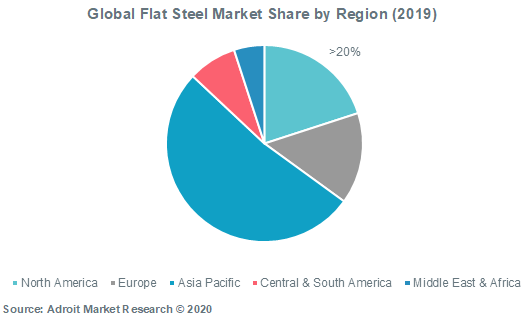 The North American flat steel industry accounted for over 20% of the global market share in 2019. The building and construction industry is expected to expand in North America because of large investment opportunities in the US and Canada. In addition to building & renovation, growing investment in the automotive industry will in the coming years present new avenues for the flat steel industry in North America. Increasing demand for flat goods is expected to drive consumer demand due to rising industries such as construction, automobile, transport and machinery industries in developed countries like Germany, the UK, and France. Germany's flat products export volume in 2018 amounted to more than 13.0 million metric tons, which is more than 50.0 percent of the country's overall exports of steel.
Europe's industrial outlook remains dominated by continuing macroeconomic uncertainties. While Europe has seen economic imbalances in the last few years, it is expected that the situation will improve in the coming years. In Germany, various businesses have made long-term investments in inland waterways and railway networks. These investments are expected to increase demand in the market over the forecast period. Asia Pacific is the fastest-growing flat-product market. Countries like China, India, and Japan are expected to see high levels of growth due to increasing demand from the large population. Rising automotive demand from Brazil, Argentina, Mexico, Chile, and Colombia is expected to encourage flat steel manufacturers to invest heavily in Central & South American countries to cater to the untapped markets.