The value of the Facial Recognition market is projected to grow to US$ 20.5 Bn with an estimated CAGR of 16.8% by 2031
Summary
Facial recognition is the procedure of verifying or identifying an individual by their face. It captures, compares, and analyzes patterns through the person's facial particulars. The facial recognition process is an important step as it locates and detects human faces in videos as well as images. The face capture process transmutes the analog information into a set of digital data depending on the person's facial structures. The face match procedure validates if two faces fit in with the same person.
The facial recognition software identifies over 80 nodal points on a human face which are considered as endpoints to measure variables of an individual's face, such as the width or length of the nose, the shape of the cheekbones, and depth of the eye sockets. The system functions by capturing information for the nodal points on a digital image of a human's face and storing the subsequent data as a faceprint. It is then used as a basis for comparison with the data captured from faces in a video or image. Although the facial recognition system uses only 80 nodal points, it can accurately and quickly identify target persons when the circumstances are favorable. On the other hand, if the subject's face is partly obscured or in profile rather than facing forward, this type of technology is less reliable.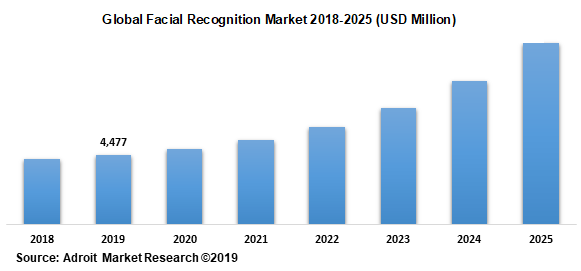 In the Chinese region of Hainan, about 50 hotels have been incorporated with check-in comprising credit authorization. The facial recognition substitutes the traditional human concierge as guests are validated through IT specialist Shiji and China's Public Security Bureau. With the help of facial authorization, the entire procedure of onboarding and check-in requires only 30 seconds right from arrival into the room card issuance, along with the payment authorization. This can be implemented in all hotels and enable decrease wait time for visitors thereby giving hotel staff more time to assist guests.
Key Segments of the Global Facial Recognition Market
Technology Overview, 2018-2025 (USD Million)
2D Facial Recognition

3D Facial Recognition

Facial Analytics Recognition
Application Overview, 2018-2025 (USD Million)
Law enforcement

Emotion recognition

Attendance tracking and monitoring

Access control

Others
End-User Overview, 2018-2025 (USD Million)
BFSI

Media & Entertainment

Telecom & IT

Government and Defense

Healthcare

Retail and e-Commerce

Others
Regional Overview, 2018-2025 (USD Million)
North America

Europe

France

UK

Germany

Rest of Europe

Asia Pacific

China

India

Japan

Singapore

Rest of APAC

Central and South America

Brazil

Argentina

Mexico

Rest of South America
Reasons for the study
The purpose of the study is to give an exhaustive outlook of the global facial recognition market. Benchmark yourself against the rest of the market.

Be prepared for how research & development (R&D) investments and facial recognition market will be impacted by socio-political and economic factors over the next few years

Ensure you remain competitive as new innovations by existing key players boost the market.
What does the report include?
The study on the global facial recognition market includes qualitative factors such as drivers, restraints, and opportunities

The study covers the competitive landscape of existing/prospective players in the facial recognition industry and their strategic initiatives for the product development

The study covers a qualitative and quantitative analysis of the market segmented on the basis of type and end-user. Moreover, the study provides similar information for the key geographies.

Actual market sizes and forecasts have been provided for all the above-mentioned segments.
Who should buy this report?
This study is suitable for industry participants and stakeholders in the global facial recognition market. The report will benefit:
Every stakeholder involved in manufacturing and distributing facial recognition components or solutions.

Managers within financial institutions looking to publish recent and forecasted statistics pertaining to the global facial recognition market.

Government organizations, regulatory authorities, policymakers and financial organizations looking for R&D investment trends in the global facial recognition market.

Analysts, researchers, educators, strategy managers, and academic institutions looking for insights into the market to determine future strategies.
Frequently Asked Questions (FAQ) :
The market value of facial recognition market in 2025 was USD 12 billion.
North America dominated the market for facial recognition market and accounted for the largest revenue share.
The top companies that hold the market share in facial recognition market are NEC Corporation, Aware, Inc., Ayonix Corporation, Cognitec Systems GmbH, Gemalto NV, Animetrics, Daon, Id3 Technologies, Idemia, Innovatrics, Megvii, Neurotechnology, NVISO SA, StereoVision Imaging, Inc., Techno Brain Group & among others.
Acquaintance to the internet has made the user data more open to cybercriminals, making it a worldwide concern to safeguard personal information. Facial recognition enables the use of human features that are distinctive to each individual replacing alpha-numeric passwords as a medium to protect secure and digital possessions. Facial biometrics is progressively being applied to various industries including construction, manufacturing, healthcare, and law enforcement.
Companies such as Apple, Facebook, Google, and Microsoft are investing heavily in their R&D infrastructure along with acquiring promising startups in the areas of image recognition, face analysis, artificial intelligence, machine learning, and more. In 2019, Google, in its annual developer conference introduced "smart display" that comprises facial recognition technology to deliver personalized information to the users, including recommendations of videos & music, messages, and calendar entries. The technology is an upgraded part of a smart speaker that enables a better sound, larger screen, and video calling.
Technology Segment
On the basis of the technology of facial recognition, the market is categorized into 2D facial recognition, 3D facial recognition, and facial analytics recognition. Stationary 3D facial recognition dominated the overall facial recognition market which occupied a 60.88% share in 2019 and is expected to maintain its position over the forecast period 2019 -2025. 3D face recognition systems are capable of precisely recognizing humans faced with variant facial expressions and positions and under dim lights. Using an axis of measurement and depth that is not affected by illumination, 3D face recognition is used in darkness and possesses a capability to identify a subject at various view angles with the prospective to identify up to 90 degrees of a face in profile.
Application Segment
On the basis of applications, this market covers categories like 52-170kV, and >170kVLaw enforcement, emotion recognition, attendance tracking & monitoring, access control, and others. In 2019, the market for facial recognition in the law enforcement segment was valued at 1,716.1 million and is anticipated to grow at a considerable rate over the forecast period.
End-User Segment
On the basis of end-user, this market covers categories like BFSI, media & entertainment, telecom & IT, government & defense, healthcare, retail & e-commerce, and others. In 2019, the government & defense sector was the highest application for facial recognition while the healthcare sector is predicted to adopt the facial recognition solutions with a higher rate.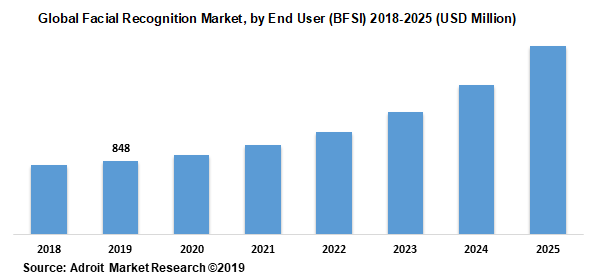 On the geographical front, North America dominated the global facial recognition market in 2019 and is expected to do so over the forecast period 2019 – 2025. The American airport terminals are increasingly moving towards facial recognition technology. The United States Customs & Borders Protection agency has set up over 13 cameras equipped with facial recognition systems to explore different avenues for maintaining security and law enforcement. Subsequently, Orlando International Airport was selected as the first airport terminal in the country to implement the technology that keeps a check on every single global traveler. It requires just 2 seconds to capture the facial image, having a framework of over 99% accuracy.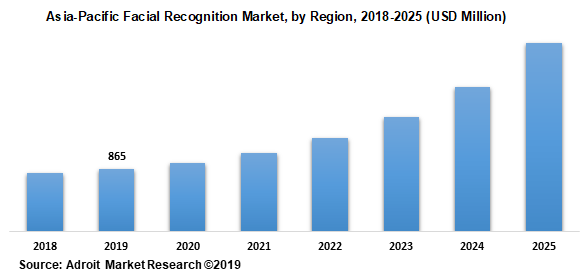 The Asia Pacific market is expected to have the fastest growth with 22.4% CAGR over the forecast period. China leads the overall industry in deploying facial recognition technology. It has over 170 million video surveillance cameras enabled with facial recognition and artificial intelligence in them. The nation is likely to set up an additional 400 million cameras in the next three years to strengthen its law enforcement and security. It has filed about 900 facial recognition patents in the year 2017, compared to 97 patents filed by the United States in the same year.
The major players of the global facial recognition market are NEC Corporation, Aware, Inc., Ayonix Corporation, Cognitec Systems GmbH, Gemalto NV, Animetrics, Daon, Id3 Technologies, Idemia, Innovatrics, Megvii, Neurotechnology, NVISO SA, StereoVision Imaging, Inc., Techno Brain Group, etc. As of 2018, the market for facial recognition providers is fragmented with the presence of established global and domestic players across the globe. Moreover, the established companies are coming up with upgraded versions of facial recognition technologies with digital and automation solutions.