The global face masks market reached approximately USD 7.20 billion in 2020. The demand for facial masks has been growing significantly over the past few years in countries such as China, South Korea, India, Brazil, France and the U.S.
Face masks are a category of skin care products that are used to treat specific skin conditions such as removal of excess oil and skin hydration. Facial masks offer an excellent way to pull out impurities which leads to clear and smooth skin. Face masks are chiefly used for brightening, hydration and deep cleansing of the facial skin. Using natural ingredients such as extracting the active ingredients of plants and applied in the form of cream, clay, peel-off, warm-oil, sheet mask, has made face masks more desirable amongst the millennials, as consumers are looking for more natural products rather the products with more chemicals.
Increasing pollution and unhealthy working hours have driven the adoption of a variety of skincare products across the globe, especially with increasing preferences for facial masks. Millennials prefer to use organic and natural products, as it is free from more usage of chemicals. Growing demand for organic and natural skin care and cosmetic products that claim of offering multiple benefits such as moisturizing, anti-aging and treatment of acne/blemishes is expected to offer a favorable scope for the market growth of facial masks. Moreover, companies are frequently advertising on social networking websites such as Twitter, YouTube, Facebook and Instagram to increase brand awareness and new launches.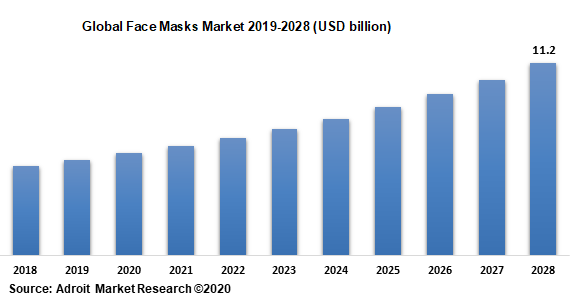 Key Segments of the Global Face Masks Market
Type Overview, 2019-2028 (USD Billion)
Natural ingredient mask
Clay mask
Peel off Mask
Sheet Mask
Cream Mask
Warm Oil Mask
Packaging Type Overview, 2019-2028 (USD Billion)
Tubes
Sachets
Containers/Jars
Distribution channel Overview, 2019-2028 (USD Billion)
Specialty stores, Supermarket & Hypermarket
Drug stores & beauty salons
Coatings
Regional Overview, 2019-2028 (USD Billion)
North America
Europe
UK
Germany
France
Rest of Europe
Asia Pacific
China
Japan
India
Rest of Asia-Pacific
Middle East and Africa
UAE
South Africa
Rest of Middle East and Africa
South America
Brazil
Rest of South America
Reasons for the study
The purpose of the study is to give an exhaustive outlook of the global Face Masks market.
Face Masks is widely used for various end uses, owing to their excellent properties and the market is expected to gain traction over the coming years
With the growing personal care uses, there is a rise in the demand for Face Masks which is further expected to have a positive impact on the overall market growth
What does the report include?
The study on the global Face Masks market includes qualitative factors such as drivers, restraints, and opportunities
The study covers the competitive landscape of existing/prospective players in the Face Masks industry and their strategic initiatives for the product development
The study covers a qualitative and quantitative analysis of the market segmented based on Type and End Use. Moreover, the study provides similar information for the key geographies.
Actual market sizes and forecasts have been provided for all the above-mentioned segments.
Who should buy this report?
This study is suitable for industry participants and stakeholders in the global Face Masks market. The report will benefit: Every stakeholder involved in the Face Masks market.
Managers within the Face Masks industry looking to publish recent and forecasted statistics about the global Face Masks market.
Government organizations, regulatory authorities, policymakers, and organizations looking for investments in trends of global Face Masks market.
Analysts, researchers, educators, strategy managers, and academic institutions looking for insights into the market to determine future strategies.
Face masks have progressed significantly among other skincare products, achieving popularity through celebrity endorsements and widespread marketing campaigns on the social media websites. Convenience, affordability and portability are the key parameters that are considered by consumers while buying personal care products. Most of the facial masks formulations or types such as sheet masks and peel off masks suffice these parameters, owing to which these products have been gaining immense popularity in both developed and developing countries.
Based on the skin concerns, a wide variety of facial masks is available in the commercial marketplace. For instance, some of the most preferred product brands for acne prone skin include L'Oréal S.A.'s Pure-Clay Clarify & Smooth Face Mask, Algenist's Prebiotic Balancing Mask promoted under the ALIVE trademark, Caudalie Skin Care's Glycolic Peel mask, and Baxter of California's clay mask containing alpha hydroxy acids AHA.
The Pure-Clay Clarify & Smooth Face Mask offered by L'Oréal S.A.'s helps in absorbing impurities and oil from the skin surface thus reducing acne breakouts on the face. Furthermore, this facial mask is made from a combination of clays such as kaolin, Moroccan lava, and montmorillonit along with lemon extracts. These ingredients help in clarifying and smoothening the texture of the facial skin.
Algenist's Prebiotic Balancing Mask is offered under the "ALIVE" brand name. This skin care product contains prebiotic and probiotic bacteria that helps in balancing the essential bacteria required for skin protection. Caudalie Skin Care's Glycolic Peel mask comprises glycolic acid that helps in removing dead skin and excess oil and reduce enlarged pore sizes of the facial skin. In addition to this, the product contains papaya fruit enzymes that are useful for lightening of pimple marks and spots.
Shift of customer preferences from chemical-based skincare products to their natural ingredients-based counterparts, especially among middle-class income group is considered as another driving factor of the global face masks market. Key players are focusing on enhancing their share in the global industry to sustain the overall market competition. Research and development, mergers & acquisitions, new product launch and promotions, and collaborations are some of the business strategies implemented by top players.
Type Segment
There are different types of face masks available in the market, such as clay mask, natural ingredient mask, peel-off mask, sheet mask, cream mask and warm oil mask. Sheet masks captured a major chunk of the global market in 2018 accounting for over 36% share of the overall facial masks market size, due to the growing inclination towards products that provide hydration and are convenient to use. Sheet masks are face-shaped, usually made from materials such as paper, gels, and fibers. These masks are dipped in serums that target various skin concerns. Furthermore, use of a sheet mask does not require rinsing after its use, thus eliminating the last procedure in face cleaning. This provides convenience to the customer as it is easy to use and consumes less time.
The market demand of face masks varies across each geography. Currently, the global market is growing at a stable pace worldwide, and is mainly driven by the requirement for products treating various facial skin concerns and are easy and convenient to use. Increasing pollution and changing climatic conditions have raised different skin concerns such as acne/blemishes, dullness and brightening/fairness. Acne/Blemishes is the fastest growing skin concern category in the global face masks market, growing with the CAGR of 10.4% from 2019 to 2025.
Packaging plays an important role for promoting face masks. These products are packaged in tubes, sachets and containers. Sachets held the major market share in 2017, in the global face masks market. Online and offline are the key distribution channels of the market. The offline segment is further categorized into specialty stores, supermarket & hypermarket, drug stores and beauty salons. However, online distribution & marketing is expected to be the fastest growing supply mode in the future. More than 45 percent of the population in regions such as North America, Europe and Asia Pacific either shop or use a research tool on the internet before their purchase, which acts as a supporting factor for online distribution.
Implementation of new trends and innovation in the Asia Pacific face masks market is likely to help the region in maintaining its top position worldwide, over the years ahead. This region accounted for the highest revenue share of over 50% in 2018. Presence of a humungous target audience in highly populated countries such as India, China, South Korea, Indonesia, and Japan is expected to provide a favorable futuristic scope for market growth in Asia Pacific. Boom of the beauty industry in the region coupled with significant development of online retail channels is considered to be another important growth driving aspect of the Asia Pacific face masks market.
Rising consumer preference for Korean cosmetics and recovery of the Japanese beauty sector is considered to offer favorable opportunities in the Asia Pacific face masks market over the next couple of years. Korean sheet masks have been the most widely consumed skin care products in the region. Some of the key Korean mask brands include Hera Aqua Recharge Mask, Mamonde Calming Hydro Sleeping Mask, Dr. Jart Ceramidin Mask Box, Erborian Spray-to-Mask Revitalising Face Mask, and Caolion Pore Refining Sheet Mask.
North America and Europe are expected to grow at a steady pace, as a consequence of significant usage of peel off, sheet and clay masks that offer convenience over other alternative skincare products. SK-II, Mary Kay, Burt's Bees, Pixi Skintreats, and Neutrogena are a few of the prominent face mask providers in these regions. Middle & Africa and Central and South America are likely to have an emerging market growth, as consumers in these regions are getting introduced to face masks. Brazil and Africa are likely to have emerging face masks market growth over the forecast period. Bioré Self Mask, Freeman Feeling Beautiful Mask, Environ Focus Care Masque, Elizavecca Bubble Mask, and others.