The global enteral feeding formulas market was valued at USD 5,330.6 million in 2019. Rising burden of chronic diseases such as cancer, cardiovascular diseases, diabetes and COPD (Coronary Obstructive Pulmonary Disorders) worldwide and rising geriatric population has sparked a surge in demand for enteral feeding formulas. The technological advancements in feeding formulas along with rise in premature births worldwide are certain factors that are propelling the growth of the global enteral feeding formulas market.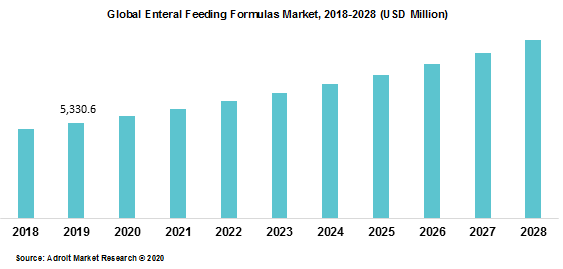 Enteral feeding refers to intake of food via the gastrointestinal (GI) tract. A patient who is unable to swallow or digest a sufficient amount of food, but has adequate functional intestinal ability. It can also be described as the introduction of nutritionally complete liquid formula directly into the gut or stomach with the aid of a narrow, officially designed tube. Enteral feeding is considered when oral intake is not safe for a person or when oral intake is not sufficient to fulfil nutritional requirements. Based on the feeding route, enteral feeding tubes are available in different forms, such as the nasal tube, oral tube and esophagostomy tube. Furthermore, the other quipment used for enteral feeding are syringes, administration reservoir (bottle, feed container, etc.), feeding set, and enteral pump. Enteral feeding formula are classified into a standard (polymeric) formula, elemental and semi-elemental formula, disease-specific formula, blender and modular formula. Uses of enteral feeding include multiple critical conditions, such as liver failure, prolonged anorexia, coma or sensory depression, extreme nutritional protein energy, failure o take oral feeding due to neck or head trauma, and serious metabolic stress-causing diseases (such as burns). Bowel formation for surgery in critically ill or starving patients or in conditions that cause malabsorption (e.g., Crohn's disease) are other indications where enteral feeding is used.
The market growth is primarily driven by the high prevalence rate of chronic disorders. In terms of mortality, morbidity, and healthcare costs, cardiovascular disorders place a tremendous burden. According to CVD statistics published by the World Health Organization (WHO), it is estimated that cardiovascular disorders accounted for 31 percent of total deaths in 2015. CVD statistics also reported that almost one in six deaths were caused by cancer globally. These chronic diseases need a longer stay and recovery time in the hospital. Therefore, patients face difficulties when swallowing food. The patient is given external nutrition via the tube. Increases in chronic disease cases, such as cancer and cardiovascular diseases, are therefore projected to drive market growth over the forecast period.
Key players operating in the global enteral feeding formulas market include Nestle Health Science, Danone Nutricia, Abbott Nutrition, Primus Pharmaceuticals, Inc., Mead Johnson & Company, LLC, Fresenius Kabi AG, Meiji Holdings Co., Ltd., and Victus among others.
Key Segments of the Global Enteral Feeding Formulas Market
Product Type Overview, 2018-2028 (USD Million)
Standard Formula
Disease-Specific Formula
Indication Type Overview, 2018-2028 (USD Million)
Alzheimer's
Nutrition Deficiency
Cancer Care
Diabetes
Chronic Kidney Diseases
Orphan Diseases
Dysphagia
Pain Management
Malabsorption/GI Disorder/Diarrhea
Others
Flow Type Overview, 2018-2028 (USD Million)
Intermittent Feeding Flow
Continuous Feeding Flow
Stage Overview, 2018-2028 (USD Million)
End-Users Overview, 2018-2028 (USD Million)
Hospitals

Cardiology
Neurology
Critical Care (ICU)
Oncology

Home Care
Regional Overview, 2018-2028 (USD Million)
North America
Europe

Germany
United Kingdom
France
Rest of Europe

Asia Pacific

China
Japan
India
Rest of Asia Pacific

Latin America

Brazil
Mexico
Rest of Latin America

Middle East & Afric
Reasons for the study
Increasing prevalence of chronic diseases
Technological advancement in feeding formulas
What does the report include?
The study on the global enteral feeding formulas market includes qualitative insights such as drivers, restraints, challenges and opportunities
Additionally, the market has been evaluated using the Porter's five forces analysis
The study covers qualitative and quantitative analysis of the market segmented on the basis of product type, indication type, flow type, stage and end-users. Moreover, the study on enteral feeding formulas market provides similar information for the key geographies.
Actual market sizes and forecasts have been provided for all the above-mentioned segments
The study includes the profiles of key players operating in the market with a significant global and/or regional presence
Who should buy this report?
The report on the global enteral feeding formulas market is suitable for all the players across the value chain including raw medical material suppliers, Pharmaceutical company, long-term care facilities, neurosurgeon's cancer care, nutrition deficiency, medical device manufacturers, healthcare organizations, distributors, suppliers and wound type geeks
Venture capitalists and investors looking for more information on the future outlook of the global enteral feeding formulas market
Consultants, analysts, researchers, and academicians looking for insights shaping the global enteral feeding formulas market
The need for enteral feeding formulas has significantly increased owing to the increasing number of patients suffering from cancer. According to the World Cancer Research Fund International data report 2018, around 296,851 new cases of brain and central nervous system cancer were diagnosed globally in 2018. The world's high prevalence of cancer puts a high economic burden on countries. The need for improved enteral feeding formulas has also increased. Most tumour-bearing patients suffer from cancer cachexia which causes insulin-resistance, increased lipolysis with body fat loss, increased protein turnover, and loss of muscle mass, resulting in loss of appetite and weight. In addition, cancer treatment in patients causes numerous problems and side effects, including mucositis in the mouth, trouble chewing and swallowing solid foods, altered saliva levels, making swallowing difficult. The provision of nutrition is the cornerstone of improving the health condition of cancer patients, as it becomes very difficult for cancer patients to take food orally, and as the treatment progresses, the nutrition is provided by enteral feeding tubes to help them retain body mass. The incidence and prevalence of cancer are growing, contributing the growth of the demand for enteral feeding formulas during the forecast period.
Another key factor that positively impacts enteral feeding growth is increasing developments in technology and product innovation. In recent times, manufacturers of enteral feeding products have started offering a wide product portfolio of ready-to-use oral dietary supplements, tube feeds, and powder products. The high impact rendering factors for this market growth are expected to be rapid technological developments that help offer texture-modified enteral formula products to meet the individual needs of different patients. This are related to portable pumps, disposable kits, stationary pumps, and accessories for enhanced precision, portability, and cost effectiveness.
Furthermore, due to different age-related changes in body composition and muscle mass, the risk of malnutrition and frailty among the geriatric population with comorbidities, such as stroke, depression, diabetes, and dementia, is much higher. This leads to a diminished ability to perform daily living activities (ADLs), thus raising the risk of injury or fall. Therefore, studying the pathophysiology behind the condition (nutritional deficiency) is significant. According to an NCBI article published in 2018, the prevalence of nutrient deficiency in the geriatric population is almost 15% in ambulatory outpatients, 35% to 65% in hospitalized patients, and 20% to 60% in institutionalized patients. Thus, in the elderly population, healthcare professionals are maximising the choices of Enteral Nutrition (EN), which is expected to fuel the market growth.
The global enteral feeding formulas market has been segmented based on product type, indication type, flow type, stage, end-users and region. Based on product type, the enteral feeding formulas market is segmented into standard formula, and disease-specific formula wherein the standard formula segment dominated the market. Standard formula has wide usage for enteral nutrition and basic clinical nutrition, high commercial availability and increasing investment by major market players. Among volume sensitive patients or patients suffering from congestive heart failure, Syndrome of Inappropriate Diuretic Hormone (SIADH), and renal failure, demand for standard tube feeds are significant demand booster for this segment.
On the basis of indication type, the enteral feeding formulas market is segmented into alzheimer's, nutrition deficiency, cancer care, diabetes, chronic kidney diseases, orphan diseases, dysphagia, pain management, malabsorption/GI disorder/diarrhea, and others. Other indications, followed by cancer care dominated the market in 2019, due to the rising occurrence of malnutrition associated with the weakening of the immune system in critically ill patients. There are fewer serious risks and improved health outcomes in enteral feeding, including a drop in chances of acquired infections, hospital costs, and length of stay. However, an increase in the incidence of neck and head cancer, due to swallowing issues associated with such patients, leads to the increased revenue share in the cancer care segment.
On the basis of flow type, the enteral feeding formulas market is segmented into intermittent feeding flow, and continuous feeding flow. The intermittent feeding flow segment dominated the market due to the fact that, compared to bolus feeding, intermittent feeding registered greater tolerance in patients. In addition, no feeding pumps are needed, which allows for greater mobility between feedings.
Based on stage, the enteral feeding formulas market is segmented into adults and pediatrics. The adults segment dominated the market in 2019 due to the high commercial availability of tube feed among adults and rising adoption. The syringe technique, gravity drip technique, and the pump system can be used for enteral feeding in adults.
On the basis of end-users, the enteral feeding formulas market is segmented into hospitals and home care. Home care segment dominated the market in 2019 owing to the factors contributing to the growth of the segment is a growing number of patients undergoing home enteral feeding due to increased understanding of proper nutrition. Some of the key indicators for growing growth in this segment of the market are the increasing adoption of enteral feeding formulas by home healthcare patients and increasing government intervention to educate the patient population on the use of enteral feeding pumps or systems.
The global enteral feeding formulas market is cumulative to North America, Europe, Asia Pacific, Latin America and Middle East & Africa. North America dominated the global enteral feeding formulas market in 2019, however Latin America is expected to grow at a highest pace through 2028.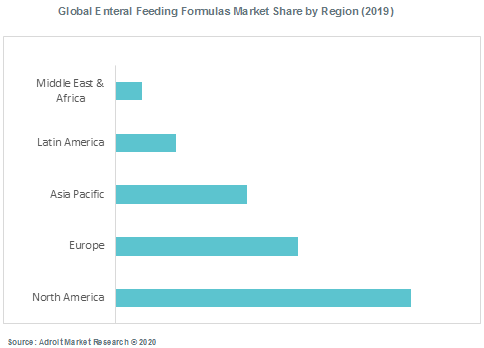 North America, especially the U.S. dominates the global enteral feeding formulas market. This is due to the existence of well-established healthcare facilities in the area, growing prevalence of brain cancers as well as malignant tumours in the brain. High awareness about medical nutrition, presence of key players, and various initiatives being undertaken to curb the incidence of disease-related malnutrition are among the key factors driving the regional market. Disease-associated malnutrition adds a significant burden on the healthcare system. As per Abbott Nutrition's press release, as of 2014, the economic value of disease-related malnutrition in U.S. was approximately USD 157 billion annually. In the United States, the number of people aged over 65 years is estimated to more than double by 2060. The growth in the geriatric population would increase the number of cases of chronic illnesses, such as cancer and diabetes, which would also increase the patient's hospital stay. Furthermore, according to data released by the WHO, 15 million preterm babies are born, and this figure is growing. Therefore, all of the factors listed above are expected to drive the growth of the market in this region.
Latin America is expected to be the fastest growing regional market for enteral feeding formulas owing to factors such as the rising geriatric population and the increasing prevalence of chronic diseases. The geriatric population has increased from 7% in 2013 to 8% in 2017 in this area. In addition, the prevalence of disease-related malnutrition in this area is increasing. Thus, Asia Pacific is expected to be the fastest growing regional market for enteral feeding formulas devices during the forecast period.