The rise of the global enotousism market is being driven by an increase in government efforts, an increase in disposable money, and the expansion of the travel and tourist industry
Covid-19 Impact & Market Status
The Covid-19 epidemic caused lockdown in several nations, affecting every business, including the enotourism industry. However, demand for enotourism is projected to rise as the need for leisure activities rises following the epidemic. As a result of the travel and tourist business being entirely shut down during a coronavirus pandemic epidemic, the industry was dwindling.
The COVID-19 epidemic caused lockdowns in certain nations throughout the world, impacting every industry. As part of the COVID-19 laws, wineries that provide enotourism must follow specific standards. Following the lockdown, however, there will be an upsurge in demand for the enotourism business as the need for leisure activities rises.
Private Guided Tours Segment is accounted ta Attain Significant During the Prediction Period
Owing to benefits such as availability of various wine types across various geographies, the private guided tour segment is emerging as the largest segment based on type in the global enotourism market.
Group Segment is anticipated to hold the Maximum Share throughout the Projection Period
According to the enotourism industry prediction, the group segment had the biggest enotourism market share in terms of traveler type. By giving reliable vineyard information, the organization aids in the investigation of new places.
European Market Expected to Claim the Highest Share During the Estimated Period
In terms of geography, Europe is expected to have the largest growth rate in the enotourism sector in the future years. The expanding popularity of enotourism in the region, as well as the region's strong predilection for wine consumption, is a key element driving this development.
Rising wine consumption in the South American and the Asia-Pacific regions, as well as different cultural heritage at the regional and local levels, are expected to create new potential for market participants in the future
Wine tasting, purchase, or consumption trips to vineyards and wineries, wine festivals, organized wine tours, and other wine-related activities are all examples of enotourism. The urge of tourists to explore new things has raised the global demand for enotourism services. Furthermore, the global enotourism industry is likely to be driven by a considerable increase in government activities to stimulate tourism in the form of commercial and public partnerships in the future years.
On the other hand, social media penetration is likely to present the market with huge potential during the projection period. Furthermore, Europe and North America regions account for the majority of the global enotourism industry due to rapid tourism activities. The global enotourism market is expected to reach around USD 32.56 billion, at a CAGR of 23% during 2021-2028.
As global tourism grows and competition among locations heats up, unique regional and local intangible cultural heritage becomes more essential influencing factor in engaging travelers. Wine and food production are important parts of many destination histories and cultures, and they have also become important parts of the brand image of any tourism-based country.
Rising social media usage, as well as a significant increase in government measures to boost regional tourism through different public and private partnerships, are also projected to fuel development in the worldwide enotourism industry in the coming years. Enotourism, which was once a part of the wine business, is now regarded as one of the most profitable parts of the worldwide travel and tourism industries.
Furthermore, large increases in disposable income throughout the world, as well as strong economic growth in certain regions of the world, are driving expansion in the global enotourism sector. The market's ascension is being fuelled by an increase in disposable income as well as economic progress. As a result of the Chinese and European economic crises, the global economy reached to a halt in 2009.
However, a successful recovery from the crisis, significant economic expansion as well as greater discretionary money among middle-income groups have increased the middle-class population. With the expansion of the global tourist sector, competition has increased, resulting in the exhibition of distinct regional and local cultural assets.
As a result, people from all over the world are flocking to isolated regions to discover distinct local cultures, cuisines, and attractions. This trend is also helping the enotourism business by allowing regional and local wineries to grow their activities beyond sales and into the tourism environment. The global recovery from the 2009 economic crisis has increased discretionary income in the middle and upper-income categories. This is also likely to have a favorable impact on the enotourism business in the future years.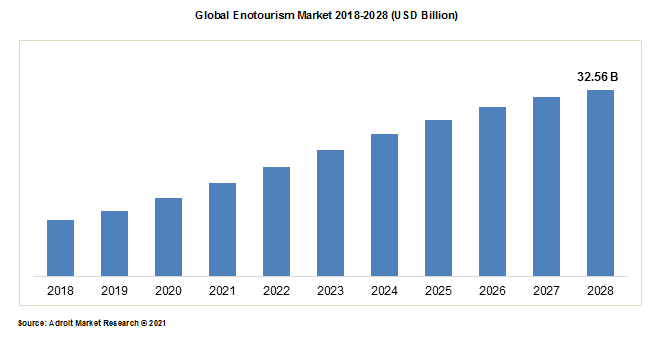 The research study fully explores the enotourism market's competitive landscape. Iowa Wine Tours, California Wine Tours, A Great Oregon Wine Tour, Arblaster & Clarke Wine Tours, Discover Texas Wine Tours, Cloud Climbers Jeep & Wine Tours, Burdick Vineyard Tours, Grape Escapes Wine Tours, Bulgaria Wine Tours, and 290 Wine Shuttle are some of the prominent service providers and players operating in the global enotourism market. This study presents a quantitative analysis of the current enotourism market trends, forecasts, and dynamics for the worldwide market in order to identify the existing enotourism industry opportunities.
Latest Innovations in the Global Enotourism Market: a Snapshot
At the 5th UNWTO Global Conference on Wine Tourism in Portugal in September 2021, Sofia Zacharaki, Greece's Deputy Tourism Minister, recently presented Greece's wine tourism plan to a broad group of experts.
Château Minuty in Provence refurbished its cellar recently to incorporate a new tasting area and a wine library. Further, the Provence Rosé Group's Ultimate Provence brand debuted its new estate, which was curated by interior design company Humbert & Poyet. The property includes a hotel, restaurant, visitor center, wine terrace, and cocktail club, as well as a seemingly endless stream of music events.
Mexico began the re-admissions process, resulting in this statement during the OIV's 19th general assembly. An organizational committee is being formed, with officials from several state and federal government departments in Baja California, its national grape and wine association CMV (Consejo Mexicano Vitivinicola), and the state's marketing agency Provino acting as its localhost.
The market research study drew on a wide range of sources, including company websites, technical journals, paid data sources, financial reports, and other industry publications. Furthermore, the study approaches involve extensive primary research with key industry players to get first-hand data. Following that, data is reviewed and confirmed by industry specialists.
The purpose of this study is to assess the global market's current and future development opportunities, untapped routes, elements impacting revenue potential, and demand and consumption patterns by region.
Enotourism Market Scope
| | |
| --- | --- |
| Metrics | Details |
| Base Year | 2020 |
| Historic Data | 2018-2019 |
| Forecast Period | 2021-2028 |
| Study Period | 2018-2028 |
| Forecast Unit | Value (USD) |
| Revenue forecast in 2028 | USD 32.56 billion |
| Growth Rate | CAGR of 23% during 2021-2028 |
| Segment Covered | Tour type, Traveler Type, Regions |
| Regions Covered | North America, Europe, Asia Pacific, Middle East and Africa, South America |
| Key Players Profiled | Iowa Wine Tours, California Wine Tours, A Great Oregon Wine Tour, Arblaster & Clarke Wine Tours, Discover Texas Wine Tours, Cloud Climbers Jeep & Wine Tours, Burdick Vineyard Tours, Grape Escapes Wine Tours, Bulgaria Wine Tours, and 290 Wine Shuttle |
Key Segments of the Global Enotourism Market
Tour type Overview, 2018-2028 (USD Billion)
Self-guided tours
Private guided tours
Traveler Type Type Overview, 2018-2028 (USD Billion)
Regional Overview, 2018-2028 (USD Billion)
North America
Europe
Germany
France
UK
Rest of Europe
Asia Pacific
China
India
Japan
Rest of Asia Pacific
South America
Mexico
Brazil
Rest of South America
The Middle East and South Africa
Frequently Asked Questions (FAQ) :
The enotourism market is studied from 2018 - 2028.
The enotourism market is growing at a CAGR of 23% over the next 7 years.
European region is growing at the highest CAGR over 2021- 2028.
Iowa Wine Tours, California Wine Tours, A Great Oregon Wine Tour, Arblaster & Clarke Wine Tours, Discover Texas Wine Tours, Cloud Climbers Jeep & Wine Tours, Burdick Vineyard Tours, Grape Escapes Wine Tours, Bulgaria Wine Tours, and 290 Wine Shuttle