Digital asset management (DAM) is a software solution for storing and managing digital information in a central location. Most significantly, DAM allows you to boost campaign productivity while maintaining brand integrity.
Covid-19 Impact & Market Status
DAM solutions to streamline storage, administration, enrichment, distribution, and analysis of digital assets, bolstering the market's growth. The expansion of the DAM market has been hampered by decreased utilization by Small and Medium-sized Enterprises (SMEs) owing to greater expenditures in alternative collaborative technologies, declining earnings, and reduced allocation of Information Technology (IT) funds. As a result of the new coronavirus, more people are using remote working systems, which has increased demand for digital management assets. On the other hand, during the remote working culture, the need for collaborative digital workflow has skyrocketed. The expansion of digital workflows throughout the world, as well as the proliferation of digital content, has raised demand for digital assets.
The Digital Asset Management Market is expected to reach USD 8,159 million during the forecast period at a 18 % CAGR.
Workflow in Collaboration
Due to the growing need for real-time and shared operations, collaborative workflow has a significant influence on the digital asset management industry's growth. Furthermore, development in the use of digital asset management solutions is expected to boost the factor's influence on the digital asset management market's growth in the near future. As a result, this factor's total influence is expected to stay strong over the projection period.
Regulatory Adherence
Due to the high cost of digital asset management systems and services, several industries, such as small and medium companies (SMEs), are currently underserved. Government legislation and increased competition are expected to push businesses to invest in DAM systems and services. As a result, by the end of 2023, the influence of this issue is expected to grow.
Initial Capital Expenses
At the moment, the high cost of deploying DAM solutions limits end user investment. Organizations are expected to use digital asset management systems to remain ahead of the competition and satisfy regulatory compliance. As a result, the influence of this issue is projected to decrease in the near future.
A Skilled Workforce is in Short Supply
The influence of this aspect on the digital asset management industry is now significant due to a scarcity of trained labour, which inhibits end users' willingness to invest in digital solutions and services. However, due to the availability of trained labour, the impact is expected to decrease by 2023.
Artificial Intelligence's (AI) ability to automate procedures is an opportunity
Artificial Intelligence (AI) has revolutionised the way most digital solutions function. As a result, while selecting DAM systems, businesses search for AI and machine learning capabilities. Companies may use AI-based DAM systems to automate image tagging, which is the process of assigning keywords or information to digital assets including files, photos, text, and videos based on what they contain. This automatic tagging allows digital assets to be quickly identified, segmented, and retrieved. DAM solutions may also employ AI to extract metadata from digital assets, do forensic investigation, and assess the compliance nature of digital assets, ensuring that users are not utilising copyrighted content.
Finally, the finest DAM solutions structure your assets in such a way that their brand value is maximised.
Its capabilities enable you to automate workflows, define asset licence expiration dates, and set different degrees of user access for files, folders, projects, and whole campaigns. DAM software may also show you how creative assets are doing through in-app analytics. The terrible reality is that when data are kept across various devices and platforms, they frequently go to waste.
The global Digital Asset Management (DAM) market size is projected to grow from USD 3.4 billion in 2020 to USD 9.0 billion by 2028, at a Compound Annual Growth Rate (CAGR) of 12.0% during the forecast period. A cloud-based DAM platform saves all of a brand's assets in one place, allowing users to safely collaborate on material from anywhere. Feedback is added immediately to in-progress projects as activities take place within the platform, ensuring that communication is never lost in translation or buried in email.
Users in numerous sectors have gradually used digital asset management to save and save files in order to complete work in real time. Organizations are increasingly adopting DAM solutions, as well as services for collaboration, administration, digital storage, and asset tracking, as a result of advancements in DAM technology. Furthermore, DAM aids the user in developing stronger branding and marketing strategies, and as a result, it is rapidly being used for social media integration by a variety of users. For example, Hootsuite, a social media management tool provider, recently chose MediaValet as their first digital asset repository integration, among Google Drive, Dropbox, WebDAM, and others.
The solutions category dominated the market in 2015 and is projected to continue to do so during the forecast period. DAM systems have becoming more popular among marketing firms because they provide quick information access through collaborative digital processes, hence enhancing organisational efficiency. However, due to greater adoption, the category is likely to mature during the projection period, resulting in the services segment gaining traction in the following nine years.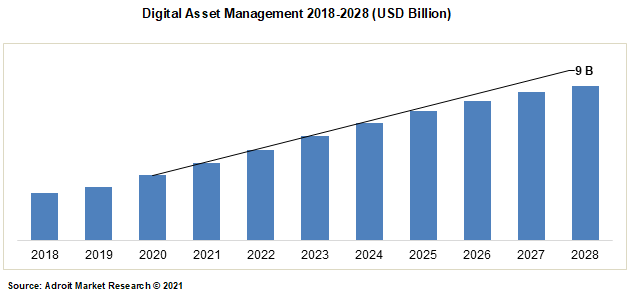 Open Text, Adobe Systems, Oracle, ADAM, EMC, IBM, Widen, North Plains, and Cognizant are among the key industry participants. Open Text is a prominent participant in this sector, and it has used a variety of techniques to meet the demands of digital asset management, such as new product development and collaborations. For example, in September 2015, the firm announced a new product launch of integrated solutions with SAP to give clients with an Omni channel experience.
Furthermore, OpenText announced next-generation media management in January 2015 to assist organisations in managing, storing, and securing assets in a more sophisticated manner. Other businesses form strategic agreements solely to achieve a competitive edge.
Latest Innovations in the Digital Asset Management a Snapshot
• Cloudinary Ltd introduced the Cloudinary Media Optimizer in March 2021, a new solution that automates picture and video optimization and provides content in the format and quality most suited depending on the end-device, user's browser, and internet connection speed.
• Cognizant purchased Magenic Technologies in January 2021, bolstering its digital engineering expertise. Magnetic Technologies is a privately held firm that specialises in specialised software development. Hundreds more engineers in the United States and the Philippines will be added to Cognizant's worldwide software product engineering network as a result of this purchase.
Digital Asset Management Market Scope
| | |
| --- | --- |
| Metrics | Details |
| Base Year | 2020 |
| Historic Data | 2018-2019 |
| Forecast Period | 2021-2028 |
| Study Period | 2018-2028 |
| Forecast Unit | Value (USD) |
| Revenue forecast in 2028 | USD 9.0 billion |
| Growth Rate | CAGR of 12.0% during 2021-2028 |
| Segment Covered | Type, Deployment, Enterprise Size, End-use, Regions |
| Regions Covered | North America, Europe, Asia Pacific, Central & South America |
| Key Players Profiled | Open Text, Adobe Systems, Oracle, ADAM, EMC, IBM, Widen, North Plains, and Cognizant are among the key industry participants |
Key Segments of the Digital Asset Management
Type Outlook (Revenue, USD Million; 2018 - 2028)
Deployment Outlook (Revenue, USD Million; 2018 - 2028)
Enterprise Size Outlook (Revenue, USD Million; 2018 - 2028)
Small & Medium Enterprises (SMEs)
Large Enterprises
Application Outlook (Revenue, USD Million; 2018 - 2028)
Sales
Marketing
IT
Distribution
Photography, Graphics, & Designing
End-use Outlook (Revenue, USD Million; 2018 - 2028)
Media and Entertainment
BFSI
Retail
Healthcare
Automotive & Manufacturing
Government
Others
Regional Outlook (Revenue, USD Million; 2018 - 2028)
Germany
UK
France
Asia Pacific
China
India
Japan
Central & South America
Brazil
Mexico
Middle East & Africa (MEA)
Frequently Asked Questions (FAQ) :
The market value of digital asset management market in 2028 is USD 9.0 billion.
The digital asset management market is growing at a CAGR of 12.0% over the forecast period 2021-2028.
Prominent industry participants include Open Text, Adobe Systems, Oracle, ADAM, EMC, IBM, Widen, North Plains, and Cognizant.
The forecast period for digital asset management market is 2021 to 2028.
The report sample for digital asset management market report can be obtained on demand from the website. Also, the 24*7 chat support & direct call services are provided to procure the sample report.