The global dietary fiber market was valued at USD 4.11 billion in 2020 and is projected to grow at a CAGR of 12.9% during the forecast period. Factors driving the growth of the dietary fiber market include growing health concerns, rising prevalence of health diseases and multifunctional benefits of dietary fiber.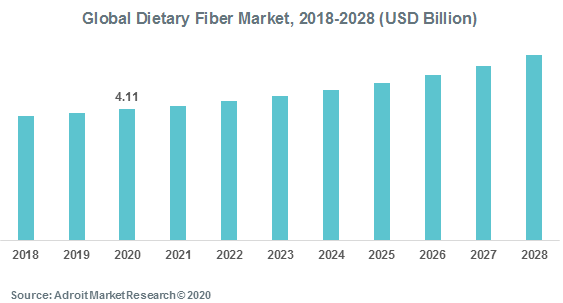 The global dietary fiber market is segmented based on raw material, product, and application. Raw material is further split into fruits & vegetables, cereals & grains, legumes, nuts & seeds. The cereals & grains segment dominated the market in 2020. On the basis of product, the market is segmented into soluble dietary fibers and insoluble dietary fibers. The soluble dietary fibers was the largest market of the dietary fiber market in 2020. By application, the market is segmented into food & beverages, pharmaceuticals, animal feed, others. The animal feed application segment is estimated to grow at a highest CAGR by 2028.
Regionally, North America accounted for the largest market share of the global dietary fiber market due to upsurge in the consumption of nutrient fortified food products. Leading players of the global dietary fiber market include Beneo, ADM, DuPont, Lonza, Kerry Group plc, Cargill, Roquette Frères, Ingredion Incorporated, PURIS, Emsland among others.
Key segments of the global dietary fiber market
Raw Material Overview, 2018-2028 (USD Billion)
Fruits & Vegetables
Cereals & Grains
Legumes
Nuts & Seeds
Product Overview, 2018-2028 (USD Billion)
Soluble Dietary Fibers
Insoluble Dietary Fibers
Application Overview, 2018-2028 (USD Billion)
Food & Beverages
Pharmaceuticals
Animal Feed
Others
Regional Overview, 2018-2028 (USD Billion)
North America
Europe

Germany
United Kingdom
France
Rest of Europe

Asia Pacific

China
Japan
India
Rest of Asia Pacific

Latin America

Brazil
Mexico
Rest of Latin America

Middle East & Africa

GCC
South Africa
Rest of MEA
Reasons for the study
Multifunctional benefits of dietary fiber
Health benefits offered by dietary fibers
Growth in demand for fiber supplements
What does the report include?
The study on the global dietary fiber market includes qualitative factors such as drivers, restraints and opportunities
The study covers qualitative and quantitative analysis of the market segmented on the basis of raw material, product, and application. Moreover, the study provides similar information for the key geographies.
Actual market sizes and forecasts have been provided for all the above-mentioned segments
The study includes the profiles of key players in the market with a significant global and/or regional presence
Who should buy this report?
The report on the global Dietary fiber market is suitable for all the players across the value chain including product manufacturing companies, suppliers/distributors, R&D labs, CROs, healthcare organizations, medical reimbursement and insurance providers
Venture capitalists and investors looking for more information on the future outlook of the global Dietary fiber market
Consultants, analysts, researchers, and academicians looking for insights shaping the global Dietary fiber market
Global trends relating to dietary fiber stem from sociodemographic and sociocultural differences in consumer perceptions and acceptance. Consequently, the rate of trend development differs both within and across country borders. For larger organizations, this creates a need for flexible product formulations that can be rapidly modified to respond to the varying needs of different markets, whilst smaller organizations can benefit from the 'start-up' approach to innovation. The regulatory framework surrounding dietary fiber products is continually evolving in order to keep up with industry developments. For a long time, there was little regulatory involvement in this area in many markets worldwide. Products are now controlled by several different legislations, mainly nutrition and health claims regulations for related claims and novel food regulations for the permissibility of the functional ingredient itself. Other significant considerations are the origin and processing of the dietary fiber ingredient(s), important in ensuring the quality and safety of the final product.
On the basis of application, the food & beverages held considerable market share of the dietary fiber market in 2020. There is a clear and growing demand for products with enhanced nutritional credentials and the functional beverage market has responded quickly to this. Drinks are targeted across multiple demographic groups, ranging from children to senior citizens, each with their own very specific needs and desires. Part of the reason that this gap in the market has been plugged by the beverage category, is that beverages offer a great vehicle for functional ingredients; they are flexible in terms of formulation, packaging, size and shelf life. They are also tremendously convenient and single-serve units allow them to fit well into our fast-paced lifestyles. It is not a surprise that companies of all sizes around the world invest heavily in beverage innovation. However, creating completely new or reformulating existing functional drinks is not simple. There are significant technical, regulatory and nutritional hurdles, which the development process needs to take into consideration.
North America is the largest market for dietary fiber, which is closely followed by Europe, however Asia Pacific is set to grow at a highest pace during the forecast period.
In Europe the introduction of both nutrition and health claims and novel food regulations changed the dynamics of the functional foods market, leaving many manufacturers, particularly those selling botanical ingredients, in a state of uncertainty over the legality of their claims. However, the new novel foods regulation introduced a fast-track procedure; when the regulation came into effect in January 2018, which was likely to speed up the approval process for functional food ingredients. One of the leading markets for functional foods is Japan, where these products are known as 'health foods'. These 'health foods' are categorized into three groups, which include:
Foods for Specified Health Uses (FOSHU)
Foods with nutrition function claims; and
'So-called health foods'
The previously uncontrolled 'so-called health foods' have been regulated by the new self-substantiation notification procedure since April 2015, where hundreds of products were notified within the first month alone. Although many countries in the world make reference to the EU and Japanese regulations related to 'functional foods', specific requirements are drastically different. An ingredient traditionally used in one country may be classified as 'novel' in others. These differences make it difficult for manufacturers to find a globally accepted product.