The global dental biomaterials market was valued at USD 6.39 billion in 2018 and is expected to grow at a CAGR of 7.2% over the forecast period from 2019 to 2025.
The global market for the Dental Biomaterials is anticipated to develop at a compound annual growth rate (CAGR) of % throughout the course of the forecast, to reach by .
The global dentistry market and its submarkets are a lucrative segment of the medical device industry. It usually grows 1.5 to 2 times faster than the global GDP, powered by increased awareness of oral health and growing aging population. In the past decade, studies have linked missing or poor dentition with significant nutritional changes, increased risk of diabetes, stimulation of coronary artery disease, and higher probability of some forms of cancer.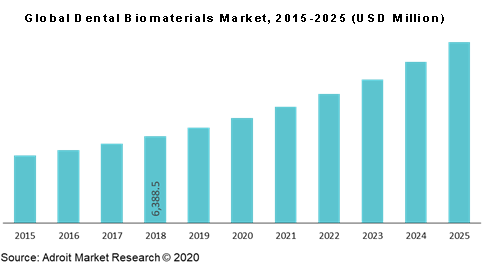 The global dental biomaterials market is categorized based on type, application, end users. Region wise, Europe was the largest market in 2018; however, Asia Pacific is expected to be the fastest growing region by 2025, with a CAGR of over 7.5%.
Key players serving the global Dental Biomaterials market include Straumann Holding AG, Zimmer Biomet Holdings, Inc., 3M, Royal DSM, Carpenter Technology Corporation, Dentsply Sirona, Inc., Ivoclar Vivadent AG, Keystone Dental, Inc., Datum Dental Ltd., Cam Bioceramics B.V. among other prominent players.
Key Segment Of The Dental Biomaterials Market

By Type, 2022-2030 (USD Million)
• Metallic Biomaterials
• Ceramic Biomaterials
• Polymeric Biomaterials
By Application, 2022-2030 (USD Million)
• Implantology
• Prosthodontics
• Orthodontics
By End User, 2022-2030 (USD Million)
• Dental Product Manufacturers
• Dental Laboratories
Regional Overview, 2022-2030 (USD Million)
North America
• US
• Canada
Europe
• Germany
• France
• UK
• Rest of Europe
Asia Pacific
• China
• India
• Japan
• Rest of Asia Pacific
South America
• Mexico
• Brazil
• Rest of South America
Middle East and South Africa
Frequently Asked Questions (FAQ) :
The application of the biomaterials market Orthopaedics, Cardiology, Plastic Surgery, Wound Care, Others.
The biomaterials market is growing at a CAGR of 14% over the forecast period.
The major contenders in the global market are Berkeley Advanced Biomaterials, Collagen Solutions Plc, Corbion, Dentsply International Inc., Evonik Industries, Geistlich Pharma AG, DSM, Institut Straumann AG, Ceramtec, and Medtronic among other
The proportion of the elderly in developing countries has risen every year over the last decade. The proportion of the population of the United States over the age of 60 has more than tripled and is now 14%. It is projected to increase to 22% by the end of 2020. About 35 million Americans are full of edentulousness. When the baby boomer population grows older this is projected to continue to rise. Older patients are much more likely than the younger generations to need tooth replacement or be partially or fully edentulous. The American College of Prosthodontists predicts the number of partially edentulous patients reach approximately 200 million over the next decade.
Although the absolute number of edentulous individuals is growing, epidemiological data suggest that the rate of tooth decrease in the US and Germany is decreasing as preventive measures to minimize tooth decay and periodontal diseases are becoming successful. Today in Germany, one in eight people aged 65–74 is edentulous, as opposed to one in four 20 years ago. Despite changes in highly developed countries, however, in the developing markets, edentulism is still growing. All these factors are anticipated to fuel market growth over the forecast period.
The tooth and supporting gum tissues within a person's mouth are highly susceptible to destruction from bacteria. Dental caries (cavities) is a major cause of extensive tooth loss because of the demineralization and dissolution of teeth associated with the metabolic activity in plaque (a film of mucus that traps bacteria on the surface of the teeth). Replacement/restoration of teeth either in their entirety or in segments is completely possible now with the aid of a range of biomaterials. Use of metals as pins for anchoring tooth implants and as parts of orthodontic devices is a common biomaterial application, while ceramics, such as alumina and dental porcelains, are favored as tooth implants. The use of hydroxyapatite for coatings on metallic pins and to fill large bone voids resulting from disease or trauma is also prevalent, while polymers have found use in orthodontic devices, such as plates and dentures.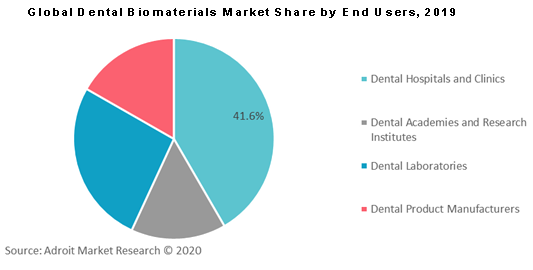 Based on regions, the global dental biomaterials market is segmented into North America, Europe, Asia Pacific, Central and South America and Middle East & Africa.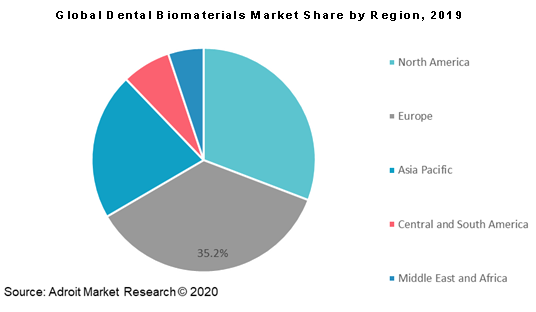 Adroit Market Research has calculated that Europe dominated the global dental biomaterials market in the year 2018 and similar trend is projected over the forecast period. The dental biomaterials market across the European region showed mixed dynamics in national market, while traditional market such as Switzerland, Italy, and Netherlands fell short in growth as compared to EU5 regions. The growth of the dental biomaterials market across the European region is bolstered by high growth markets across Eastern Europe.
Furthermore, Asia Pacific region is anticipated to grow with the highest CAGR owing to the growing population across the two largest economies i.e. China and India. The rising disposable income coupled with growing oral hygiene awareness is anticipated to fuel market growth further over the forecast period.