The market size for the global data warehouse as a service (DWaaS) is projected to reach USD 9 billion by 2028. The increasing amount of structured, as well as unstructured data produced across multiple industries, such as retail & e-commerce, BFSI, healthcare, and manufacturing industries, are responsible for the growth of the DWaaS market in the past few years.
The Data Warehouse As A Service (DWaaS) market is expected to grow at a CAGR of 22.7% to reach USD 29.52 Billion in 2030.
Increased acceptance of column-oriented data warehouse to achieve advanced analytics, increase in supervisory compliance, rapid advancements in data volumes, and growth in the private cloud creates lucrative opportunities for the implementation of cloud data warehouse solutions.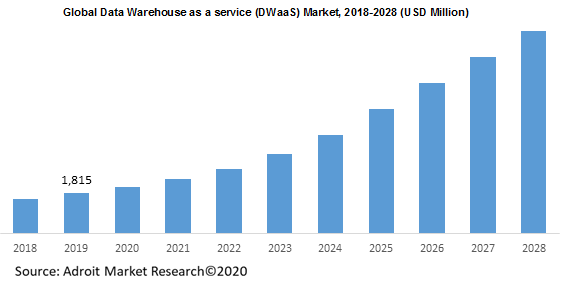 DWaaS is an outsourcing model adopted by organizations wherein a service provider manages and configures the software as well as hardware resources a data warehouse needs, and the customer offers the data and pays the service provider for the managed service. The propagation of digital content, growth in the usage of the internet, as well as the need for disaster recovery & contingency policies are a few of the key factors anticipated to boost the industry growth in the coming years. Moreover, developments in technologies such as the Internet of Things (IoT), and big data are also fuelling the demand for DWaaS market growth.
Key Segment Of The Data Warehouse As A Service (DWaaS) Market
By Deployment,2022-2030(USD Million)
• Public cloud
• Private cloud
• Hybrid cloud
By Type,2022-2030(USD Million)
• Enterprise DWaaS (EDW)
• Operational data storage (ODS)
By Application,2022-2030(USD Million)
• Fraud Detection and Threat Management
• Supply Chain Management
• Risk and Compliance Management
• Others
By Industry,2022-2030(USD Million)
• BFSI
• Retail and e-commerce
• IT and telecom
• Healthcare
• Government
• Manufacturing
• Others
Regional Overview, 2022-2030 (USD Million)
North America
• US
• Canada
Europe
• Germany
• France
• UK
• Rest of Europe
Asia Pacific
• China
• India
• Japan
• Rest of Asia Pacific
South America
• Mexico
• Brazil
• Rest of South America
Middle East and South Africa
Frequently Asked Questions (FAQ) :
The market value of data warehouse as a service dwaasmarket in 2028 was USD 9 billion
Asia Pacific dominated the market for data warehouse as a service dwaas market and accounted for the largest revenue share
The Application of the data warehouse as a service dwaas market Customer Analytics, Risk, And Compliance Management, Asset Management, Supply Chain Management, Fraud Detection and Threat Management, and Others
Data warehouse as a service is a rapidly progressing paradigm that has prospered in transforming the world ICT industry. It provides various services to businesses and boosts them to be more efficient, productive, and competitive, without capitalizing a great amount from their investment budget. A data warehouse includes a central repository of information, analyzed to perform better-informed decisions. Data warehouse enables the user to store relational databases, transactional systems, and other sources in a central repository that is analyzed to enable informed decisions. Data scientists, business analysts, as well as decision-makers access the data via SQL tools, business intelligence (BI) platforms, and other data analytics applications.
Organizations use dashboards, reports, and analytics tools to gain insights from the data, observe business performance, and facilitate decision making. Businesses, individually of their size, intent to have maximum gains along with the minimum expenses, and thus, migrate to the cloud and become competitive and profitable. The cloud delivers numerous advantages, such as cost savings and growth.
Application Segment
The global data warehouse as a service (DWaaS) market contains supply chain management, fraud detection, and threat management, risk and compliance management, asset management, customer analytics, and others. In 2019, fraud detection & threat management application is likely to hold a dominating position in the DWaaS market over the forecast period. Enterprises have enormous data volume and lack efficient tools to evaluate the threats, which leads to fraudulent activities to go unobserved, particularly in the supply chain management procedures. Large enterprises have implemented several technologies to inhibit enterprise data from threats. Thus, the adoption of a cloud-based, cost-effective solution is probably to fuel the industry for fraud detection in the DWaaS market.
Usage Segment
Based on the usage segment, the market is segmented into analytics, data mining, and reporting. The analytics segment to grow at a significant CAGR from 2020 to 2028. Organizations across several industry verticals are making heavy investments in AI and data analytics, with viewing to predict consumer preference & behavior, to deliver a better experience.
End-User Segment
Based on the end-user segment, the market is bifurcated into manufacturing, retail & e-commerce, BFSI, media & entertainment, energy and utilities, IT & telecom, travel & hospitality, others. The retail and e-commerce sector is anticipated to grow at a considerable growth rate throughout the forecast period. On the other hand, the BFSI sector is anticipated is to hold a major share since this sector produces a massive amount of data compared to other industry verticals. The organizations within this sector are showing interests to cognize the available data regarding customers' interests and deliver services accordingly. This would enable us to sustain the intensely competitive scenario in the market. Moreover, the increasing number of regulations concerning customer data security owing to the increasing data breaches and malware shall drive the industry growth within the sector.
The global data warehouse as a service (DWaaS) solution industry is a wide range to North America, Europe, Asia Pacific, South America, and the Middle East & Africa. The Asia Pacific region is expected to grow at a considerable growth rate with the countries such as India as the highest data warehouse as a service (DWaaS) market. Countries such as Japan, China, and South Korea are anticipated to be at the forefront in the adoption of the data warehouse as a service (DWaaS) owing to increased technological investment in the countries. Moreover, the rising trend of the cloud-based solution in medium and large industries propels the demand for a data warehouse as a service (DWaaS) in the region.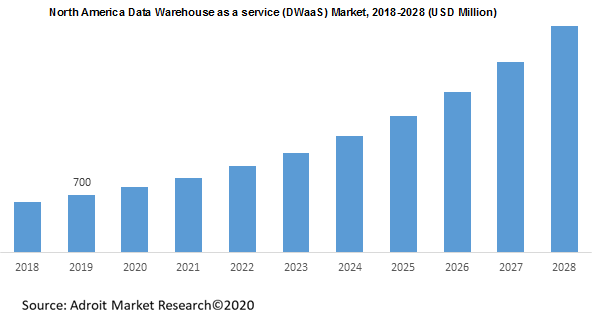 The major players of the global data warehouse as a service (DWaaS) solution market are IBM, AWS, Google, Snowflake, Teradata, Microsoft, SAP, Micro Focus, Cloudera, Actian, Pivotal Software, Hortonworks, Solver, Yellowbrick, Panoply, MemSQL, Netavis, LUX Fund Technology & Solutions, MarkLogic, Transwarp Technology, and more. The data warehouse as a service (DWaaS) solution market is fragmented with the existence of well-known global and domestic players across the globe.