The global data lake market was valued at USD 5,759.5 million in 2018. A Data lake is a central data repository that can store multi-structured (i.e., structured, semi-structured and unstructured) data in native format. It then uses a variety of processing tools to discover and to govern the data, which include improving its overall quality, making it consumable; finally, it allows tools and exposes APIs for consumers to explore and extract business value through several types of consumer workloads.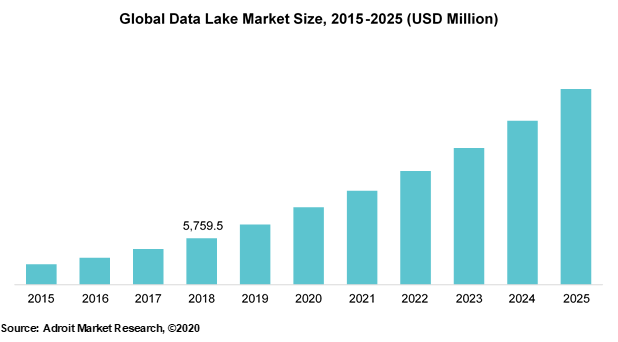 Data lakes are typically built using Hadoop, given the potentially very large data volumes involved. One of the primary motivations of a data lake is to provide as large a pool of data as possible without losing any data that may be relevant for analysis, now or in the future. Data lakes thus store all the data deemed relevant for analysis, and ingests in raw form, without conforming to any data model.
Data custodians can defer the intensive data preparation process within the lake until clear business needs are identified. Governance tools allow IT and data scientists to discover trusted, raw data and explore it through data mining workloads that may provide initial insights that help in determining such business needs. When that occurs, the relevant data in the lake can then be validated, cleansed and made to conform to a structured schema, for consumers to ultimately derive the full business value from the data.
The global data lake market has been segmented based on offering, organization size, deployment, end-user, and region. Based on offering, the global data lake market is categorized into solution, and services. On the basis of organization size, the global data lake market is segmented into small and medium enterprise, and large enterprises. Based on deployment, the data lake market is classified into cloud, and on premise. Based on end user, the data lake market is segmented into media and entertainment, healthcare, BFSI, manufacturing, retail and ecommerce, government and defense, manufacturing, and others
Key players operating in the global data lake market include Microsoft, Teradata, Oracle, Cloudera, AWS, IBM, Informatica, SAS Institute, Zaloni, Koverse, HPE, Cazena, Google, Infoworks.io, Snowflake, and Dremio among others.
Key Segments of the Global Data Lake Market
Offering Overview, 2015-2025 (USD Million)
Organization Size Overview, 2015-2025 (USD Million)
Small and Medium Enterprises
Large Enterprise
Deployment Overview, 2015-2025 (USD Million)
End-users Overview, 2015-2025 (USD Million)
Media and Entertainment
Healthcare
BFSI
Manufacturing
Retail and Ecommerce
Government and Defence
Manufacturing
Others
Regional Overview, 2015-2025 (USD Million)
North America
Europe

Germany
United Kingdom
France
Rest of Europe

Asia Pacific

China
Japan
India
Rest of Asia Pacific

Central and South America

Brazil
Mexico
Rest of Central and South America

Middle East & Africa
Reasons for the study
Information in the digital universe is expected to grow 10 times by 2020. Thus, in the last decade companies have started using data lakes to deal with the enormous amount of data generated.
Traditional legacy data systems are not that open, to say the least, if you want to start integrating, adding and blending data together to analyze and act. Analytics with traditional data architectures weren't that obvious nor cheap either (with the need for additional tools, depending on the software). Moreover, they weren't built with all the new and emerging (external) data sources which we typically see in big data in mind. This is driving the adoption of data lakes among enterprises.
What does the report include?
The study on the global data lake market includes qualitative insights such as drivers, restraints, challenges and opportunities
Additionally, the market has been evaluated using the Porter's Five Forces analysis
The study covers qualitative and quantitative analysis of the market segmented on the basis of offering, organization size, deployment, and end-users. Moreover, the study on data lake market provides similar information for the key geographies.
Actual market sizes and forecasts have been provided for all the above-mentioned segments
The study includes the profiles of key players operating in the market with a significant global and/or regional presence
Who should buy this report?
The report on the global data lake market is suitable for all the players engaged in the development of data lake solutions.
Venture capitalists and investors looking for more information on the future outlook of the global data lake market
Consultants, analysts, researchers, and academicians looking for insights shaping the global data lake market
Driven by the explosion of available data and effective technology to manage it, enterprises are now consuming data and analytics based on data in unprecedented ways. The rise of data driven decision making is real. And it's spectacular.
Data lakes is an emerging approach to extracting and placing all data relevant for analytics in a single repository. All data means data internal to the organization and external to it, both big and "small". Data lakes are an alternative to data warehouses to put an end to data silos in an organization, which is one of the biggest impediments to effective data-driven decision making. Their biggest advantage is flexibility: by ingesting and storing data in native format, a far larger pool of data will be available for analysis, even if clear business needs are not initially identified. Data scientists can explore the data and, through data mining workloads, provide initial insights that help in determining such business needs. The availability of technology and tools is enabling IT departments to deploy data lakes in the organization, which in turn is helping solve the mismatch between the needs of data producers and those of consumers as described in this white paper.
In order to implement a data lake, data governance is one of the top priority for organizations. Data lake governance is based on the organization's ability to create and manage metadata at the different levels we described throughout this paper. Data scientists are a technically savvy consumer audience who can contribute significantly to the creation of such metadata but, in order to capitalize on the opportunity that the lake presents, both data producers and especially the wider audience of business user consumers need to come on board.
The global data lake market segmented based on end user was dominated by BFSI segment in 2018. Banks have ramped up the use of data lakes to merge data from multiple domains and create a central database. Banks invest in data engineers to provide more sensitive data lakes to meet customer needs and also seek to increase the utility of data for on-go solutions. Globally, consumers 'increase in digital payments boosts the amount of data deposited with banks for each transaction. Therefore, big-data analytics opportunities are increasing. In the banking sector the introduction of data lakes breaks down the number of silos. The storing of data in a centrally controlled network such as Apache Hadoop's data lake architecture helps to reduce the number of information silos in an enterprise and makes data available to users across the business.
In retail banking, customers are offered different products; checking account, savings account, credit card, loans etc. While these are not only different products, they are different departments within Banks. Data for these customers is frequently stored separately in silos. And hence customer analysis is generally done in isolation, without looking at the complete set of products owned by customers. This is not only inefficient but usually very frustrating to the customer. Apart from looking at the consolidated view of a customer, there are many challenges which are faced by financial banks due to the lack of agility of traditional data warehouses, for instance, when adding new data sources and easily correlating with existing data. In order to share a common data model for different product teams, some product team typically ends up compromising their needs. In addition, importantly, they incur heavy costs to keep the data for many years due to regulations. Building a data lake in retail banking, solves the above challenges and is thus gaining higher adoption among BFSI sector.
The global data lake market segmented based on region was dominated by North America, generating nearly 33 % share of the overall market size in 2018.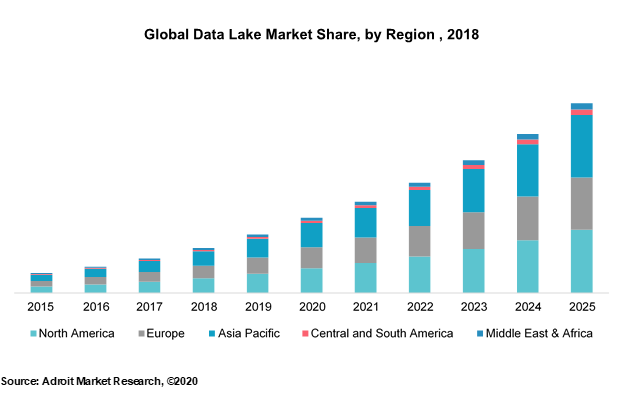 North America dominated the global data lake market revenue generation in 2018. The high rate of adoption of emerging technologies through industry verticals, in particular BFSI, has resulted in the region's large market size. Data lake solutions offer more versatile, scalable, and cheaper data storage solutions than conventional data warehousing solutions, along with improved analytics ability. Many data lake software providers in North America are experimenting with their current Data Lake solutions by incorporating advanced Big Data and Analytics technologies.